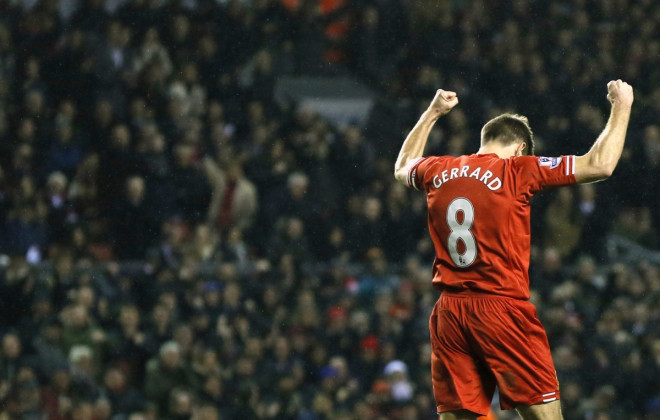 Daniel Sturridge has revealed the prospect of ending Steven Gerrard's career long wait for a Premier League title has been Liverpool's biggest motivation this season.
Gerrard's much celebrated career at Anfield has yielded three League Cups, two FA Cups and a Champions League but a domestic league success has evaded him, with the club last tasting title success in 1990.
The Merseyside club now have their best opportunity yet to end that 24 year wait as they sit two points clear at the summit of the Premier League with six games remaining.
Having won a Premier League champions' medal with Chelsea in 2010, Sturridge is one of just three players in the Liverpool squad to have experienced title-winning success and believes the Reds' skipper deserves the chance to realise his career-long ambition.
"There's no more appropriate man to lift the trophy. If we win it, Stevie really deserves it," Sturridge told the Daily Telegraph. "He should win the Premier League because of everything he has done for this club. Every player in this team will do their best to help him achieve that goal.
"He's just unbelievable every day, a great leader. He lives for the club, he's been here his whole career and it's just a great pleasure to be able to play with him.
"Stevie will always be a legend not just for Liverpool, but to England as well. He will definitely go down in history as one of the best midfielders in the game, never mind just this club.
Following Chelsea's slip up at Crystal Palace last Saturday, Liverpool have their fate in their own hands. The club can lift the title should they win their remaining six games having won their last eight, but the visits of title rivals Manchester City and Chelsea to Anfield threaten to derail their title run in.
"There are still six games to go, every one of them is huge, so we will not get too excited just yet," Sturridge added. "The important thing is just to keep working hard as a team and if we do that, I am sure we will continue to get the results."