T20 World Cup 2012: England Thrash Afghanistan by 116 Runs
England complete routine victory over Afghanistan thank to a superb innings from Luke Wright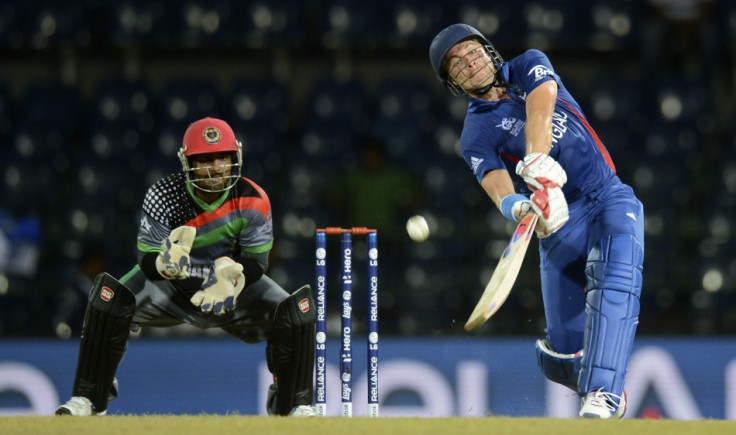 Afghanistan win the toss and choose to bowl
England make 196-5 with Luke Wright finshing not-out on 99
Afghanistan bowled out for 80, with Gulbodin Naib the only man reaching double figures
Patel takes 2/6 and Broad 2/10 in landslide win
1830: So that is all for today and England will be very pleased with their days work. They will have tougher tests in store,. beginning on Sunday when they face India and then in the Super Eight stage of the tournament.
1822: Man of the match Luke Wright: "It was a special evening for me, something I've wanted to do. I was desperate to get back and try and win games for England. I think at times I've tried to hit the ball too hard, but I've gone away and worked on my game. I want to bowl more, any time I can do that will help me and take the pressure off my batting."
1820: England captain Stuart Broad: "The way we struck the ball was powerful and excited to see. We're delighted with that performance, it's a great way to start the tournament. It will do Luke Wright's confidence the world of good, especially because he's batting in an important position. We will have a nice relaxed day tomorrow and will turn up fresh on Sunday for the India game. We will all be fired up and wanting a win."
1815: Afghanistan captain Nawroz Mangal: "Everyone is following us back home and their expectations are high. I would like to tell them not to be disappointed and that we will do better in the future."
1805: What an entertaining knock that was from Gulbodin Naib who was the only Afghanistan batsman to reach doubles figures. England make it safely through to the Super 8 stage of the tournament and it was an impressive display from the reigning champions.
18 overs: ENGLAND WIN BY 116 RUNS WICKET Naib c Morgan b Dernbach 44 [Afg 80 all-out]
Five fours and three sixes from Naib as he heads into the 18th over but it is all over. A slower ball from Dernbach is skied and Morgan quickly makes the call and takes the catch. So England win by 116 runs, their biggest ever winning margin in a Twenty20 international.
17 overs: 80-9
Finn retuns as England look to finish things before the 20 overs are up. A misfield hands Naib another boundary and this is his best score by a long way. His previous best was 17 against Ireland. With a smile on his face he turns down another single and are England's bowlers getting annoyed? Finn will be frustrated with that fiifth ball as Naib moves miles outside off stump and clips the ball down leg side for four.
16 overs: WICKET Zadran lbw Swann 9 [Afg 70-9]
Maybe they will avoid that lowest total after some cracking hitting from Naib who has 35 runs from 24 balls. Swann back in to the attack and now Zadran hits a six but he doesn't last long as he goes lbw the very next ball. They have made it past the lowest score and England will look to wrap things up in this over. The last man in is Dawlatzai and he survives the final three balls.
15 overs: 64-8
Not seen this very often in a T20 game. Naib is refusing to take singles as he simply wants to keep the striker and hit nothing but boundaries. He does take a run off the second ball of the over from Dernbach as his edge falls safe. Then there is some brilliant bowling from the Surrey man whose slower ball completely bamboozles Naib who is lucky not be clean bowler. However, the next ball is in the slot and he lifts it over the bowler for six. And there is another massive blow, he clear his front foot and clear the boundary by some way.
14 overs:50-8
The lowest T20 total is 67 from Kenya in 2008. Can they get near that with a couple of overs remaining. Naib is swinging with all his might and is now turning down singles. Broad decides to drop in a short deliver which the batsman can't get anywhere near. The England captain tries to follow Naib but he gives himself room and slices it over slip for four before looping another slog safe for a single. That brings the 50 up for Afghanistan.
13 overs: 45-8
England not happy with that and now Luke Wright gets his first bowl of the match. Can he make it an even better day by wrapping up the game. He comes bustling in and drops down four short ones. Zadran doesn't like it there and he can't get his bat near the ball. Is he setting him up for a yorker? Well he might have tried but its a wide. Just a wide from the over.
12 overs: 44-8
Swann has bowled two maidens so far but his first ball of the third over is crashed back over his head for four. And there is another boundary from Naib. Go on my son, give it a good old fashuioned slog. It's actually a nice sweep shot which lets him pick up two more, before launching a huge six and that is 16 from the over.
11 overs: 28-8
The lowest total for Afghanistan in T20 internationals is the 80 they got against South Africa. They're not going to get near that. They do have two from the over and don't lose a wicket. A minivictory I guess.
10 overs: 26-8
Another maiden from Swann. This is pretty embarassing for Afghanistan who would have hoped to put up a good fight after scaring India. They will be heading home from the tournament in a matter of minutes.
9 overs: WICKET Zadran st Kieswetter b Patel 0 [Afg 26-8]
Patel claims another as Zadran comes running down the track, misses by a long way as he iis beaten in the flight and Kieswetter takes an easy stumping.
9 overs: WICKET Nabi b Patel 1 [Afg 26-7]
Simple stuff really. Patel sends down a straight one and Nabi attempts to launch it to cow corner. He misses, Patel hits the stumps.
8 overs: WICKET Shenwari c Finn b Swann 2 [Afg 25-6]
Graeme Swann is now handed the ball with England in the ascendancy. The spinner looks dangerous immediately and picks up a wicket with his fourth ball of the over as Shenwari attempts a reverse sweep. It's a good connection bu it can't get over the head of 6ft 7" Steve Finn who takes a simple catch. It's a wicket maiden and this is a procession. Afghanistan are being completely outclassed which is a good signal after they playes so well against India.
7 overs: 25-5
Samit Patel now comes into the attack with Afghanistan in real trouble. Just three singles from the over.
6 overs: 22-5
England finish the over with a couple of dot balls and this is impressive stuff from the holders.
6 overs; WICKET Stanikzai c Bairstow b Broad 4 [Afg 22-5]
Another short delivery and they just cannot deal with thsi chin music. Stanikzair swings with all his might but it loops and Bairstow takes a quite incredible catch. The youngster, who can keep wicket, runs it at full pace and dives to hold on to a stunning take.
6 overs: WICKET Sadiq run out 5 [Afg 22-4]
Great piece of fielding from Buttler who produces an acrobatic piece of work as he dives to stop a cover drive and quickly gets the ball to the bowlers end. Broad is on hand to smash down the stumps and this is a clinical display.
5 overs: 22-3
Finn continues and there is more good fielding from England as Bairstow stops a boundary after the ball had looped over the keepers head after a thick top edge. A couple of singles and this is looking like a very coonfident display from Broad's side.
4 overs: WICKET: 17-3 Mangal c&b Broad 8 [Afg 14-3]
The captain brings himself in to the attack and picks up a wicket with his second ball. Mangal drives the ball straight but it is right into the hands of Broad who takes a very good catch. Cracking reactions from the big fast bowler. England are really bowling a lot of short deliveries and it is working well.
3 overs: 12-2
Finn is absolutely steaming in here but his first ball is a wide. He's touching 90mph as the two Afghanistan struggle to get the ball past the England fielders. That all changes with an all-mighty heave from Mangal delivers their first boundary of the innings. Two more wides here but Finn thinks the second one was gloved. Difficult to tell wihtout hot spot but there was a noise. A single from the final ball and 8 from the over because of the wides.
2 overs: 4-2 WICKET Shafiqullah c Bopara b Dernbach 0 [Afg 2-1]
Jade Dernbach is sharing the new ball and he gets a wicket with his very first delivery. Shafiqullah goes after a short one and he splices the ball straight up and it is safely caught by substitute fielder Ravi Bopara. There is another big shout as Dernbach bangs one in short and it hits the batsman on the helmet and is caught by Hales. It didn't touch any bat or glove and a single gets Sadiq off strike.
1 overs: WICKET Shahzad c Broad b Finn 1 [Afg 2-1]
Steve Finn opens the bowling for England and it is Mohammad Shahzad and Nawroz Mangal who open the bowling. There could be some fireworks from these two. After a couple of singles Shahzad looks to go big but he skies his effort and it is safely claimed by captain Stuart Broad.
1643: Who needs KP. What an innings that was from Luke Wright who hits 99 from just 55 and he is incredibly happy with the knock.
"I'll take that - the main thing was to get a nice total, I was pleased the boys came in and hit boundaries as I was tired from all the running! We managed to go at the spinners a bit and hopefully we've got a total we can defend and get our first win. We've given ourselves a good chance."
20 overs: 196-5 WICKET c Sadiq b Zadran 12 [Eng 194-5]
What an over that was. 32 runs from it and England could reach 200 here. Wright starts with a single and Bairstow then hits a four to deep mid-wicket. A single from the third ball and now Wright needs just four more for a century. He comes running down the pitch but it is just another single. Come on Jonny, get a single. Well they do cross but the keeper/batsman can only find Sadiq. The final ball goes for two and Wright finishes on 99. What a shame he couldn't become the first England batsman to score a century in a Twenty20 match.
19 overs: 187-4 WICKET Buttler lbw Dawlatzai 15 [Eng 159-4]
Take some of that. Buttler stands and delivers delivering another towering four. He's gone the next ball though as he misses a straight one and it is a simple lbw decision. Jonny Bairstow is the new batsman and he decides this looks easy and hits a monstrous no-ball for six. A nightmare here as it's another no-ball. He is a long way over the line and it's another single and it is Wright who hits the ball all the way to the boundary where a brilliant catch is taken but he stands on the rope and it is another six.
Back of a length with the next delivery and Wright launches another six. This is now the highest score by an Englishman ath the World Cup and he hits yet another six to make it three on the trot and he is now on 94 with one ball in the over remaining. Boooo, it's just a single.
18 overs: 155-3
Big hitting Jos Buttler is the new man at the crease. His fireworks against South Africa make him a man to watch here today. Wright is given a lifeline after slicing a dolly but it is dropped by Shahzad and Buttler then crashes the ball for four. The Somerset bastsman then hits the fifth ball for another four and it's another good over with a single from the final delivery.
17 overs WICKET Morgan c Mangal b Izatullah 27 [Eng 141-3]
This is Wright's top score in international T20 cricket and let's hope he can go on to make his first century. Morgan is now looking to accelerate and he cuts the ball over extra cover for four, even worse it is a no-ball from Izatullah . The Middlesex man gives himself room and hits it straight to Shapoor but he drops it, good job it was a free hit. There is a catch now though and Morgan goes.
16 overs: 131-2
10 an over from here and England will get 159. They'll be thinking more than that as Morgan hits the first ball of the over for six. Then we have some truly woeful fielding as Wright reverse sweeps and it dribbles towards the fielder who is somehow nutmegged and it goes for four. Things get worse as Wright hits another straight six after dancing down the pitch and then more poor fielding from Karim who should stop the ball on the bounce but he can only palm it for four. A single off the last and it's another big over.
15 overs: 109-2
It's been an outstadning effort from Luke Wright so far and England will want him to continue for the remaining overs. Afghanistan bring back one of their quick bowlers, Dawlat Zadran, to see if they can make the breakthrough. He's varying his pace well and geting just rewards for the slower ball as England pick up four singles from the over.
14 overs: 105-2
The 100 comes up and the second fifty has come off 43 balls. Wright is showing some intent here as he advances down the pitch but it is just a single. The average score here in Colombo is 156 and England will want more than that after this start.
13 overs: 99-2
Shenwari continues and Wright decides he's had enough of this quick running of singlesand comes strolling down the pitch to smash it for six. Another single brings him his 50 from just 34 balls. That six was 92 metres so that is some hit. After a couple more singles Wright then sweeps hard for another four. That is a better over.
12 overs: 83-2
More of the same and it is Mohammad Nabi, another spinner, who is brought in o the attack. There is good variation from all of the Afghanistan bowlers and England are finding it difficult to pierce the in-field. Four singles and a wide from the over.
11 overs: 79-2
The spinners working well here and they have restricted England in the last four overs. Morgan is trying to manoeuvre with his array of stroker but it's nothing but singles from the over.
10 overs: 74-2 WICKET: Hales runout 31 [Eng 69-2]
What an unlucky way to go for Hales as Wright smashes the ball back at the bowler and he flicks the ball onto the stumps and the opener walks. So unfortunate. Eoin Morgan is the new man in at four he quickly gets off the mark with a single.
9 overs: 69-1
England are struggling to time the ball with the spinners and Wright again gets away with one as his heave goes high, but lands safe. Fortunately he makes up for it by hitting it on the half volley for a one bounce four and then running an easy single. Hales then picks up a couple more and these two batssmen are very well set. Both have a strike rate well over 100.
8 overs: 60-1
Karim Sadiq, an off-spinner, comes into the attack and he is bowling round the wicket. There could have been the chance for a run-out but it is a dreadful piece of fielding from the bowler and Hales can scamper an extra run. Wright is then fortunate after a leading edge loops in the air but falls agonisingly safe.
7 overs: 56-1
The partnership is 52 runs from 30 deliveries so now it's time for some spin. It's a decent over from the leg spinner Sami who only concedes four runs from the over.
6 overs: 52-1
First bowling change and it is Izatullah Dawlatzai who will hope for a slightly better over to get Afghanistan back on track. He starts well but ends up conceding 14 from the over after three more boundaries.
5 overs: 38-1
My word that is a quick delivery which Hales misses and it flies over the wicket keepers head for four byes. The Somerset opener then crashes the second ball through cover for another four before a loose delivery down leg-side goes for a third consecutive boundary. A quick single follows and it's Wright's turn to get in on the act. A straight drive brings another boundary and then it is a massive six making it 23 from the over.
4 overs: 15-1
Dawlat Zadran at the other end and his second delivery is dragged down and Wright punishes him by hitting it for four. Much better with the next ball which cuts England's number three in half. That is a beauty. Three more dot balls end the over. Not exactly the start England would have wanted.
3 overs: 10-1
Zadran is bowling well and the England bastman are struggling to get him away. Just one run from the first five balls but then Wright smashes one through the covers for four.
2 overs: 5-1
Luke Wright is the new batsman but it is Alex Hales who will take the strike. He slashes his first ball for four as it flies over the head of first slip. Two dot balls follow and then a quick single gives Afghanistan the chance of a run out and he would have gone with a direct hit. Dicey running.
1 overs: WICKET: 0-1 Kieswetter b Shapoor [Eng 0-1]
Shapoor Zadran.will open the bowling and this boy has serious pace. Coming round the wicket he can be difficult to get away and after five dot ball Kieswetter chops the ball on to his own stumps. What a start for Afghanistan.
1451: Teams Confirmed:
England: Craig Kieswetter (wk), Alex Hales, Luke Wright, Eoin Morgan, Jonny Bairstow, Jos Buttler, Samit Patel, Stuart Broad (capt), Graeme Swann, Steven Finn, Jade Dernbach.
Afghanistan: Mohammad Shahzad (wk), Nawroz Mangal (capt), Karim Sadiq, Asghar Stanikzai, Mohammad Nabi, Samiullah Shenwari, Shafiqullah, Gulbodin Naib, Izatullah Dawlatzai, Dawlat Zadran, Shapoor Zadran.
1448: Good afternoon and welcome to our live coverage of England's opening World Twenty20 World Cup group game against Afghanistan. After weeks of talk of Kevin Pietersen and his subsequent snubbing by Andy Flower, we have a chance to enjoy some cricket. New Zealand have already shown England how it is done by thrashing Bangladesh, thanks in large to a sensational innings from Brendon McCullum. The big hitting Kiwi hit a International T20 world record when he smashed 123 from just 59 balls.
1445: Team News: A few changes for England as Samit Patel is included over Danny Briggs, while Steve Finn is picked ahead of Tim Bresnan. It seems Luke Wright will bat at number three.
© Copyright IBTimes 2023. All rights reserved.