Theo Walcott goes off injured, replaced by Aaron Lennon.
Wayne Rooney opens the scoring fro the penalty spot

Danny Welbeck doubles the advantage after 38 minutes.
Rooney makes it three to become England's fifth highest goalscorer.
Welbeck touches in the fourth.
Alex Oxlade-Chamberlain gets his first England goal.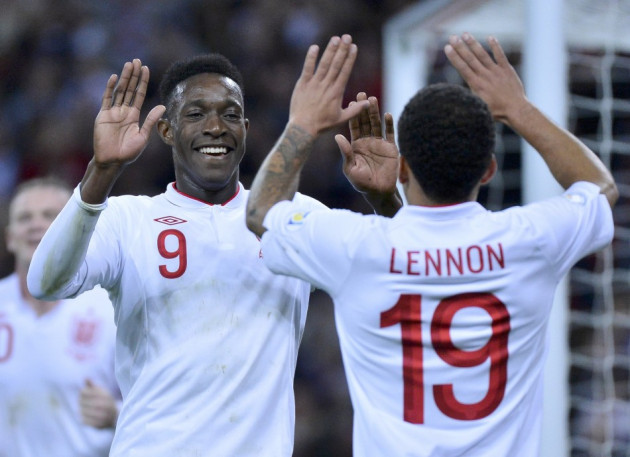 21:55: England get the job done, but it was no easy job for Roy Hodgson's side. Wayne Rooney got the ball rolling with a 34th minute penalty before Danny Welbeck's double sandwiched Rooney's 31st international goal, which takes him to fifth in the all-time scorers list. Alex Oxlade-Chamberlaingot the fifth in a game which was always going to be about the margain of victory rather than the actual result. San Marino fought hard, but never looked like causing an upset. The big test, and the greatest of the qualifying campaign so far comes on Tuesday against Poland.Until then, goodbye from IBTimes UK. Check back for reaction from manager Roy Hodgson.

Full time: England 5-0 San Marino
21:50: England looking for a sixth now and Tom Cleverley almost gets it but his shot is blocked via it's route to goal. Danny Welbeck named man of the match. Not entirely sure for which game though; bar his two goals tonight, granted a crucial contribution, he's been a source of frustration. Three added minutes at Wembley.
21:47: Fans appear to have seen enough at Wembley and are making their customary exit five minutes before the end. Hope they get home quickly so they catch the highlights of the last few minutes, would hate them to miss anything. As for the game, Della Valle is down with a spot of cramp it seems. England getting ready to celebrate a comfortable three points.
21:43: Fabio Vitaiolo, who has had a torrid time against Baines, is replaced by Simone Bacciocchi for the final six minutes.
21:42: After that spate of goals the game has settled down a little, but Jonjo Shelvy fancies getting in on the act as he cuts onto his left foot, but Simoncini gathers his smart strike.
21:39: Well we know how the English love to queue, and Roy Hodgson's side did plenty of that in the lead up to the fifth. Baines gets in behind Cibelli, and finds Welbeck, whose miss-control allows Cleverley to take it on, before Alex Oxlade-Chamberlan takes aim, and finds the far corner with a clipped finish. His first international goal. Second substitution for San Marino, record goalscorer Andy Selva is on for Danilo
Goal: England 5-0 San Marino (Alex Oxlade-Chamberlain)
21:35: England's goals coming like buses now. Tom Cleverley gets to the byline and cuts the ball back for Danny Welbeck to touch home. Tame goal to concede from the away side's point of view. Rooney is replaced by Andy Carroll, with Joe Hart taking the armband for the remainder. Matteo Coppini, who has worked well in midfield, is repalced by Lozenzo Buscarini for San Marino.
Goal: England 4-0 San Marino (Danny Welbeck)
21:31: Wayne Rooney becomes England's fifth highest ever goalscorer with a brilliant third. Baines pulls the back towards Aaron Lennon, who gets away from Davide Simoncini, but is caught, with the loose ball falling to Rooney, who buries the effort low into the corner.
Goal: England 3-0 San Marino (Wayne Rooney)
21:27: San Marino have a shot at the England goal. Danilo, who has run himself into the ground, gets himself clear of Gary Cahill, but his left-foot shot is hopelessly wide. Meanwhile, Jonjo Shelvy replaces Michael Carrick for his senior debut, and duly gives the ball way with his first touch. Chin up son.
21:24: After that appauling bit of comedy (yes it was) it's time for an England free-kick. Baines and Rooney are over it, but it's the current Everton man who takes it. He brushes the side netting with Simoncini getting a superb view as he flies to his left. Attendance fans, we're far from the 'sell-out' The Football Association promised us on Wednesday, but 84,000 in this day and age isn't bad for an international minnow like San Marino.
21:20: Delightful from England in particular Michael Carrick. His lofted pass finds Baines, who crosses the ball for Cleverley whose shot albeit off-target is cleared from five yards out by Brolli. It's certainly raining chances at Wembley so it's just as well San Marino had Brolli on hand to clear the danger.
21:17: If there is one player who has deserved a goal tonight, it's been Oxlade-Chamberlain. His tireless work in midfield continues as he runs at the San Marino defence, after exchanging passes with Rooney, and his deflected shot sees Simoncini scramble to keep the ball out.
21:15: Gary Cahill should have added to his international tally there. Wayne Rooney drops a delicious cross in from the right-hand channel of the penalty area, and the Chelsea centre-back swings a right boot at the ball, but he slices the volley and Simoncini grabs the loose ball.
21:12: Danny Welbeck is put through by a delightful ball over the top by Tom Cleverley, but he can't control the ball properly and San Marino survive. Have looked like being exposed from every angle by England tonight even if the hosts' execusion hasn't been there. Michael Carrick breaks into the box and his effort is saved by Simoncini.
21:09: England go down the right hand side early in the second half, with Kyle Walker the main protagonist but the move breaks down and San Marino clear. The away side enjoy their first spell of possession the whole game in the England half, but Leighton Baines cuts out the attack in its infancy.
21:05: Underway for the second half. No changes.
21:03: Few observations from the first half before the two sets of players emerge for the second period. England have looked very devoid of width, bar the efforts of Leighton Baines and Kyle Walker sporadically. Alex Oxlade-Chamberlain, albeit one of England more impressive players, has spent a lot of the game coming inside, while Aaron Lennon's influence has been limited, despite him setting up the second for Welbeck.
There's no doubt San Marino have come to defend, but playing the way they are, England are making it very easy for the team ranked 207th in the world. The visitors have made a mockery of that ranking incidently, despite offering nothing going forward.
20:49: Bit limp at the end of the first half from England, but they've done what they needed to do. Rooney and Welbeck with the goals and Roy Hodgson will be content, if not delighted with the first half display.
San Marino have meanwhile being tight, compact, and at times very organised. They've done themselves no shame in the first 45 minutes.
Half time: England 2-0 San Marino
20:48: Rooney now needs just one goal to surpass Nat Lofthouse, Tom Finney and Alan Shearer and become England's fifth highest ever goalscorer. He'll fancy doing that tonight. Has looked head and shoulders above the rest.
20:43: Rooney finds some space on the edge of the box after being found by Leighton Baines, and he produces a curling effort which Simoncini brilliantly claws away.
20:40: Tom Cleverley plays a slide-through ball to Aaron Lennon who cuts the ball back and finds Danny Welbeck at the near post and the youngster audaciously flicks the ball beyond Simoncini to double England's lead. Floodgates open.
Goal: England 2-0 San Marino (Danny Welbeck)
20:36: Finally it has come for England, and it's thoroughly deserved. Alex Oxlade-Chamberlain puts Danny Welbeck through on goal, the Manchester United eats up the yards, beats Simoncini to the ball, before taking the contact and going down under the goalkeeper's challenge. Wayne Rooney does the business from the spot, to net his 50th international goal.
Goal: England 1-0 San Marino (Wayne Rooney)
20:35: England hit the woodwork twice in as many secons. Michael Carrick, looking for his first England goal hits the bar, with Danny Welbeck then striking the post from the rebound.
20:33: A great chance for Rooney again with his head. Tom Cleverley gets the ball in,and at the back post Rooney is coming in, he beats Vitaioli to the ball bu only heads wide.
20:31: There's an arguement that suggests England should attempt to commit more players rather than play in front of San Marino. Every time there is a loose ball the hosts there first by the away side are staying firm and rigid at the back.
20:26: Giampaolo Mazza side are as expected very tight and compact with the two wide players, Cibelli and Gasperoni tucking in to make a wall of five in midfield. England really struggling to break them down but Danny Welbeck does get free, only for Simoncini to push the ball away.
20:23: San Marino mount their first attack of the game with the ball being tossed into towards Danilo but England clear. At the other end Wayne Rooney shoots from range by Della Valle gets in the way before the resulting corner is again cleared by the visitors.
20:21: It's Kyle Walker's turn to try and deliver some end product but the ball deflects off Palazzi and safely into the arms of Simoncini.
20:19: Leighton Baines, perhaps the form player in this England side, gets to the byline and looks for Rooney but the ball is cut out by Brolli, who almost diverts the ball into his own net. The home side look very nervy on the ball and the crowd are doing them no favours by moaning every time the ball is given away. Frustration already it seems.
20:17: An ironic applause for Joe Hart as he touches the ball for the first time after 15 minutes San Marino camped in their own half with only Danilo posing a threat in the England half; he's barely seen the ball let along touched it.
20:15: England should be ahead. Baines whips in a corner and Rooney is free, unmarked, but he heads wide. Big let off for San Marino.
20:12: And that's the last we'll se of Walcott, who appears to be coughing up blood as he leaves the evening prematurely. Aaron Lennon, who we haven't seen in a competitive game since the 2010 World Cup, comes on to replace him. san Marino could do with those sorts of breaks in play.
20:10: After three minutes of treatment Walcott is back on his feet but is yet to return to the game. Aaron Lennon is beign prepped. Meanwhile, Rooney recieves the ball in the area, but his cross can't find Welbeck.
20:06: Simoncini's goal kick is very short and Theo Walcott latches onto the ball. The goalkeeper comes out to meet it, and along with the ball, clatters Walcott into row Z. The Arsenal is still down and a stretcher has been called. Big concern for the lad.
20:05: For those interested, San Marino are starting in a 4-2-3-1 formation to try and match England up. Wayne Rooney playing a withdrawn role as expected, gives the ball away early on but Gary Cahill wins the ball back. Alex Oxlade-Chamberlain shoots from range and Simocini, who you get the feeling with be a busy man, tips the ball over the bar.
20:01: Anthems out the way, we're ready to go at Wembley. Abacuses at the ready. Slight delay however, the ball is just being dropped into the stadium via a Royal Marine from the top of the Wembley. As you do. San Marino must be wondering what on earth is going on.
19:55: On one side we have a host of international, multi-million pound footballers, against a side comprised of a student, an accountant, a bank clerk and a bar owner. Chalk and cheese right here for you at Wembley. Both sides on their way out and preparing for the anthems. They both do that at least.
19:50: For the historians among you, the last time these two sides met back in 1993, England beat their San Marino counterparts 7-1, with the hosts scoring the fastest ever goal in World Cup qualifying history after just eight seconds; an evening Stuart Pearce will want to forget.
England ran out 6-0 winners when the pair met the last time at Wembley in February 1993, as David Platt scoring four in a campaign which ended with failure under Graham Taylor.
19:45: Teams
England: Hart, Walker, Cahill, Jagielka, Baines, Walcott, Carrick, Cleverley, Oxlade-Chamberlain, Welbeck, Rooney. Subs: Ruddy, Cole, Lescott, Shawcross, Milner, Shelvey, Adam Johnson, Lennon, Carroll, Defoe, Forster.
San Marino: Aldo Simoncini, Fabio Vitaioli, Davide Simoncini, Brolli, Palazzi, Cibelli, Coppini, Rinaldi, Della Valle, Gasperoni, Cervellini. Subs: Valentini, Bacciocchi, Bollini, Buscarini, Marani, Mazza, Selva, Vannucci, Matteo Vitaioli.
Referee: Gediminas Mazeika (Lithuania)
19:40: After a week dominated by diving, tweets and drugs scandals, England returning to action is a refreshing break from the controversies sport can spark. Roy Hodgson's side will aim to rebuild a qualifying campaign which hit the buffers during their last home game against Ukraine, where a late Frank Lampard penalty was required to see England pick up a point.
Their task of regaining some form in their qualifying group ahead of their tricky trip to Poland on Tuesday is made all the easier by their opponents tonight; San Marino. Giampaolo Mazza' side are ranked joint bottom of the Fifa world rankings with only one internatioal win to their name. Mazza said in the build up to the game that he knows his side will lose, but how many is the question here at Wembley.