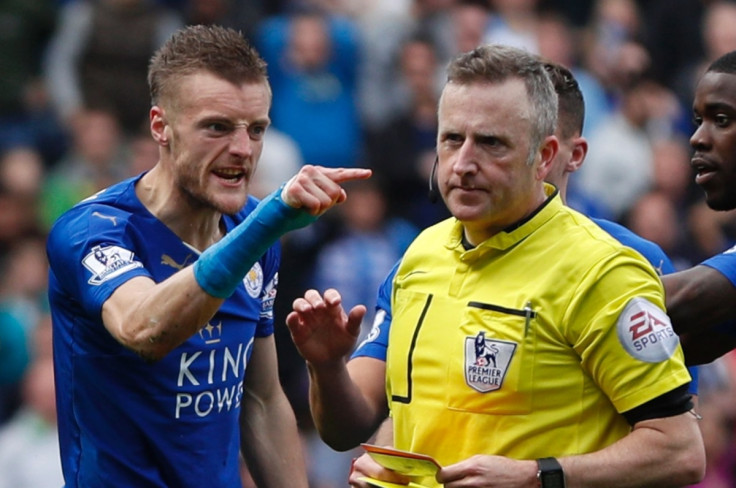 Unacceptable player and manager conduct towards match officials will be clamped down on in English football next season, with the Premier League, Football Association (FA) and English Football League (EFL) announcing a new joint approach encouraging referees to take stronger action against poor behaviour.
Existing rules are set to be more rigorously applied and new powers given, with yellow cards awarded for players that show visibly disrespectful behaviour towards officials, respond aggressively to decisions, confront officials face-to-face or run towards them to contest a call. Cautions will also be given for physical contact in a "non-aggressive manner" and at least one member of a team will see their name taken when two or more surround a referee.
Automatic red cards will be shown to those who confront officials with language or gestures deemed abusive, insulting or offensive and for any physical contact that is aggressive. The Premier League also stressed that the Technical Area Code of Conduct will be more strictly enforced.
"We and our clubs have been discussing for some time concerns that certain elements of player behaviour are overstepping the mark and it is our collective position that these types of behaviour should no longer be tolerated," executive chairman Richard Scudamore said.
"Things happen in the heat of the moment during fast and highly competitive football; we still want to see the passion fans enjoy and demand, but players and managers have to be aware there are lines that should not be crossed."
FA chief executive Martin Glenn also endorsed the move, commenting: "We welcome this joint initiative with the Premier League and EFL to promote positive behaviour across the game. It will help reinforce the proactive approach The FA has taken to supporting referees when dealing with disciplinary issues in recent years.
"We all have a collective responsibility to ensure high standards of respect are maintained – from the grassroots to the professional game. Above all, we don't want youngsters mimicking incidents of dissent or abuse they see on TV in the school playground or the park pitches.
"English football relies on its officials and anything we can do to protect and promote the work of our 28,000 referees in this country is to be supported.Also, it is essential we continue to ensure The FA Cup, a competition respected for its history, tradition and innovation, reinforces the importance of positive behaviour and good sportsmanship."