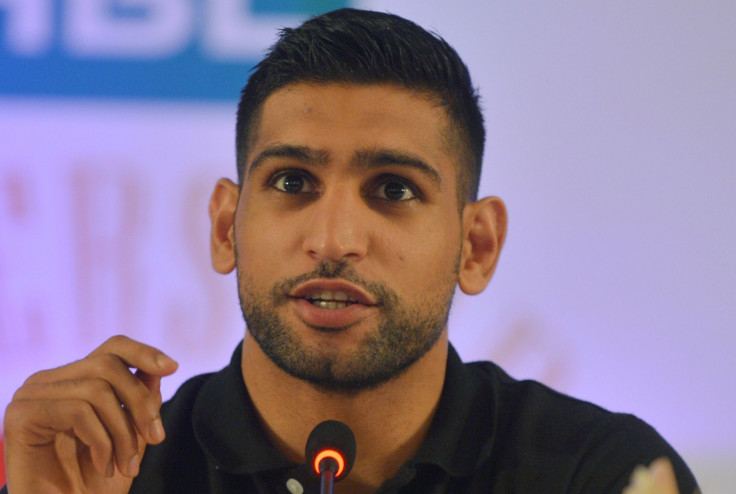 British boxer Amir Khan has emerged as a surprise contender to face UFC star Conor McGregor, and could switch disciplines as early as 2017. Floyd Mayweather Jr had previously flirted with the idea of facing McGregor, but with no agreement having been reached the former WBA and IBF light-welterweight champion admits he is open to a bout.
McGregor is the biggest draw in UFC and will return to the sport for the first time since March to face Nate Diaz in a rematch on 20 August. The Irishman has been exchanging barbs with Mayweather – the former boxer who retired with a record of 49-0 last September – but talks over a potential fight between the two have not led to a contract being signed.
The breakdown in talks comes as no surprise to Khan, who himself has been let down by Mayweather during. The 29-year-old Khan has not fought since being knocked out by Saul 'Canelo' Alverez in Las Vegas in May, but is open to making a competitive return against McGregor in 2017.
"I would, definitely," Khan boldly told Flocombat.com. "Something like that would be massive. Even if I started to train MMA next year, I'd only be 30 years old. I could stop and train for a full year and become a good MMA fighter. It's in our blood to fight. I've been fighting all my life, so for me, I don't think it'd be a problem for me to learn and switch over to the sport.
"I'm a little different in that sense, where I would get into a cage and I would fight in MMA rules, so that's the difference between me and Mayweather. I would definitely give it a go. It's something to learn, as well. I'm at that age where I'm still learning, adapting and getting better. So I still have time under me as well. I'm still a young lad and got loads left in me.
"It just depends on the weight category. But look, as a fighter, that's a fight I would take. McGregor is a massive name in MMA, and I'm a big name in boxing, so globally, I think it would be a massive fight. Sometimes, you have to put friendship aside and you have to take it in the cage or in the ring. But yeah, if that fight comes up to me, I'm not one to back away from it.
"I think McGregor has some great boxing skills. A good boxer will always win a MMA fight – I've always said that. A good puncher will always win. You saw in the [Jose] Aldo fight – he took a step back and countered him as he came in. With boxing, it's all about distance and timing, and that's something we have on our side more than MMA fighters."
Mayweather claimed earlier this year that a fight with McGregor was inevitable – but with no prospect of the 39-year-old emerging from retirement he is unlikely to back up his bold claims. Khan is no stranger to Mayweather failing to deliver on a challenge and expects the two-weight boxing champion to continue to dodge a meeting with 'The Notorious'
"I don't think Mayweather would ever take it," he added. "When Mayweather knows he's in a real fight, he just backs out of it. It was good hype while it lasted but I knew it was never going to happen. If it did happen, it would be the biggest fight ever.
"It would've been a great business move, but I don't think it would've been a good fight. I don't think Mayweather would want to fight under MMA rules. I look at it more as a publicity stunt. People were talking about it. It worked while it lasted, and they brought the hype up."