Kevin Durant scored seven straight points for the Oklahoma City Thunder in the closing stages of May's Western Conference Game Seven showdown with the irrepressible Golden State Warriors at Oracle Arena in Oakland, but ultimately it was not enough to overhaul a fourth-quarter shortfall and stop Stephen Curry and pals from overturning a 3-1 deficit to advance to their second consecutive NBA Finals.
For the visitors and their unconventional but oft-devastating two-punch partnership of Durant and Russell Westbrook, it was the latest shortcoming in their quest to finally claim the prestigious Larry O'Brien Trophy.
Aside from a blip last year when the reigning MVP was shut down with foot problems and they missed the play-offs, the Thunder had topped the Northwest Division in five of their eight seasons since controversially relocating from Seattle back in 2008. Such a run included four trips to the Western Finals and one visit to the Finals, where they brushed aside by LeBron James and the Miami Heat's 'big three' in five games.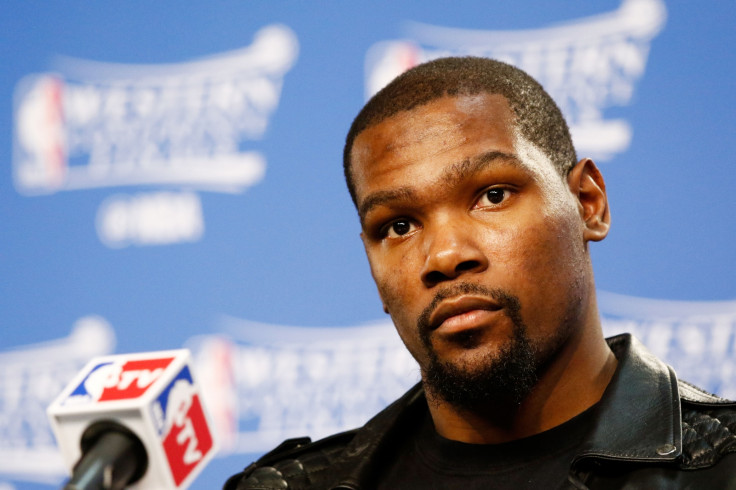 It was against this backdrop of another frustrating near miss that the unrestricted Durant, far and away the league's biggest free agent prize in an uncertain summer that has seen the salary cap jump dramatically, made the heart-wrenching decision to leave the only franchise he had ever known.
With his hometown Washington Wizards seemingly out of the picture after no shortage of speculation, the the seven-time All-Star met with six teams in the Hamptons – the Thunder, Warriors, Heat, Celtics, Spurs and Clippers – before sending social media into one of its frequent meltdowns by announcing via the Players' Tribune that he was taking his significant talents to the sunnier climes of the Bay Area.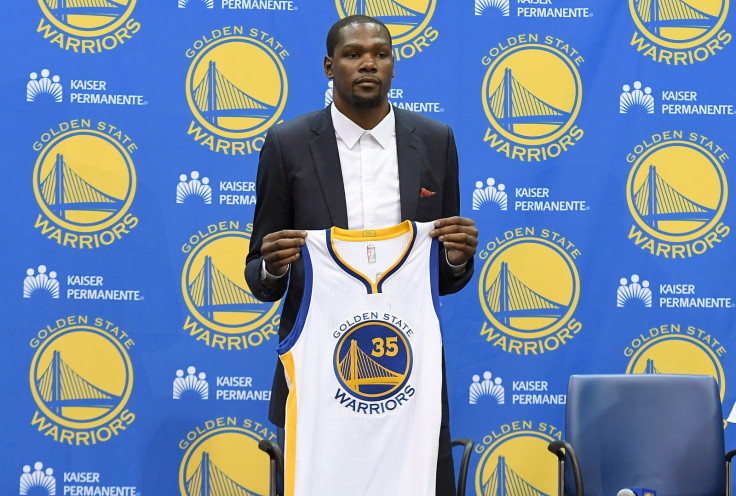 The reaction to that decision has veered from surprise and disappointment to sheer exasperation at just how much better the multiple record-breaking best regular-season outfit the NBA has ever seen, only prevented from repeating their title exploits by a 4-3 defeat to the Cleveland Cavaliers, will now become having added such a versatile, agile and explosive scorer to replace arguably their weakest link, small forward Harrison Barnes.
While perfectly common in sports such as football, there is a curious contrast in attitudes across the Atlantic that often sees moves of this nature treated with derision and disdain. The general feeling in some quarters has been that, rather than take responsibility as a superstar and work to finally lead the Thunder over that final hump, Durant has instead taken a shortcut to the title by joining an elite band of talent under Steve Kerr.
"It's not a popular decision but I can live with it," he said during his official unveiling in California earlier this month. "Nothing in this league is easy. There are no shortcuts. This is the hardest road. I've never lived in this community, don't know anybody here. We live in this superhero comic book world and you are either a superhero or a villain. I understand the fans in Oklahoma City and around the world are upset.
"I made the decision based on what I wanted to do. I'm sorry you feel that way but I just want to live my life the way I want to live it. I've got a short amount of time to play basketball and I just want to enjoy every day of it."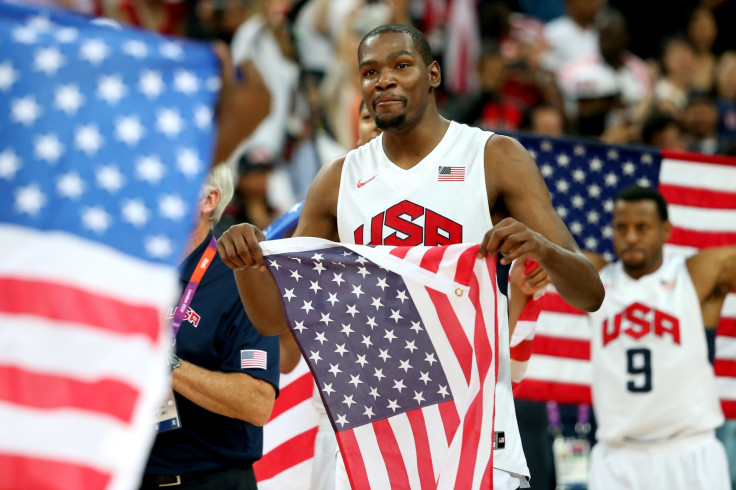 The basketball competition at Rio 2016 offers the 27-year-old an immediate chance to boost his waning popularity and turn attentions back to the hardwood. Already a World and Olympic champion under legendary Duke head coach Mike 'Coach K' Krzyzewski, he heads to South America as one of only two players – the other being Carmelo Anthony – remaining from the USA team that successfully defended their title and claimed a staggering 14th gold medal in 2012.
Top scorer Durant enjoyed a starring role in London, scoring 30 points in the 107-100 final win over Spain and notching a historic 156 in total to break Spencer Haywood's national record, which had stood since the 1968 Games in Mexico City. He also hit an unprecedented 34 three-pointers, knocking down shots at a 52% clip from behind the arc.
The likes of unanimous MVP Curry and James will be absent from the Olympics this summer, both choosing to rest various ailments after the long grind of an 82-game NBA season followed by an extended playoff run. Despite their absences, however, it would take a very brave person to bet against a richly-talented American roster. Durant will be at the forefront of that effort and will no doubt enjoy the distraction after a hectic start to the summer.