Euro drops to 6-day low amid concerns of Greek bailout and UK's EU referendum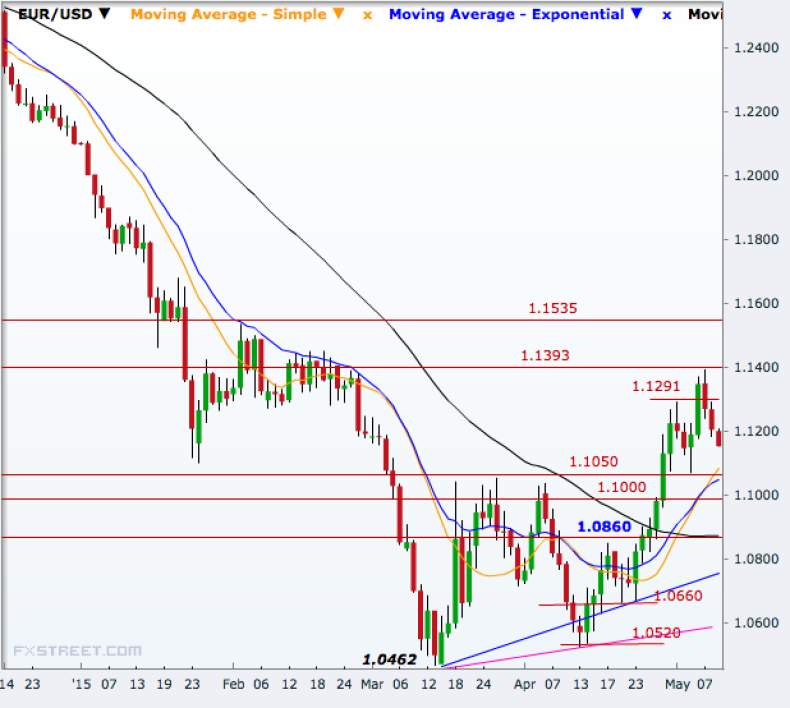 Euro has fallen to a six-day low as no decision has been made yet on collateral haircuts for Greece, even as charts show significant room on the downside in the near term before weakening the uptrend since mid-March.
EUR/USD dropped to 1.1132, its lowest since 5 May, from the previous close of 1.1203. The pair had touched a two-and-a-half month high of 1.1393 last week and is now down 2.3% from that high.
That said, charts suggest that only a break below 1.0860, endorsed by the 50-day simple moving average, will weaken the uptrend since mid-March, when the pair hit a 12-year low of 1.0462.
Before that, 1.1050 and 1.1000 are two support levels to pass through and even in case of a break of 1.0860, uptrend chances will remain until 1.0520 is broken.
A bounce from near 1.08 region will take the pair through the 1.1400 resistance to a multi-month high with 1.1535 being the immediate resistance.
The main event to watch out for Monday is the Eurogroup meeting as Greek bailout concerns continue to weigh on the single currency. German WPI data for April will also be released on the day, but that is unlikely to have any major impact on the euro.
The EU Economic and Monetary Affairs Commissioner Pierre Moscovici said on 8 May that the reform of Greece's economy is not going fast or far enough.
Meanwhile, ECB president Mario Draghi and vice president Vitor Constancio were also on tapes on Friday. Draghi said the bank's bond-buying programme is going well and concerns that it could lead to a scarcity of bonds in the market are unwarranted. Constancio added that the plan will aid, rather than threaten, the stability of the financial system.
Pound is also down against the dollar but the sharper euro slide has pressured the EUR/GBP cross down on Monday with the market waiting for the Bank of England's rate decision scheduled for later in the day.
The new UK government has said that it will deliver the in/out EU referendum as offered and the market is keenly watching the economic impacts of such a move and the outcome.
EUR/GBP has fallen to 0.7225 from Friday's close of 0.7248, adding to the 2.6% slide over the past two sessions that took the cross off a three-month high of 0.7485.
Moody's Investors Service has said that there could be potential repercussions for the UK sovereign rating if the UK is unable to broadly replicate the benefits of EU membership, Reuters reported.