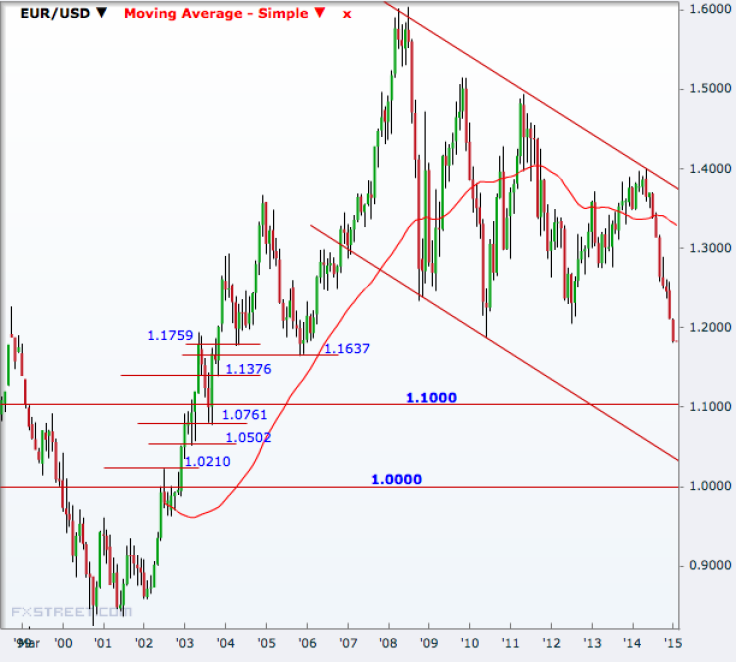 The euro's continued slide against the US dollar in the New Year extending the 2000 pips drop over the past eight months has strengthened the view that the single currency is likely to trade on par with the greenback sometime this year.
Deliberations at the latest policy review meeting of US Federal Reserve showed that policymakers are ready to wait until at least April before the first rate hike in the US since 2006, helping risk sentiment across the board but not euro.
Despite the FOMC minutes published on Wednesday, euro continued southward and hit as low as 1.1800, its lowest since January 2006, before settling at 1.1833.
On Thursday, the common currency moved down again hitting as low as 1.1817 in early Asian deals.
A break below 1.1637, the October 2005 bottom which is just 163 pips away from the latest low, will take the pair to its lowest since November 2003.
It was the 2 January statement by the European Central Bank president Mario Draghi that he stands ready to further ease the monetary policy that triggered this year's selloff in euro, exacerbated by the German and Eurozone inflation numbers that proved the region has fallen to deflation at the end of 2014.
Now a close look at the big downward channel of EUR/USD since 2008 shows that although the pair is headed for parity, 1.1000 is likely to be a significant support among other levels on the way.
The chart above shows other levels before and after 1.1000 ahead of the 1.0 mark. They are: 1.1759, 1.1637, 1.1376, 1.0761, 1.0502, 1.0210.