Euro falls to four and a half year low ahead of PMI data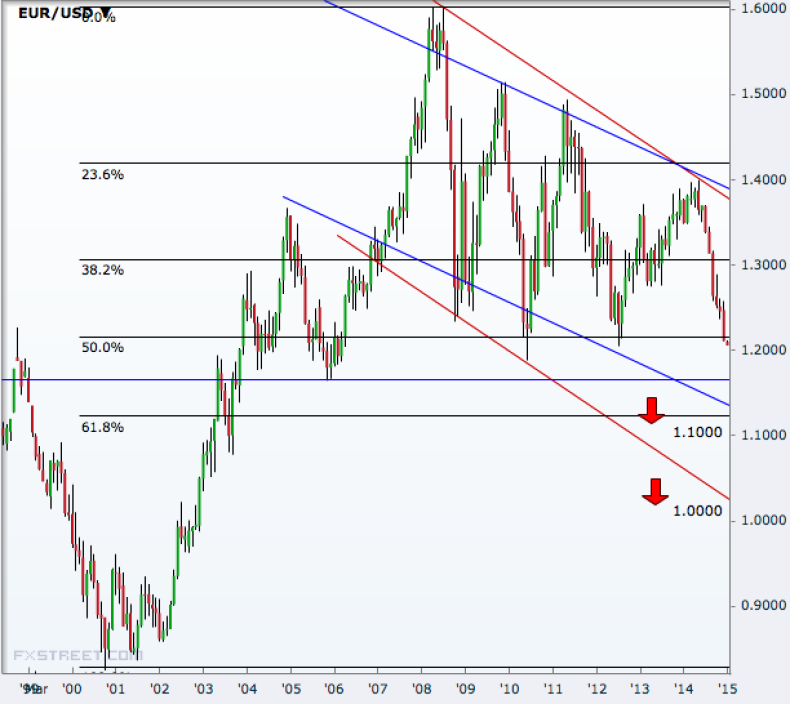 The euro has welcomed 2015 with a 0.55% slide on the first active trading day of the year after holding 1.21 tight on illiquid New Year day, an hour ahead of manufacturing PMI data from major eurozone economies.
EUR/USD traded as low as 1.2034 by 5:00 GMT, its lowest since June 2010. The pair has fallen more than 4% over the past two weeks itself.
The fall towards new lows in early 2015 strengthens the case for a downward channel with the 2014 high of 1.3994 as a medium term top and the likelihood of the downward leg since June extending towards 1.1000.
If eurozone remains under deflation pressures towards the second half of 2015 while the US keeps its growth momentum, then the common currency could head for parity versus the greenback.
Germany, France and Italy had their Markit manufacturing PMI below 50 in November. In December, the index is expected to rise above the no-change mark to 51.2 while data from the other two countries will also be watched.
Spanish and Greek PMI releases due Friday will also be crucial for eurozone.
Later in the day, PMI data for the US will be in focus, both from Markit and the Institute of Supply Management (ISM). The ISM index is expected to drop to 57.6 from 58.7. The Markit number was 54.8 for November.
China, New Zealand and Japanese markets are shut in the Asia pacific region on Friday as well for New Year celebrations.