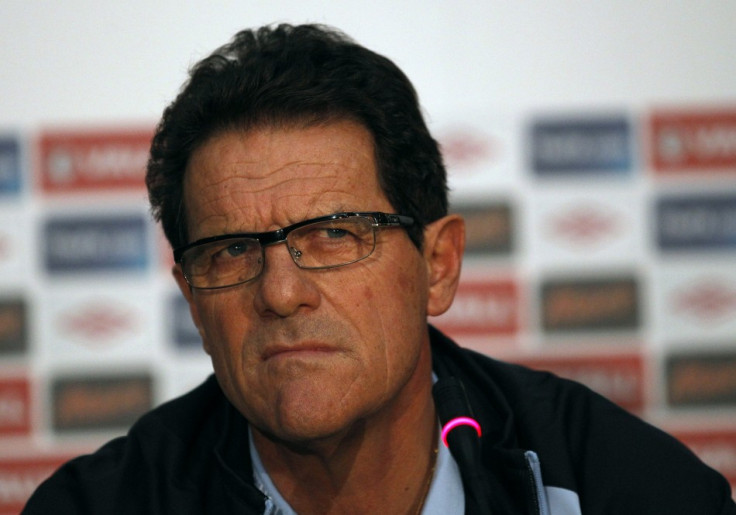 Former England, Juventus and Inter Milan manager Fabio Capello has rubbished suggestions he may have been acting as a spy for Cesare Prandelli and the Italian national team, as they prepare for Sunday's Euro 2012 quarter final clash with England. The game, to be played at the Olympic Stadium in Kiev, will reveal the identity of the last member of the final four for the summer's tournament.
A Daily Mail report said Capello, who led England through the qualifiers for Euro 2012 (as one of only five sides to emerge unbeaten; the others being Germany, Spain, Greece and Italy) went "crazy" at the suggestion he may have revealed inner details of England's tactical plans and ideas to Prandelli. Clearly the idea of betraying a country he spent four years coaching has hurt the 66 year old veteran.
"Who the **** is writing this ****? I will sue them," a furious Capello stated, when told of the reports while in Miami for a charity match. The Daily Mail report also quoted his son, Pierfilippo, who is also his lawyer and agent, as saying his father was genuinely considering legal action.
"Fabio went crazy when I spoke to him about this. We will start legal action against anyone who has suggested he has been helping Italy's coach in any way. They haven't even spoken for a year. It is an insult to Fabio to suggest he would reveal anything after four years working for the FA. He still has many close relationships with people at the FA. He wouldn't do it, he values what he had with the England players too much," Pierfilippo said.
Incidentally, this is not the first mention of spying at Euro 2012. An earlier IBTimes UK report commented on a Swedish journalist, Ola Billger (writing for a newspaper called Svenska Dagbladet) who had been allowed to observe a closed-door tactics briefing by Roy Hodgson for the England team, ahead of the group game against Sweden.
There was also mention of German coach Joachim Low admitting there could be leaks from within his country's camp as well. A Reuters UK report confirmed that Low had been distinctly unhappy when told his line-up for the quarter final against Greece had been leaked several hours prior to the match.
"It is unfortunate that this has happened because at 1400 (local time) all the German media knew. There must be a leak," André Schürrle told Reuters, "It is true that the coach talked to us about it and he was not happy. I do not think it is someone from the team because I cannot imagine it being someone from the team. There must be a leak and it is very unfortunate." Schürrle plays his club football with Bayer Leverkusen in the Bundesliga. It then transpired that similar leaks had occurred before each of Germany's group games as well.
Meanwhile, leaked information and James Bond-like spies aside, Capello has been quoted as stating he has torn loyalties ahead of the England - Italy quarter final but expected whoever won the game to lose to Germany in the semi final.
"I have contrasting sentiments about Sunday's game," Capello told the Mirror, "I worked with England for four years and I can't easily forget that. However, Spain and Germany will be the two finalists at Euro 2012. Germany have an incredible spirit and have real strength, while Spain are the side who play the best ­football even if they are missing something in attack - they need a player like Lionel Messi."