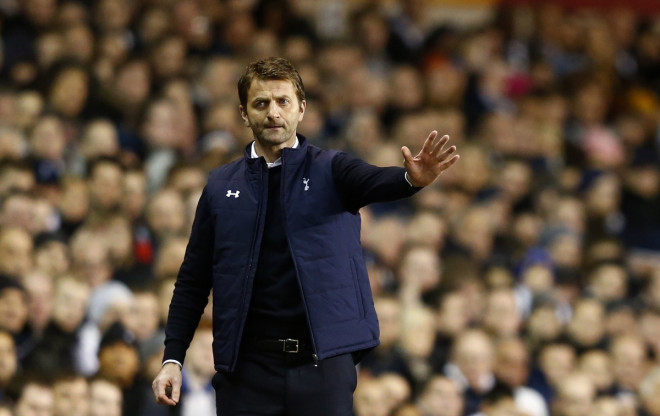 Tottenham Hotspur manager Tim Sherwood believes his side's sterling comeback to defeat FC Dnipro in the Europa League last 32 can lay the foundations for greater challengers ahead – which include overhauling Liverpool for the final Champions League place.
Trailing 1-0 from the first leg in Ukraine, Spurs rode their luck as Roman Zozulya gave the visitors a two-goal aggregate lead in the second half at White Hart Lane but Christian Eriksen's free-kick thrust Sherwood's side back in contention.
Zozulya was then sent off for a headbutt on Jan Vertonghen and Tottenham took full advantage as Emmanuel Adebayor scored twice during a whirlwind four minutes to set up a last 16 meeting with Benfica.
As well as a clash with the two-time European Cup winners, Sherwood is charged with breaching the six-point gap to fourth placed Liverpool in the final 11 games of the season to secure the final Champions League place and the manner of Tottenham's comeback gives the manager reason to believe.
"You can only learn from experiences of what you've done previously and this will be a good example of that," said Sherwood.
"We was, and many of you, thought we were dead and buried when they went 1-0 up but the lads really did show belief.
"It's about getting back on the horse straight away and we scored five minutes after and the belief grew. It was only us going to keep scoring I felt.
"It is a good platform, it is a good learning curve and it is one we can look to in the future if we do go behind.
"We have to give everything, this club won't accept anything less than that. Even if we're out of the game we have to try to get some pride out of anything and that's what I try and instill into them and it's fantastic that we've been able to turn it around tonight.
"I was delighted with the character," added Sherwood. "I am not at liberty to question the character when they perform like that. But I did previous to tonight.
"I didn't question it so much but asked for it and I think that after conceding so early in the second half it was a real blow for us and it was all based on character and desire.
"It's Tottenham, we're going to find a hard way to do it, that's what we do. I always felt we were going to need to score three goals tonight in order to go through.
"It's a big platform for us. I can only talk about when I've been here and it's been brilliant in the Premier League.
"On the back of that bad result at Norwich, we should be bouncing into the game against Cardiff on Sunday.
"That's what we're looking for, we're looking for a platform. We believed we could win today and turn this tie around. We've done that and we're looking forward to the next game on Sunday [against Cardiff City]."