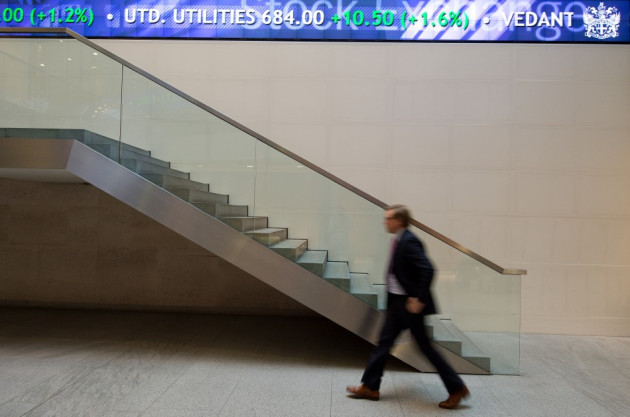 European markets opened lower on Tuesday ahead of a two-day public hearing in Germany's constitutional court examining the legality of the ECB's bond-buying scheme.
Europe's FTSEUROFIRST 300 dropped 0.5% to 1,187.60 points in early trade.
Britain's FTSE 100, France's CAC 40 and Italy's FTSE MIB fell 0.4% each in early deals.
Germany's DAX and Spain's IBEX were both down 0.6% in opening trade.
Most European stock markets had ended lower on 10 June after uninspiring economic data from China, the world's second-largest economy, raised global growth concerns.
Today's hearing in Germany could seriously undermine the ECB's bond-buying programme, which is widely credited with having soothed the markets at the height of the eurozone debt crisis.
Elsewhere in Europe, ECB President Mario Draghi said the central bank would not pick "higher inflation rates" to resolve the eurozone debt crisis and that it would only "intervene" in the bond markets in certain situations.
Investors in the UK will be tracking the monthly and annual factory output data early in the day. The National Institute of Economic and Social Research will also put out its GDP forecast during the day.
Data from the UK showed house prices rose by the fastest pace in three years as the recovery in the UK housing market expanded beyond London.
The Royal Institution of Chartered Surveyors (RICS) said home prices were expected to rise 4.1% next year in London, while other regions barring Northern Ireland would also experience better prices. Respondents in a RICS survey expected a 0.2% increase in Yorkshire and Humberside in northern England.
European investors will also be tracking Swedish annual CPI data, forecast at minus 0.3, from minus 0.5 previously.
In Asia, the Nikkei closed 1.45% lower after ending 4.71% higher on Monday. Australia's S&P/ASX closed 0.41% higher while South Korea's Kospi ended 0.62% lower.
Mainland Chinese markets will remain closed until Thursday for public holidays.
Earlier in Asia, markets outside Australia opened lower on Tuesday, with the Japanese Nikkei losing over 1% in afternoon trade on news that the Bank of Japan would not step in to check stock market fluctuations.
The Nikkei was pulled down by the Bank of Japan's (BoJ) reluctance to arrest the recent volatility in the markets. A BoJ monetary policy statement made no mention of possible measures to control turbulent markets.
South Korea's Kospi was pulled down by a weaker Japanese yen which renders Korean exporters less competitive against their Japanese rivals.
Australia's S&P/ASX inched up in opening trade after a long weekend break, but the lower demand for Australian commodities in China weighed on the market. Economic data released over the weekend showed the world's second-biggest economy could weaken further in the second quarter of 2013.
The Hang Seng fell 0.94% or 203.28 points to 21411.81, pulled down by weak Chinese economic data.
On 10 June, Wall Street equities ended flat. Rating agency Standard & Poor's revision of the US sovereign credit outlook to stable from negative helped equities post intra-day gains.
The Dow ended 0.06% lower to 15,238.59, while the S&P 500 shed 0.03% to 1,642.81. The Nasdaq Composite inched up 0.13% to 3,473.77.