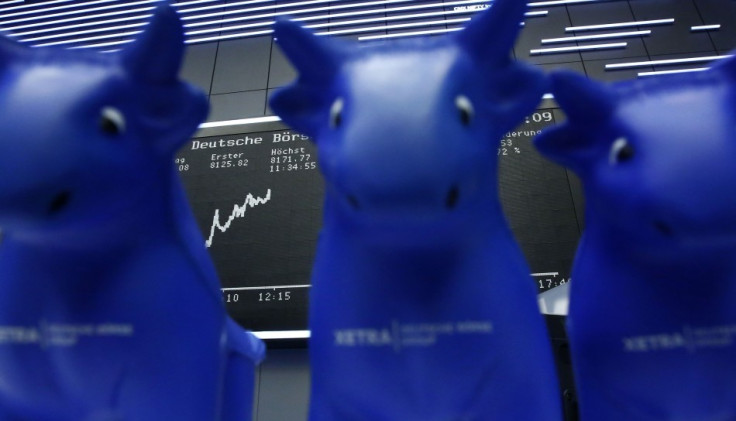 European stocks followed Asian markets and climbed higher in early trade, buoyed by positive sentiments from Japan and the US.
The pan-European FTSEurofirst 300 gained 0.1% to 1,249.44 in early deals. The UK's FTSE 100 added 0.1%, while France's CAC 40 remains little changed.
Germany's DAX rose 0.4% and Spain's IBEX advanced 0.2%. Italy's FTSE MIB fell 0.9%
Markets in Austria, Denmark, Hungary, Iceland, Luxembourg, Norway and Switzerland are closed for a public holiday on 20 May.
In the UK, data from the British Retail Consortium (BRC) showed that shop vacancies rose to a record level in April despite an improvement in high-street footfalls thanks to warmer weather.
Data from property website Rightmove said that the asking prices for houses in London rose more than twice as expensive as the national average, crossing half a million pounds for the first time, buoyed by the loan availability for buyers.
In other news, the British government is stepping up its fight against tax evasion. Prime Minister David Cameron wrote to British overseas territories and crown dependencies, including low-tax regimes such as the Isle of Man and the Cayman Islands, asking them to improve transparency.
The Bank of England is set to release minutes of its Monetary Policy Committee meeting during the day. The IMF is expected to put out a statement on the UK's economy, later in the week.
German central bank Bundesbank will release its monthly report later in the day, while the country's first quarter GDP data is expected this week.
European investors will be tracking Fed Chairman Ben Bernanke's testimony to the Congress, on 22 May, looking for hints on the timeline of the proposed roll back of the Fed's bond-buying program.
Companies reporting earnings include Russian steel giant Severstal, Russia-based oil firm TNK-BP and Ireland's Ryanair.
Earlier in Asia, Japan's Nikkei average hit a new 5-1/2 -year high, while Hong Kong's Hang Seng surged, supported by signs of improvement in the US economy.
The Japanese government also upgraded its outlook for the economy, fuelling a rally in Tokyo. The yen gained against the dollar, rising from a 4-1/2-year low against the dollar, after Japan's economy minister said a weaker yen could hurt the economy.
On 17 May, Wall Street ended at record highs, boosted by a positive economic outlook and consumer sentiment.