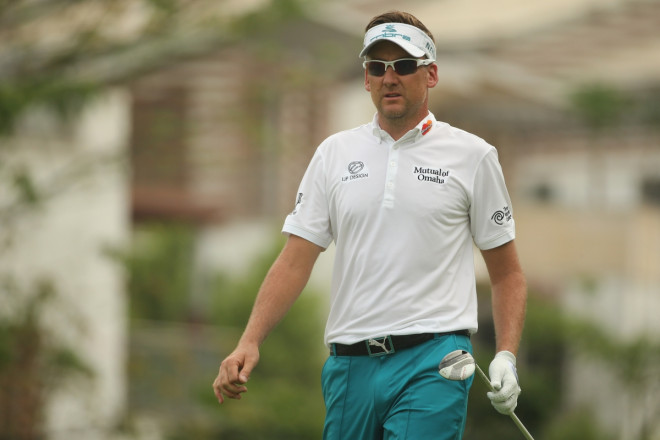 Europe's Ryder Cup captain Paul McGinley has indicated Ian Poulter will be one of his three wildcard picks prior to the September meeting with United States at Gleneagles should the Englishman fail to qualify automatically.
Poulter – a two-time winner with Europe - has prevailed in eight of his 11 Ryder Cup matches and inspired a stunning comeback victory in Medinah in 2012.
But following a harrowing start to 2014, where the world No.22 missed the cut at Pheonix and was knocked out of the first round at the World Match Play in Arizona, Poulter has slipped outside the automatic qualifying places.
McGinley will have the unique opportunity to choose three wildcards for 2014 and though he is not concerned about using one of them to select Poulter, he is willing him to qualify directly.
"[Poulter] He's not a real worry, he's just outside the team," McGinley said. "He's made a lot of points. Ok he had a great start to the campaign last year and he's fallen off a little bit but I know he'll come back again.
"I spoke to him last week and he's really looking forward to having a good run over the summer.
"I want to see him make the team. His record in the Ryder Cup is superb. You want to see all the guys with Ryder Cup pedigree make it and then I'll see where I go after that.
"There is a lot of water under the bridge and shifting sands all the time before September. Ian Poulter has made a lot of points and he doesn't need to make too many more to guarantee himself on the team."
This week's BMW PGA Championship at Wentworth marks the start of the summer golfing calendar, with the US Open and The Open Championship on the horizon over the next two months.
Ahead of choosing his three wildcards at the start of September, McGinley feels central to that decision will be the form of players across the next two months.
"The BMW Championship is kind of the beginning of the summer season in the UK and Ireland particularly," McGinley, a three-time winner of the Ryder Cup as a player, added.
"From my point of view, with the Ryder Cup in mind, from now right until the qualifying ends at the end of August that's the big important element of form I am looking for.
"In terms of bringing the 12 players together and bearing in mind the toughest decisions I am going to have to make are going to be the three picks [this period is crucial]. I am looking for really good form over the next three months."