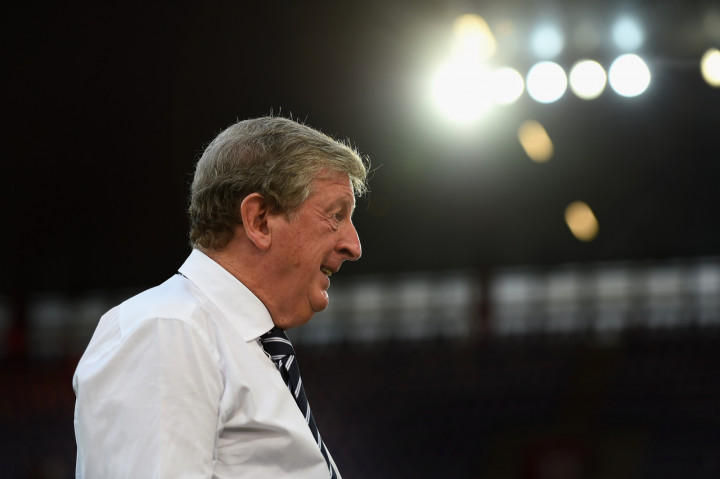 9:40: England have won! And convincingly in the end! A much-improved performance in the second half allowed the visitors to score twice via two excellent moves through Danny Welbeck. In their hardest game of this qualifying stage, they have taken three points.
FULL TIME
Switzerland 0-2 England
9:36: England seal the win in Basel! Sterling leads the counter attack, finding Lambert 25 yards out from goal. The Liverpool striker's run draws defenders in, allowing him to slip a clever ball over to Welbeck who finishes with aplomb just inside the area.
Goal! Switzerland 0-2 England (Danny Welbeck, 90+3)
9:34: The Swiss pile forward but again fail to work anything. Sterling relieves the pressure and drives at the opposition. Lambert charges up field to provide the Liverpool youngster with an option but he instead opts to shoot and lifts his effort over the bar.
9:32: Wayne Rooney's evening is over, Rickie Lambert replaces him just as five minutes of added tims is confirmed.
9:28: Sterling finds space down the right but his ball is cut out by Djourou. Rooney however pounces on the loose ball and bursts past the former Arsenal man, cutting across goal from left to right but is just edged off the ball. Welbeck takes over but his shot is deflected out for a corner, which is wasted.
9:25: Sommer pushes away a Jordan Henderson cross but only as far as Delph. The Aston Villa man checks inside on the edge of the area but is dispossessed wby a crunching challenge from Djourou. The former Arsenal got the ball, via an awful lot of the man.
9:22: Phil Jones comes off looking a bit worse for wear and is replaced by Phil Jagieka.
9:20: John Stones rushes out to retrieve the ball but pulls out of position, allowing Rodriguez to race into the space behind him. The full back swings an excellent cross into the box and Seferovic thumps it against the bar with a wonderful volley! Doesn't matter anyway, as he was offside.
9:17: James Milner has come on to replace Jack Wilshere. 15 minutes to go.
9:14: Cahill denies the hosts an equaliser! Drmic is offside but runs clear of the England defence anyway and takes the ball around Joe Hart. He is forced wide but as he tries to slide the ball into the empty goal the Chelsea centre half slides across goal to make a crucial interception and save his side's advantage.
9:11: Worrying signs for England and Manchester United as Phil Jones appears to be limping after stretching for the ball.
9:08: Raheem Sterling is picked out in space just inside the area and brilliantly jinks past a couple of challenges. Just as he is about to pull the trigger however, Lichensteiger slides in with a perfectly timed challenge.
9:05: Josip Drmic has come on for the hosts, replacing Mehmedi. Within a few minutes he is bearing down on the England defence, but with two markers for company, he is forced wide. He manages to dink a ball back into the middle however, but none of his teammates have made the run into the middle.
9:00: England lead through a brilliant counter attack! Switzerland lose possession under pressure from Rooney just inside their own half and the skipper leads the charge with a man advantage. Rooney slides a ball out to his left for Sterling who looks up and finds Welbeck rushing into the area. It comes off the Arsenal's striker's shin, but it finishes a sublime move from Hodgson's side.
Goal! Switzerland 0-1 England (Danny Welbeck, 58)
8:58: Brilliant move from the Swiss! Shaqiri drives in from the right and floats an excellent ball into the box that Xhaka heads over to Seferovic, but his half volley is palmed over the bar by Hart. Great save from the Manchester City stopper.
8:55: Much better from England as a neat move frees Henderson down the inside right channel. The Liverpool midfielder delivers a perfect ball across the goal for his club teammate Sterling but he gets his timing completely wrong and connects with nothing but air. Wasn't expecting that, and neither was Behrami, who saw Henderson's ball cannon off his shins and just about avoid the bottom right hand corner of the net.
8:52: Rodriguez battles his way down the left flank and drags a ball across ther face of goal through a cluster of bodies. It reaches Lichensteiger, but leaning back, he lifts his effort well over the cross bar.
8:50: England launch the ball in from the corner towards Welbeck but the Swiss smuggle the ball away.
8:48: Jack Wilshere, who was perhaps guilty of not demanding the ball enough in the first half, plays a neat one two with Delph on the edge of the area and his driven effort takes a deflection en route to going out for a corner.
8:45: And we are back underway for the second half. England have just about enjoyed the better of the chances, but have looked rather vulnerable, particularly at the back, on a few occasions.
HALF TIME
Switzerland 0-0 England
8:30: Phil Jones denied by a great save! Sommer was unconvincing in batting Rooney's effort away moments later but this was certainly an improvement. The corner comes in and rising above his marker - I think it was Djourou - Jones thumps a downward header on goal, only for Sommer to leap down and make the save.
8:27: Delph rushes over to the left hand corner to help out Baines and neatly turns inside after receiving the ball and finds Rooney. The skipper curls one on goal but the Swiss goalkeeper bats it away for a corner.
8:25: Moments after aimlessly hoofing the ball up field to precisely no one, Jones instead opts for a smart ball out wide to Baines. It's worked inside but a neat flick from Rooney finds the Everton full back out wide again to swing the back into the box. Danny Welbeck is well placed but fires wide after being ruled offside.
8:20: England manage to clear from that resulting corner and can breathe easy for a moment.It was very sloppy defending from Jones that presented that chance. The pace and movement of Shaqiri and Seferovic has troubled the England back line but they have done themselves no favours at times this evening.
8:18: Switzerland denied! Phil Jones tries to play his way out of troubles but Shaqiri steals possession and drives towards goal. The Bayern Munich man instead slides an excellent reverse ball through to Seferovic who shoots from a tight angle in the box, only for Joe Hart to swing out a leg and make the save.
8:14: What a chance for England! Welbeck brilliantly intercepts out on the right flank and gallops into acres of space. He cuts in and with both Rooney and Sterling well placed in the box with just one Swiss defender back and opts to cut the ball back for the Liverpool man. There is just too much pace on his pass however and it skims off the pitch away from Sterling and another chance is gone.
8:09: Delph is living a little dangerously at the moment. On a few occasions since he was shown that yellow card he's been guilty of needlessly diving in. The referee has given him another warning.
8:05: Elsewhere tonight, Spain lead 2-0 against Macedonia after a cute paneka penalty from Sergio Ramos swifly followed by a tap in from Paco Alcacer
8:03: Switzerland want a penalty! Seferovic is threaded through on the edge of the D ahead of Phil Jones. The United defender stumbles and hits the deck, and the Swiss foward follows suit. No dice, however, the referee waves away Seferovic's pleas and play continues.
8:00: von Bergen gets a clearance completely wrong and hooks the ball into the path of the onrushing Sterling. Cutting in from the right he bears down on goal but his through ball for Rooney is a poor one that bobbles into the captain's path. He gets the shot away, but it's a tame one straight into the goalkeeper's arms.
7:57: From that free kick Joe Hart easily collects and launches a ball upfield. Sterling scampers into space but his threaded through ball is hacked away. Jack Wilshere takes over and dinks a ball over the top for Rooney but his touch is poor and Switzerland clear.
7:55: Now Delph is booked. Lichtsteiner carries the ball down the right at no great pace and posing no great threat. Inexpicably, the Villa midfielder decides to dive in and is rightly shown a yellow card for his silly challenge.
7:52: Fabian Delph loses possession inside his own half to Behrami who brings the ball forward before spraying a pass out to the left. A cross is swung in but Joe Hart is out to easily collect. Just before he released that pass, former West Ham man Behrami received a crunching challenge from Delph who tried in vain to win the ball back but was lucky to avoid a yellow card.
7:50: England dominate possession in the opening few minutes but the ball breaks to Mehmedi over on the left flank. He deftly nutmegs Stones, leaving the Everton man sprawled on his backside, but Henderson gets across to ensure he goes no further.
7:48: England starting with a diamond midfield with Jack Wilshere sat at the base, Raheem Sterling at it's tip. Henderson looks to force a run down the left before sliding the ball through to Rooney but the captain is penalised in opening minutes of the game.
7:46: And England get us off and underway in Basel.
7:43: Right, that's the national anthems done with, kick off is imminent.
7:38: Elsewhere this evening, Spain get their campaign underway against Macedonia in a game where Iker Casillas has retained his spot in goal at the expense of David de Gea. In the other games in England's group Estonia are hosting Slovenia while Lithuania will be looking to secure a healthy goal haul away at San Marino.
7:32: Stood on the pitch, ITV's team of Adrian Chiles, Ian Wright, Glenn Hoddle and Lee Dixon are thoroughly soaked be a sprinkler. Heartwarming scenes.
LINE UPS:
Switzerland: Sommer, Lichtsteiner, von Bergen, Djourou, Rodriguez, Behrami, Inler, Xhaka, Shaqiri, Seferovic, Mehmedi
Subs: Hitz, Benito, Senderos, Widmer, Frei, Stocker, Dzemaili, Fernandes, Kasami, Drmic, Schar, Burki.
England: Hart, Stones, Cahill, Jones, Baines, Wilshere, Henderson, Delph, Sterling, Welbeck, Rooney
Subs: Forster, Rose, Jagielka, Chambers, Milner, Oxlade-Chamberlain, Townsend, Lambert.
TEAM NEWS: Roy Hodgson risks the wrath of Liverpool supporters after selecting Jordan Henderson in midfield despite his injury concerns. Fabian Delph will also make his England debut this evening, with John Stones starting at right back.
New Switzerland boss Vladimir Petkovic leads his side out for the first competitive game of his tenure, and has opted for a front thee of Granit Xhaka, Xherdan Shaqiri and Haris Seferovic. Former Arsenal man Johan Djourou continues at the heart of defence.
7:16: In a group alongside Slovenia, Estonia, San Marino and Lithuania, England's trip to Basel for a meeting with Switzerland represents - by some distance - their toughest challenge in Group E. In their first competitive match since their dismal World Cup campaign Roy Hodgson will be hoping to see a bit more life in his side than in the performance against Norway in front of a half empty Wembley last week.
7:10: Three months on from England's harrowingly inevitable disappointment in Brazil, the road to Paris and the 2016 European Championship begins this evening. Drawn into a group in a revised system that ensures even the most underwhelming group campaign should result in qualification, Roy Hodgson's side will be expected to provide an injection of enthusiasm into this campaign after the summer's disappointment.
With the retirements of Steven Gerrard and Frank Lampard, there is a fresh feel to this England side. But will this new setup be plagued by the same old problems? Only time will tell.