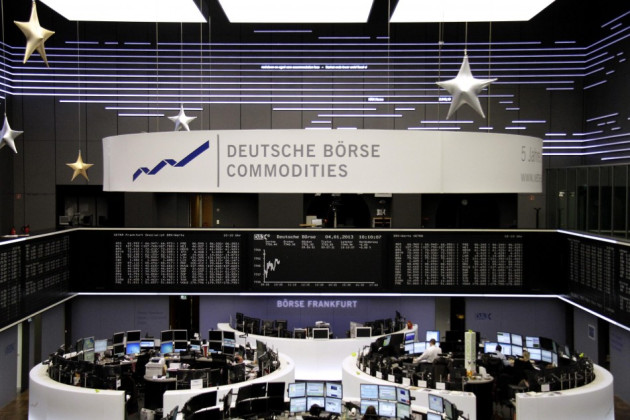 European markets remain mixed in the opening minutes of trade ahead of the European Central Bank's (ECB) and Bank of England's (BoE) policy meet scheduled later this week.
The pan-European FTSEurofirst 300 share index up 0.1 percent to 1,167.99 while UK's FTSE 100 and France's CAC-40 remained little changed.
In Italy, FTSE MIB was gained 0.2 percent while Spain's IBEX rose 0.1 percent. Germany's DAX dropped 0.3 percent.
The STOXX 600 European banking index rose 0.5 pct after the Basel bank liquidity rules were eased.
The single currency dropped against the dollar, trading at about $1.30.
Asian markets had earlier ended mixed as traders sought to book profits and US economic concerns returned with the Federal Reserve's minutes release.
Australia's S&P/ASX 200 slipped 0.14 percent to 4717.30 while Japan's benchmark Nikkei Average slipped 0.83 percent to 10599.01. South Korea's KOSPI was down 0.03 percent to 2011.25.
In Hong Kong, the Hang Seng added 0.03 percent to 23339.05 towards close while mainland China's Shanghai Composite Index rose 0.37 percent to 2285.36.
European traders are awaiting the ECB and BoE policy meets that are set to take place this week. In December, ECB had left doors open for an interest rate cut this month, but analysts remain unconvinced that the central bank will take up any such decision at the moment.
Jonathan Thomas, senior economist at Lloyds Bank said in a note that ECB might "wait for further evidence on the likely path of euro area activity and that the current policy stance will be maintained for now".
Some of the major Asian financial stocks traded higher after banks received a breather from global regulators on complying with stiff liquidity mandates. HSBC Holdings gained about 1 percent in Hong Kong while ANZ added 0.59 percent in Australia.
Global markets had started 2013 on a rather cheerful note as US lawmakers' last-minute budget deal and positive economic indicators improved financial outlook. European markets had ended the previous week higher after official data showed that the US unemployment rate held steady in December despite economic concerns.
But sentiments had dampened a bit as the Federal Reserve's minutes pointed to uncertainties on the third Quantitative Easing and political rhetoric suggested more wrangling on the debt ceiling and spending cuts issue.
Speaking to ABC, the Republican Senate minority leader Mitch McConnell indicated that as the tax decisions were sorted out, the next issue was decision on spending cuts.
"[The tax issue] is behind us. Now the question is - what are we going to do about the biggest problem confronting our country and our future? That's our spending addiction - it's time to confront it," he said.
Traders in Tokyo had remained upbeat in the recent weeks as the Yen's weak run that started just before the recent elections on monetary easing hopes buoyed the Nikkei to multi-month highs.