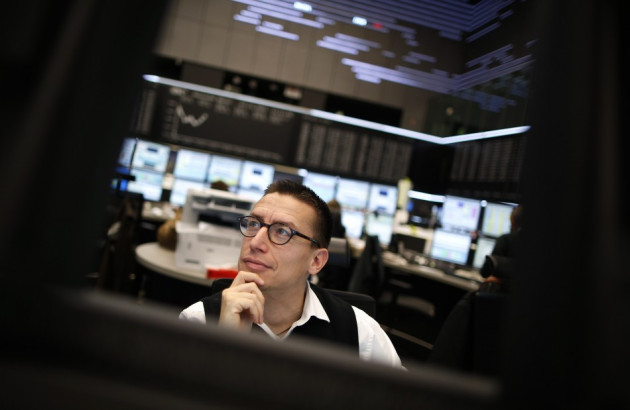 European stocks rose firmly in the opening minutes of trading to test the highest levels of the year, following strong hints from China's new regime that it will continue policy reforms to ensure economic stability.
Europe's FTSEurofirst 300 advanced 0.1 percent to 1125.52 points - just a few ticks away from the 2012 high - while Britain's FTSE 100 was up 0.3 percent in early trading. The more narrow Eurostoxx 50 gained around 0.4 percent to 2605.29 while Germany's benchmark DAX index gained 0.6 percent.
In France, the CAC-40 advanced by 0.6 percent. Italy's FTSE MIB and Spain's IBEX rose by the same percentage.
The single currency traded at a six-week high of $1.3127 against the US dollar.
Asian markets had earlier ended higher, with the Chinese financial and property stocks pushing the Shanghai index to rebound from a four-year low.
The Shanghai Composite Index ended 2.87 percent higher to 2031.91 while Hong Kong's Hang Seng gained 2.14 percent to 22266.29. Japan's Nikkei average was up 0.39 percent to 9468.84 while South Korea's KOSPI gained 0.63 percent to 1947.04.
The political rhetoric from China remained in focus. The country's newly appointed politburo under the party chief Xi Jinping said that China will maintain its economic policies at a stable level and make changes whenever needed, following the regime's first economic assessment.
"We will keep continuity and stability of macro-economy policies, prioritising on making policies more targeted and effective while fine-tuning policies when appropriate," Xi Jinping was quoted as saying by China's state-owned television channel.
"China will make more efforts on expanding domestic demand and fostering new consumption growth areas."
The party chief added that the government would take up further reforms including giving more freedom to market forces in determining prices of resource products. Analysts suggest that the administration's emphasis on maintaining stability could mean that policies will remain supportive to boost domestic demand and face external pressures.
Growth in the world's second largest economy had slowed in the third quarter, but has since seen improvement mainly due to government initiatives. However, the looming 'fiscal cliff' crisis in the US and the ongoing eurozone difficulties remain a threat to the country. The government has reportedly acknowledged this, saying that although the economy is recovering, it will "face various challenges that should not be underestimated".
The deadlock over the 'fiscal cliff' talks continued in the US. Concerns that the upcoming tax hikes and spending cuts will push the economy into recession had weighed the US stocks lower yesterday.
Meanwhile a meeting of European Union finance ministers to decide on a single supervisor for banks in the region ended without an agreement in Brussels. The ministers are set to meet again in the coming week to continue talks.
Financial and property firms in China traded higher. Ping An Insurance Group was up 5.55 percent in Hong Kong towards close, while Bank of Communication and China Life Insurance gained 3.60 and 4 percent. China Resources Land and Wharf Holdings gained 3.22 and 3.42. In Shanghai, Ping An's shares gained 4.09 percent while China Life insurance was up 2.60 percent.