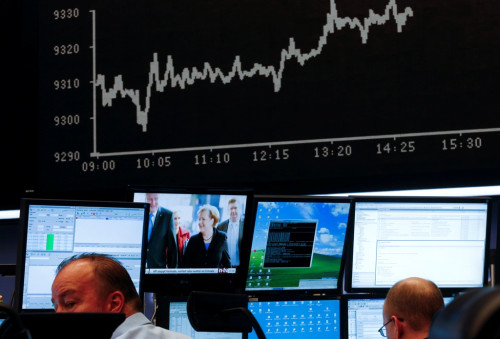 European markets opened higher on 18 December, and traded higher thereafter, ahead of the conclusion of the US Federal Reserve's last policy meeting for the year.
The Stoxx Europe 600 index opened 0.5% higher to 312.83.
Britain's FTSE 100 opened 0.4% higher.
France's CAC 40 opened 0.6% higher.
Germany's DAX opened 0.7% higher.
Spain's IBEX 35 was trading 0.62% higher after opening higher.
Italy's FTSE MIB was trading 0.42% higher after opening higher.
The Fed will put out a policy statement at around 19:00GMT, and chairman Ben Bernanke will address a news conference at 19:30GMT. The central bank could reveal a reduction in its $85bn-a-month bond buying stimulus.
RBS Global banking & Markets, in a note to clients, listed some key variables to watch out for:
"Initial Tapering Amount: $10bn or less likely seen as a 'small taper' and on its own may not lead to significant strengthening of the USD. The impact of the initial taper value on FX markets is likely paired with whether the Fed includes any guidance as to when QE will eventually end."
"Conditional Calendar for QE: A small taper combined with a 'fast' wind down could be seen as significantly more hawkish than a large initial taper with either an extremely slow or no implied timing for the end of QE."
"Forward Guidance, Qualitative or Quantitative: Improved forward guidance, even if paired with a taper, would reinforce the FOMC's lower for longer stance."
"Bernanke Press Conference: Will the chairman signal any future shifts at his final press conference? How does the recent fiscal agreement and the drop in the unemployment rate shape the outlook?" RBS added.
Market participants in Europe will be tracking the minutes of the Bank of England's recent policy meeting, due out at 09:30GMT.
They will also be tracking October's unemployment and average earnings figures coming in from the UK, at 09:30GMT.
The Ifo's German business climate index has been released.
In Asia
The Japanese Nikkei finished 2.02% on 18 December while South Korea's Kospi finished 0.45% higher.
Australia's S&P/ASX finished 0.14% lower, while the Shanghai Composite finished 0.13% lower.
A bulk of all Asian markets traded higher, ahead of the Fed QE taper decision.
In Japan, the benchmark Nikkei index was boosted by speculation that Prime Minister Shinzo Abe could, on 19 December, make public details of the so-called "third arrow" of a three-pronged strategy to boost growth in the world's third-largest economy.
In India, the benchmark Sensex was boosted by The Reserve Bank of India's (RBI) surprise move to leave its key lending rate and banks' cash reserve ratio unchanged.
Data from China showed that home prices continued to rise despite government measures aimed at cooling the property market.
Elsewhere, in Australia, central bank governor Glenn Stevens warned that an Australian dollar above 90 US cents was not apt for the economy.
On Wall Street
On Wall Street, indices ended slightly lower on 17 December, ahead of the Fed announcement.
The Dow finished 9.31 points, or about 0.1%, lower at 15,875.26.
The S&P 500 ended 5.54 points, or 0.3%, lower at 1,781.00.
The Nasdaq closed 5.84 points, or 0.1%, lower at 4,023.68.
"There is enough ammunition for [the Fed] to start off even in a timid fashion [on 18 December], so we're acknowledging the possibility but holding out the probability of March," Mark Luschini, chief investment strategist at Janney Montgomery Scott told CNBC. He was referring to recent data showing an improving economy and labour market.