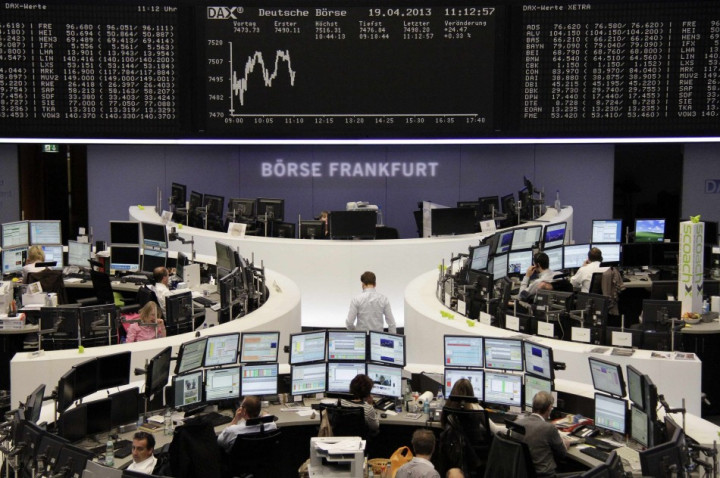 The pan-European FTSEurofirst 300 index declined 0.2% to 1,199.7 points. The UK's FTSE 100 fell 0.1%, while France's CAC-40 slid 0.5%.
Italy's main FTSE MIB declined 0.5% and Spain's IBEX fell 0.2%. Germany's DAX shed 0.1%.
Many economists expect that the ECB will cut benchmark interest rates by 25 basis points to 0.5% to encourage growth in the euro zone. The rate cut will be the first by the central bank since July 2012.
On 30 April, the European Union's statistics office, Eurostat, said that the euro area's unemployment rate rose to a record high at 12.1% in March from 12% in February. Eurostat also reported that the area's annual inflation declined to 1.2% in April from 1.7% in March.
The European Commission earlier reported a fall in economic sentiment in the 17-member eurozone for the second straight month in April.
The data reiterated the need for another rate cut by the ECB to spur economic growth in the region. The ECB statement is expected to come at 12.45 BST. The meeting will be followed by a press conference, in which the ECB President Mario Draghi will address the ongoing oppositions against austerity across the euro area.
Asian markets were down as investor concerns about the health of the world economy mounted after weak data from the US and China.
HSBC revised down its China manufacturing Purchasing Managers' Index for April to 50.4 from a preliminary reading of 50.5, confirming a sharp slowdown in the expansion of the world's second-largest economy's manufacturing sector.
Earlier, the ADP National Employment Report said the US private sector added 119,000 jobs in April lower than the 150,000 forecast, while the US Institute for Supply Management said its index of national factory activity fell to 50.7 from 51.3 in March.
The Chartered Institute of Purchasing and Supply will release its construction PMI for the UK. Spain, Germany, Italy, France and the euro zone are slated to release their manufacturing output data on Thursday.
Denmark-based Danske Bank, France-based healthcare company Sanofi, French advertising firm Havas, German-based electronics firm Siemens, German carmaker BMW, airline Deutsche Lufthansa and semiconductor manufacturer Infineon Technologies are among major companies reporting first-quarter earnings during the day.
Meanwhile, the Bank of Cyprus, natural gas firm BG Group, broadcasting group BskyB, oil major Royal Dutch Shell and gold miner Randgold Resources are reporting full-year results.
The Nikkei had closed at 13,694, down 0.8%, while South Korea's KOSPI closed at 1,957.2, down 0.3%. Australia's S&P/ASX 200 fell 0.7% to 5,130 at closing.
Hong Kong's Hang Seng declined 0.3% to 22,665.9 towards close. The Shanghai Composite was down 0.6% to 2,164.3.