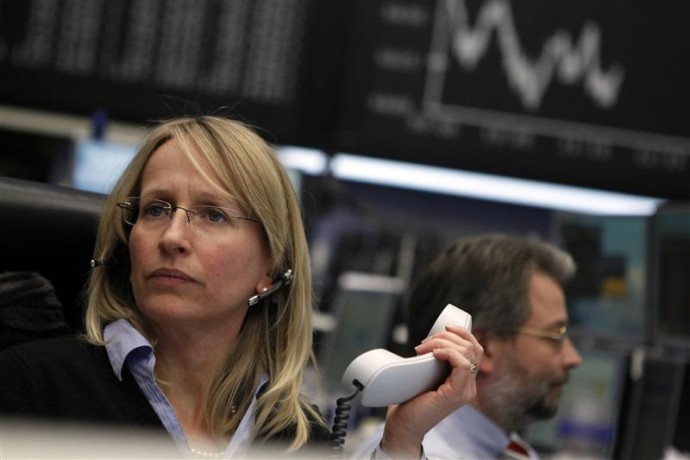 European stocks edged lower in the opening minutes of trading with some of the major bourses remaining shut, as US 'fiscal cliff' talks threaten to end the year without reaching a solution.
The pan-European FTSEurofirst 300 index slipped 0.1 percent to 1,129.75 while Britain's FTSE 100 dropped 0.4 percent. France's CAC-40 edged 0.04 percent up, but Spain's IBEX was down 0.2 percent.
Other major regional markets ended trading for the year on a weak note last week, but posted rather strong annual gains. Germany's DAX recorded its biggest gains in nine years, with the index closing 29 percent higher in the year. Meanwhile Italy's FTSE MIB has added 7.8 percent.
The single currency fell against the dollar, trading at about $1.3188.
Asian trading also remained subdued in the absence of the Japanese and South Korean bourses, which were shut for a holiday, but Chinese markets extended gains on improved manufacturing figures.
The Shanghai Composite Index ended 1.6 percent to 2269.13 while Hong Kong's Hang Seng eased 0.04 percent to 22656.92 towards close. Most Asian indices ended the year higher, with the Nikkei leading on the back of the weak yen.
'Fiscal cliff' precipice
With just hours remaining before the year-end deadline, US lawmakers are scrambling for a breakthrough in talks to avert the 'fiscal cliff', a $600bn package of spending cuts and tax hikes that threaten to stall economic growth.
Senate leaders are due to meet later in the day to resume talks, but reports suggest significant differences remain between the parties on the issue of tax hikes. Some have suggested that the last-minute hurry is more for the sake of putting the blame on the other party than to actually reach a solution.
The extended negotiations have weighed on US traders, with Wall Street ending the previous week lower. Speaking on NBC's Meet the Press, President Barack Obama warned that a failure to resolve the fiscal cliff impasse could impact the economy and financial markets.
Meanwhile, German Chancellor Angela Merkel has warned that 2013 could prove to be even more difficult for her country's economy, although efforts to boost growth have reaped some dividend.
Chinese traders remained upbeat as the country's economic growth prospects received another boost, with the HSBC Purchasing Managers Index (PMI) showing that its manufacturing jumped to a 19-month high in December.
The index picked up to 51.5 from 50.5 in the previous month. A reading above 50 indicates growth in the sector. The Chinese economy slowed in the third quarter, but is widely expected to pick up in the final months of the year.