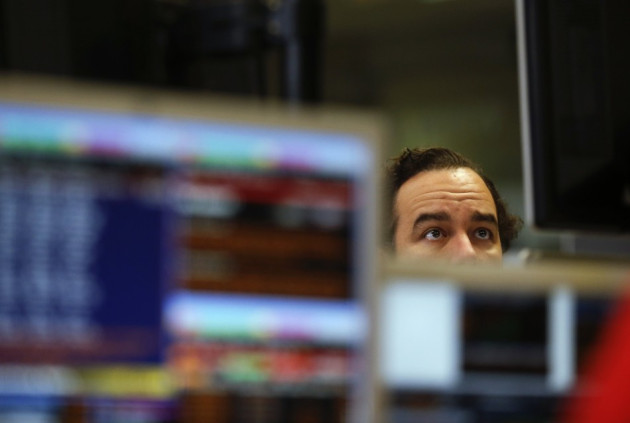 European stocks fell in the early minutes of trade as fresh roadblocks on the US 'fiscal cliff' talks renewed global economic concerns.
Europe's FTSEurofirst 300 and Britain's FTSE 100 slipped 0.1 percent. France's CAC-40 was down 0.3 percent while Italy's FTSE MIB and Spain's Ibex dropped 0.5 percent eac, and Germany's DAX edged 0.3 percent lower.
The single currency eased from its earlier gains against the Dollar, trading at around $1.32.
Asian markets had closed mixed earlier on similar sentiments. The Nikkei average ended 0.52 percent lower to 10107.29 while South Korea's KOSPI gained 0.31 percent to 1999.19.
China's Shanghai Composite Index slipped 0.52 percent to 2151.03, while Hong Kong's Hang Seng was up 0.02 percent to 22629.01 towards close.
The US budget negotiations appeared to hit a new deadlock as President Barack Obama said that the Republicans find it difficult to agree with his stance. House of Representatives John Boehner retorted, saying that the White House was "irrational".
Markets snapped the recent rally on the verbal spat, as fears that lawmakers will not reaching a consensus on the $600bn of spending cuts and tax hikes before year-end mounted. Economists have warned that a failure to find a solution could deepen America's financial woes.
Sentiments picked up moderately in Tokyo after Bank of Japan (BoJ) announced plans to boost its asset purchase programme by Y10tn ($118bn) and said that it may revise inflation targets, indicating a softening of its stance as the pro-stimulus Liberal Democratic Party (LDP) comes to power.
Analysts had earlier predicted that the central bank may refrain from major stimulus measures at the latest meeting despite a weak economic outlook. Governor Masaaki Shirakawa himself had warned that aggressive monetary easing measures were not the answer to Japan's fiscal woes.
"Admittedly, we had thought that the Bank might hold on until January," said David Rea, Japan Economist at Capital Economics.
"The proximity of today's decision to the weekend's elections may leave the Policy Board open to criticism that it is bowing to pressure from the newly-elected LDP government".
Japan's economy is technically in recession after the government reconfirmed that the growth contracted 0.9 percent in the third quarter and is expected to sink further in the coming months.
Speculation on the central bank's monetary easing measures had pushed the Yen to record lows against the Dollar.
South Korean stocks gained as the country elected its first woman president, Park Geun-hye. South Korea is Asia's fourth largest economy, but its growth has slowed of late as the global economic slowdown weakened external demand. Analysts expect Park's victory to be positive for the markets.