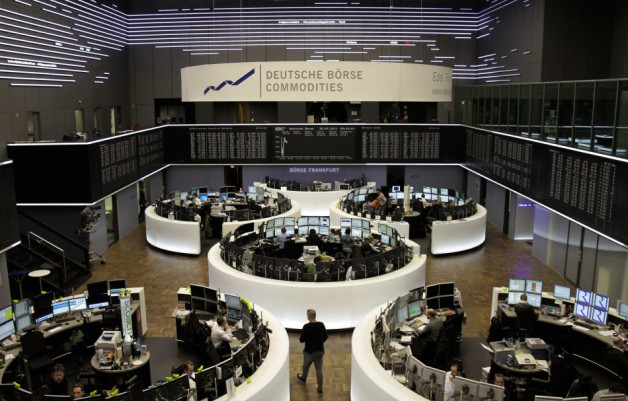 Most European markets were little changed in the opening minutes of trade despite a solid Asian session as investors await a key business sentiment data from Germany.
The pan-European FTSEurofirst 300 index fell 0.1 percent to 1,181.82 points in early trade. The UK's FTSE 100 slid 0.1 percent , while France's CAC-40 was little changed.
However, Spain's IBEX, Italy's main FTSE MIB and Germany's DAX had a stable opening.
In the UK, the investors will be focusing on the Bank of England's statement on the Funding for Lending Scheme that is designed to boost lending to individuals and businesses.
"Markets will watch closely the size and scope of any changes to the FLS as they weigh up the prospects for further stimulus - in particular whether this could dissuade some members of the MPC from voting for additional QE at its next meeting in May," said analysts at Lloyds Bank.
The German Ifo business sentiment survey is also due for release on Wednesday. The Europe's largest economy's flash manufacturing PMI has disappointed investors in the previous trading session, but the development has fuelled hopes that the European Central Bank may cut interest rates as early as next week. The business sentiment is expected to be weaker on the back of softening global economic activity.
Italy's re-elected President Giorgio Napolitano is expected to announce his choice for prime minister during the day, following negotiations with political parties. The country is expected to have a broad coalition that will take office in the next few days.
Other major economic reports include durable goods order in the US and the British Bankers' Association mortgage approvals.
Also, Finland-based Neste Oil, Germany-based carmaker Daimler, Norway-based aluminum producer Norsk Hydro and Sweden's Ericsson and the Nordea Bank are due to report their earnings results. French carmakers, Peugeot and Renault are also releasing results on Wednesday.
Asian markets advanced after the yen's weakness helped Japanese exporters in early trade and increased sales in new homes in the US prompted a rally in Wall Street shares overnight.
The Nikkei had closed at 13,843.5, up 2.3 percent. Australia's S&P/ASX 200 rose 1.6 percent at 5,077.8, while South Korea's KOSPI closed at 1,935.3, up 0.9 percent.
Hong Kong's Hang Seng gained 1.6 percent to 22,156 towards close. In China, the Shanghai Composite index rose 1.3 percent to 2,213.6.
The yen has earlier fallen as low as 99.77 against the US dollar, boosting the share value of Japanese exporters. The currency retreated later and is currently trading at 99.36.
The US stock markets gained overnight on strong earnings from companies such as Netflix Inc and Coach Inc, and on confirmation that the US home sales is in solid recovery.
In the US, sales of new home sales rose 1.5 percent, the strongest growth since 2008, compared to a 4.6 percent decline in February.
Of the 147 S&P500 companies reporting earnings so far, 72.8 percent surpassed analysts' estimates, according Westpack bank.
Australia reported its first-quarter consumer price inflation, which rose less than the estimates of economists, allowing the central bank to go for further interest rate cuts. Following the report, the key mining and metal firms rebounded from previous losses.