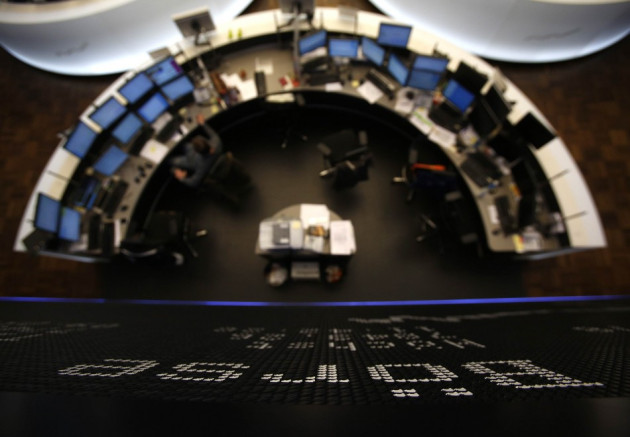 European markets rose in early trading, mirroring Asian gains, despite Italian election uncertainty and concerns over the UK's credit rating downgrade.
Europe's FTSEurofirst 300 index which tracks the region's top stocks remained little changed at 1,165.87. The UK's FTSE 100 gained 0.2 percent while Germany's DAX rose 0.9 percent.
France's CAC-40 and Spain's IBEX added 0.6 percent each.
The single currency remained firm, trading at about $1.32.
Uncertainty over the Italian elections results look set to dominate market sentiments across the region during the day. Traders remain cautious on concerns that the polls could give rise to a government that may not be able to pull the country out of its economic slump.
The election outcome is also crucial from a eurozone recovery perspective. Italy is the third biggest economy in the 17-member region and potential political instability could prove detrimental to the economy.
London markets are making their first trades after Moody's cut the UK's credit status from AAA to Aa1. Although the government looked to downplay the issue, traders remain wary that the downgrade may pile pressure on the pound, which fell towards the previous week's end after the news.
But analysts point out that a slight retreat in the pound may actually have a positive impact, since it would increase the country's competitive edge as the global economy looks to pick up.
"The danger, of course, is that the pound falls too far and becomes a serious inflation concern," said Howard Archer, economist at IHS Global.
"Also a sharp fall in the pound would not be good for confidence."
Most Asian markets had closed higher earlier, with Japanese stocks jumping to a 53-month high on yen weakness after reports of an incoming pro-stimulus Bank of Japan governor.
The benchmark Nikkei average index gained 2.43 percent to 11662.52 while Australia's S&P/ASX 200 rose 0.75 percent to 5055.80. South Korea's KOSPI ended 0.46 percent lower at 2009.52.
In China, the Shanghai Composite Index advanced 0.50 percent to 2325.82. Hong Kong's Hang Seng rose 0.19 percent to 22824.98 towards close.
Speculation on the next Japanese central bank governor dominated market sentiments across the region and pushed the yen lower against its peers. The final decision on the matter is crucial to the Japanese government's aggressive stimulus efforts to boost the ailing economy.
Media reports over the weekend had indicated that Asian Development Bank chief Haruhiko Kuroda is likely to succeed Masaaki Shirakawa. This cheered financial markets and boosted stimulus optimism as Kuroda is known for his support for solid monetary easing measures.
Chinese markets remained positive despite price control fears weighing on property stocks, but sentiments dampened after HSBC's preliminary Purchasing Managers Index (PMI) showed that the manufacturing sector expanded at a slower rate in February. Analysts were quick to point out that this need not raise growth concerns, considering the Chinese economy's underlying strengths.