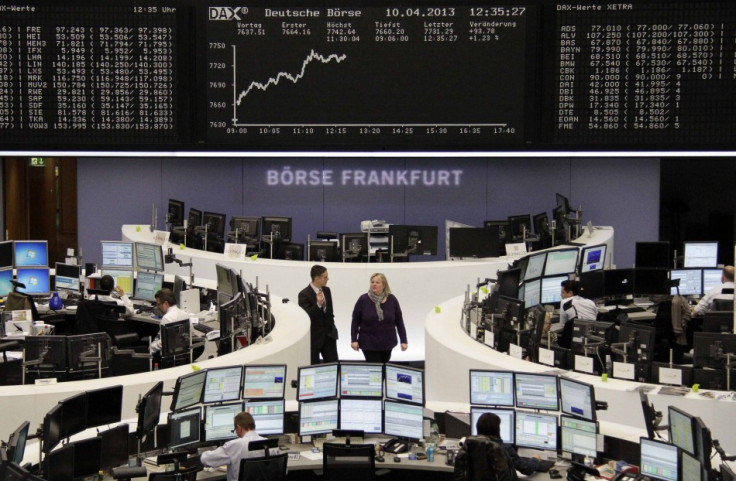 European shares opened on a higher note in the initial minutes of trade, with Italian stocks seen rallying after the formation of a coalition government in the country that has ended a two-month long political impasse.
The pan-European Stoxx Europe 600 index remained little changed at 296.09 in early trade. The UK's FTSE 100 rose 0.1% in early deals, while France's CAC-40 was up 0.5%.
Italy's main FTSE MIB was up 0.6% and Germany's DAX added 0.3%.
In the UK, the Lloyds Business Barometer survey for April published overnight indicated a rise in both economic and business sentiment for the second month in a row.
Separately, the Ernst & Young Item Club projected a 3% increase in bank lending to businesses in 2013, adding that the banking sector will contribute more to the overall economic growth going forward.
Earlier, a survey from real estate analysts Hometrack found a 0.3% increase in home prices in England and Wales with those in London rising to the pre-crisis peak.
In Italy, a cabinet headed by Prime Minister Enrico Letta was sworn in and the coalition government, which includes politicians from both the left and right now has to win two confidence votes.
The new government is expected to announce its economic plan and growth agenda on Monday.
The Greek parliament has earlier approved a new reform law to secure its next tranche of aid from the European Union and International Monetary Fund. The reform that will slash 15,000 public sector jobs has already prompted widespread protests outside parliament.
The European Central Bank has scheduled its policy meeting on 2 May, and it is widely expected that the bank will cut interest rates, given the downbeat economic news from the region. In a Reuters poll of 76 economists, 43 expect the central bank to cut interest rates by 25 basis points.
The dollar lost ground against the yen following a report from the US government, which showed that the world's largest economy expanded less than economists' forecasts. The dollar is currently trading at 97.5 yen, down 0.56%.
The US Federal Reserve will start a two-day policy meeting on 30 April, and analysts expect the central bank to keep its current pace of bond buying at $85bn per month.
Other major economic data to be released in the week include the US manufacturing output and the influential payrolls survey.
Manufacturing and services output data from China and retail sales, industrial output and employment data from Japan are expected in Asia.