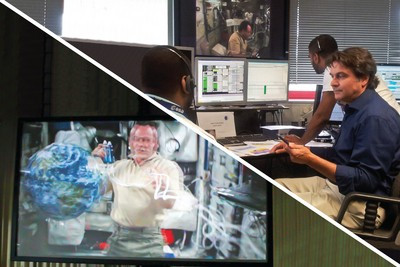 The European Space Agency (ESA) has built a new camera capable of recording in 3D video, designed to stream live footage from the International Space Station (ISS).
The 3D video was filmed by NASA astronaut Ron Garan using the new Erasmus Recording Binocular (ERB-2) camera to share his experiences working on the space station.
Garan is the expedition's Flight Engineer and is reportedly himself an avid video blogger. The video was filmed in Europe's Columbus laboratory on the space station.
The camera itself is cutting edge, being only slightly larger than a showbox in size, yet is still capable of recording high-definition, 3D video. The footage was captured and streamed to test whether the camera could be used to set up future live-streams of the space station for the general public.
As well as broadcasting live programmes of the station the ESA's ERB-2 coordinator Massimo Sabbatini also indicated plans to record and broadcast astronauts' extravehicular activities.
"The camera could also be used in the future outside the ISS to support the astronauts' spacewalks or other critical robotic operations. This really felt like being in space with an astronaut by your side," commented Sabbatini.
The ESA has since revealed plans to make the live-streams available to the general public, promising to release them as videos on the agency's YouTube 3D.
"If you already have a new generation 3D-enabled plasma TV at home, you'll be able to immerse yourself in the world of the Space Station without leaving your sofa. These videos will turn more people into real space fans," said Sabbatini.