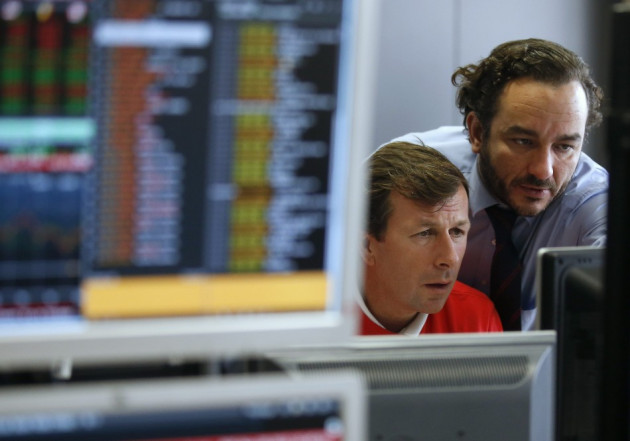 European stocks plunged in the opening minutes of trade as the inconclusive Italian election results and consequent political deadlock sparked fresh eurozone recovery concerns.
Italy's FTSE MIB plunged 5 percent, weighed down by Silvio Berlusconi's company Mediaset, which dropped 5.2 percent, and the state-controlled ENI which fell 2.9 percent after the election results.
The UK's FTSE 100 fell 1.4 percent while Germany's DAX slid 1.2 percent. Spain's IBEX tumbled 3.8 percent
The FTSEurofirst 300 index, tracking the region's blue-chip shares, fell 0.1 percent to 1,164.79.
The single currency fell against the dollar, trading at about $1.30 - its lowest level in several weeks.
Pier Luigi Bersani's centre-left coalition has managed to muster a modest majority in the lower house, but none of the parties have been able to get the required numbers in the upper house, also known as the Senate. This could bring in difficulties in passing crucial legislations due to the differences among the parties.
Also, if the parties are not successful in forming a coalition, another election will have to be held later this year. This could hamper Italy's economic reform efforts, which are critical to the recovery of the whole of euro-area.
Yields on Italy's ten-year bonds have risen to 4.55 percent following election concerns, but the Italian Treasury is planning to go ahead with its 5 and 10 year bond actions this week.
The US Federal Reserve Chairman Ben Bernanke's congressional testimony is set to take place later in the day. The recent policy meet-minutes had shown that Fed's policy committee members remained largely divided over the current stimulus plan, weakening financial market sentiments. Investors will be keeping a close watch for Bernanke's comments on this.
Asian markets had declined earlier as the renewed eurozone concerns dampened investor sentiments across the region.
Japan's Nikkei average index ended 2.26 percent lower to 11398.81 while South Korea's KOSPI was down 0.47 percent to 2000.01. Australia's S&P/ASX 200 slipped 1.03 percent to 5003.60.
Hong Kong's Hang Seng index fell 1.07 percent to 22576.31 towards close. Bucking the regional trend, the Shanghai Composite Index dropped 1.40 percent to 2293.34.
Japanese investor sentiments were also dampened after the yen firmed against the dollar. The greenback traded at about 91.79 yen towards the end of the Japanese trading day, after having topped the 94 yen mark early this week. Exporters stocks fell, weighing the benchmark Nikkei index lower.