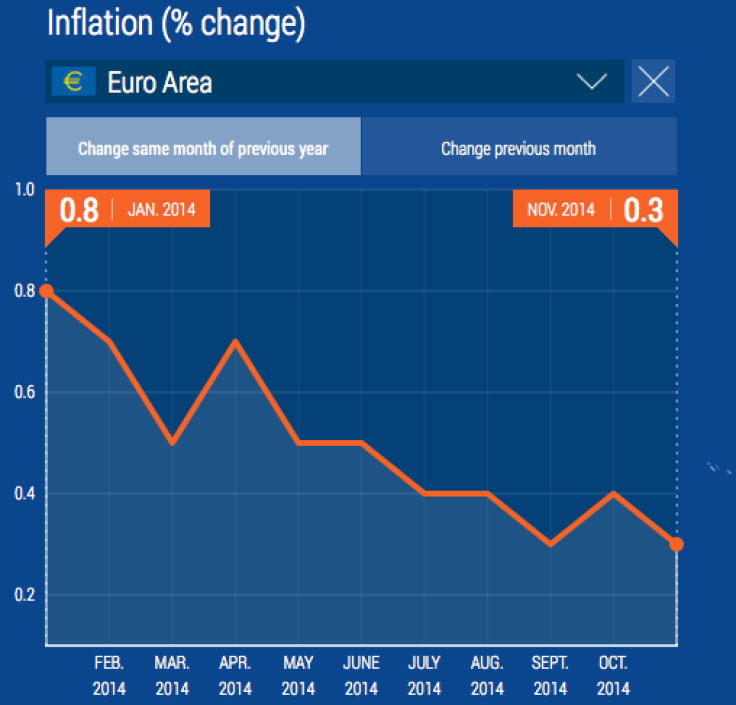 Data releases from Eurozone on Wednesday confirmed worsening deflation threat of the single currency bloc, increasing expectations of additional policy easing by the European Central Bank.
Better than expected German labour market numbers were outweighed by Italian unemployment rate and Eurozone inflation numbers.
Italy's jobless rate rose to a new record of 13.4% in December, up from 13.2% in November and compared to analysts' expectations of 13.3%.
Germany, however, saw the unemployment rate falling to 6.6% from 6.5% when the market consensus was for a repeat of the November rate.
The number of unemployed decreased by 27,000 in the largest eurozone economy compared to the November drop of 16,000 and much better than the poll forecast of 6,000.
However, the main data release on Wednesday was that of the Eurozone CPI, which showed the headline rate dropping -0.2% from a year earlier at the end of 2014, worse than market expectations of -0.1% and compared to the November reading of +0.3%.
The Eurozone price rise data added to the 5 January data showed that inflation rate has fallen to a five-year low in Germany.
It was on 2 January that ECB president Mario Draghi said the central bank stands prepared to fight deflation threats in the region, sparking increased selloff in the euro.
The single currency has weakened more than 2.1% against the dollar so far this year, indicating the euro's bearishness.
Italy's inflation rate fell to 0% from a year earlier in December from 0.2% in November, another set of flash estimates showed. The Eurozone unemployment rate stood at 11.5%.
Data earlier in the day showed German retail sales posted a month-on-month growth of 1%. It was worse than the 2% growth in November but better than the market consensus at 0%.
With data largely proving intensified deflationary challenges in Eurozone, the 22 January monetary policy review is in focus.
The market is expecting the central bank to increase bond buying across segments and the announcement to be made in the meeting this month.
Another point is the increased political pressures on the apex bank this time with Greece going to elections on 25 January.