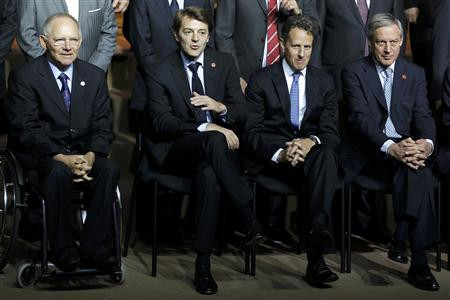 Eurozone finance ministers will meet in Brussels Monday, as they seek to persuade Greece to accept the terms of the next installment of its bailout package, proceed with reforms, and refrain from antagonizing donor nations.
The group is scheduled to meet even as Greek Prime Minister George Papandreou attempts to keep his government in control: He barely survived a confidence vote in the Greek parliament on Saturday. In a significant associated development though, European leaders warned Papandreou of the possible consequences of leaving the Eurozone. Earlier, the Prime MInister, pressured by domestic tension, suggested that Greece quit the Eurozone.
This latest meeting will be keenly watched, both by people in Greece and across Europe, since it could determine the fate of 8 billion euros ($11 billion), the next installment of the bailout package. The ministers at the meet had only recently approved the second tranche, as part of a package worth 110 billion Euros that came into effect last May.
According to an AFP report, a second package was approved at the Oct. 27 summit. This package is believed to be worth some 230 billion Euros and is in the form of new loans and voluntary debt reductions by private lenders.
However, the transfer of all such packages have been put on hold, pending Greece's referendum to decide whether or not the beleagured country will continue as a member of the EU.
Finance Ministers at Monday's meet wil also discuss developments arising from Italian Prime Minister Silvio Berlusconi's decision to allow officials from the International Monetary Fund (IMF) join the European Commission in monitoring his country's implementation of the IMF-EU package to revive the Italian economy.
Italy, the Eurozone's third-largest economy, has worried European leaders as its borrowing costs have soared to over 6 percent; levels that forced Greece, Ireland and Portugal to take IMF-EU bailouts, AFP reported.
Though the G-20 summit has accepted, in principle, an increase of IMF funding, neither the size nor the schedule of release of funds have yet been worked out.