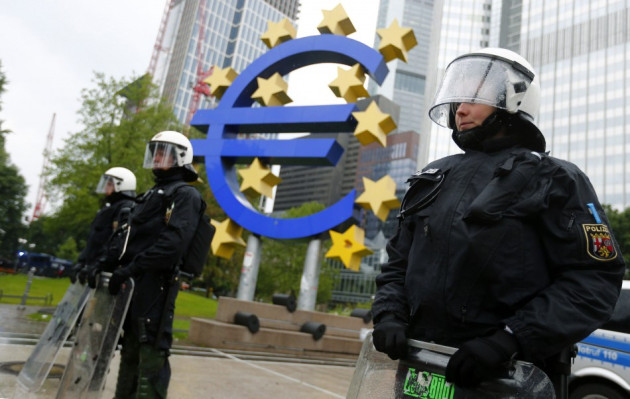 The eurozone trade surplus declined in April due to a fall in exports for the first time in four months, according to official data.
Eurostat, the statistical office of the European Union, said that the 17-nation area's trade surplus with the rest of the world declined to €14.9bn ($19.9bn/£12.7bn) in April from €22.5bn in March. Economists predicted a trade surplus of €21.2bn in April.
However, the monthly data came in well ahead of the year-ago month's surplus reading of €3.3bn.
The seasonally adjusted exports fell by 0.8% on month in April, while imports rose by 0.5%. On a year-on-year basis, exports grew 9% in April, following a flat result in March. Imports increased by 1% in April, compared to a 10% slump in the previous month.
Among big euro area nations, exports from Germany grew 3% in April to €41.9bn. French shipments increased 0.2%, while Italian and Spanish exports decreased 2.9% and 0.8%, respectively.
For the first four months of 2013, trade surplus increased to €42.3bn from €2.0bn in the year-ago period. Exports rose 3%, while imports fell 4%.
The trade balance report follows disappointing unemployment, inflation and retail sales data from the region. Retail sales in the region have declined by 0.5% in April, while an index of manufacturing activity remained below the level indicating contraction, according to London-based Markit Economics.
Eurostat earlier reported that the single-currency region's inflation rate rose to 1.4% annually in May 2013, up from 1.2% in April when it dropped to a three-year low. In April, a record 95,000 workers lost their jobs in the area, bringing the total to 19.4 million jobless people.
Earlier this month, the European Central Bank (ECB) lowered its forecast for the euro area's economy to a 0.6% contraction from its previous view of a 0.5% negative growth made in March. ECB President Mario Draghi said that "downside risks" remain for the region due to lower than expected domestic and global demand for manufactured goods. He added that the economy should stabilise "at a subdued pace" this year.