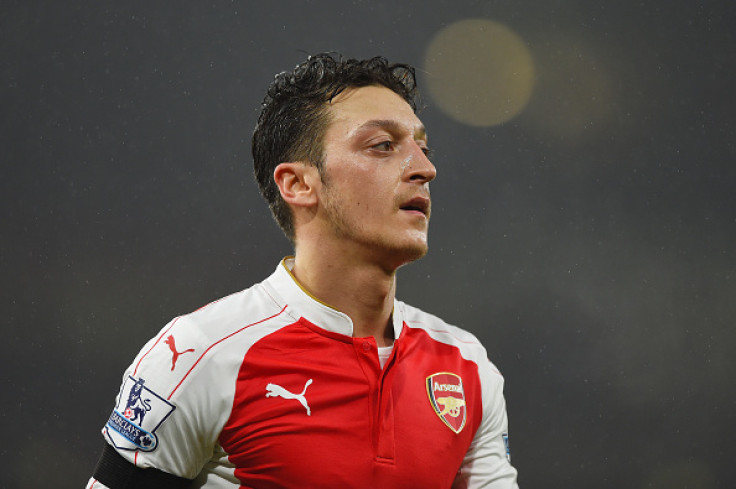 Arsenal got back to winning ways in the Premier League with a 2-0 win over Everton on 19 March, but suffered an injury blow after Arsene Wenger confirmed that Mesut Ozil has an ankle problem after the midfielder was stepped on by John Stones when they both went up for an aerial challenge. The former Real Madrid star limped off with 15 minutes still left to play and was replaced by Kieran Gibbs.
The German midfielder's injury will be a big blow for the Gunners as he has been the shining light throughout the season and was instrumental in the opening goal in their win at Goodison Park. The French coach, however, played down the extent of the injury following the game and hopes for a speedy return. The north London club do not play their next game until 3 April owing to the international break, but Ozil's participation for Germany for their friendlies against England and Italy is a doubt.
"It is an ankle problem, but it looks more of a kick than an ankle problem," Wenger said following the win, as quoted by Arsenal's official site.
The manager, however, does not believe his team are out of the title race yet despite Leicester City leading by eight points and suggested that the Gunners need to concentrate on their performance and win all games until the end of the season. Arsenal face an uphill task as the Foxes extended their lead back to 11 points – but have played an additional game – following their 1-0 win over Crystal Palace on Saturday.
"I would not consider us out. Mathematically, we have a chance. We also have a game in hand at home. We are not flavour of the week, but if we don't believe, no one will do it for us. Even if the environment is sceptical, we have to do our best in every single game."
"We have to be humble and fight in every game like we did today. Then we never know. We need some performances on our side, so let's focus on that, but some good results from other sides, we cannot help that," the French coach added.