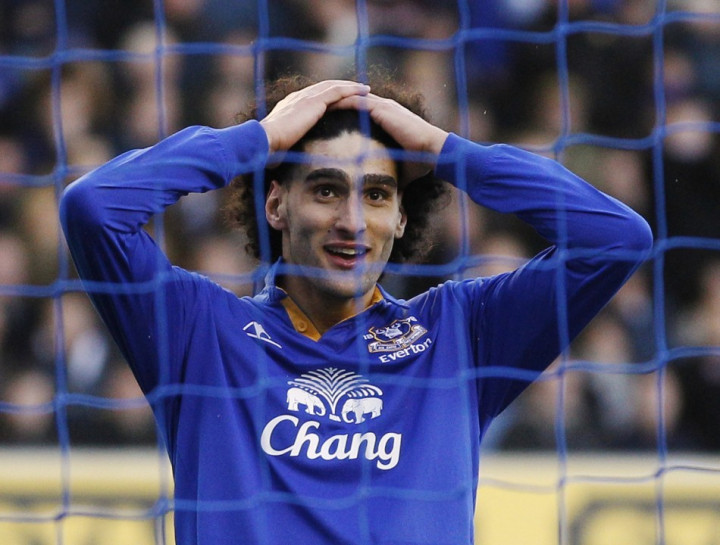 Everton midfielder Marouane Fellaini has retracted statements saying he wants to leave the club. The Belgian international was quoted in a hometown newspaper as indicating he wanted a new challenge after spending five seasons at Goodison Park and would look to move as early as the January transfer window.
However, the 24 year old has now confirmed his commitment to the club for the 2012/13 season, pointing to new signings like international team mate Kevin Mirallas as proof the club's ambition.
"I was very surprised to read in some newspapers that I will leave Everton very soon and perhaps next January. Let me remind you that I am very happy in Liverpool and our start of the championship was good. Kevin Mirallas and some other good players joined us to make a better squad in order to realize a good championship in the line of the end of the last one," the midfielder commented.
Fellaini has previously been linked to high-profile clubs like Chelsea and Real Madrid. However, considering Chelsea have already spent heavily this summer and reportedly will spend a further £48m on Atletico Madrid striker Radamel Falcao Garcia and the Spanish champions have spent close to £30m to sign Luka Modric from Spurs, a big money move from either club may not happen.
Arsenal may be a possible destination, while Spurs' failure to sign Joao Moutinho could see club chairman Daniel Levy make a move for the player. Champions Manchester City are another possible option and given they have just signed Jack Rodwell from the Toffees, a deal may be easy to strike. However, Roberto Mancini's side spent heavily on deadline day and £16m new signing Javi Garcia may not take too kindly to yet more competition for a first team place.
In any case, no matter where Fellaini goes (if he does indeed leave at the end of the season), Everton are sure to place as large a price tag on his services as possible, particularly since the Belgian's contract still has four years to run.
The good news for Everton manager David Moyes, apart from Fellaini's public commitment, is that even if the player wants to move at the end of the season, he will still have three years left on his contract. That means his value will still be considerable (and set to rise, based on performances so far this season) and he will not be in a position to force transfers - like Robin van Persie did at Arsenal.