Everton midfielder Marouane Fellaini has dismissed reports of a release clause in his contract. There were rumours of two specific clauses in the Belgian international's contract with the Goodison Park club that could interest potential suitors.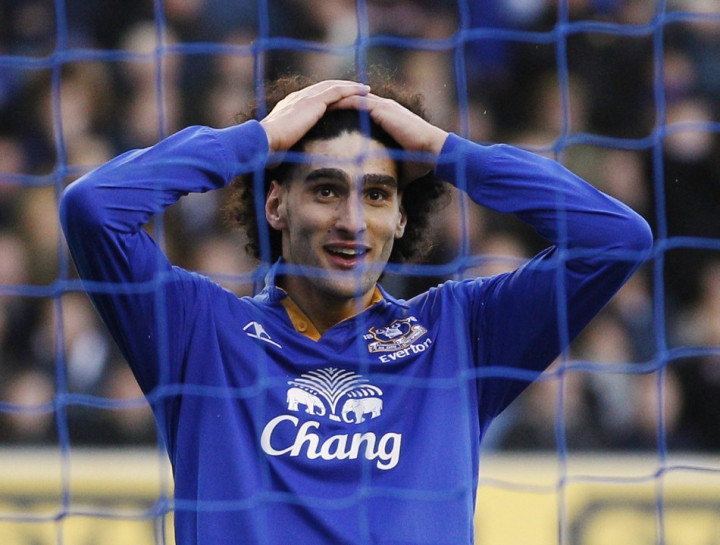 The first was an agreement that if an approach was made from a club in the Champions League, Everton would agree to enter into talks. The second rumoured clause was a £22m release fee, which is well within the financial capabilities of all the clubs believed to be interested in his services.
However, Fellaini, who was unable to play in Belgium's midweek fixture against Slovakia due to a hip injury, has now clarified that although there is an understanding with regard to the first point, there is no set release fee.
Fellaini was speaking to Belgian media outlet sportwereld.be and he also confirmed that he is aware of Chelsea's interest in his services. However, he stressed that there has been no official contact, either from the Blues or anybody else and that until a concrete offer was made, he would happily remain an Everton player.
"I have heard about Chelsea monitoring me, but I have never spoken with them... there has been word... of interest from some of England's top teams, but I have never personally sat round the table with any of them," Fellaini explained, adding, "If Chelsea want me, they need to come up with something, but they have not done so far. For now, I am very happy with Everton."
"People are talking about Chelsea as if I have already signed, but I am an Everton player, and maybe I will finish the three years left on my contract. If I do end up leaving, it would be up to the club to decide on the price. I have all sorts of clauses in my contract, but there is no fixed fee for releasing me," he explained.
Fellaini's present contract with the club runs till the summer of 2016.
The 25-year-old shock-haired midfielder has been in excellent form for the Toffees this season, with his 10 Premier League goals and three assists key in propelling David Moyes' side to fifth in the table. Everton are only three points behind Tottenham in fourth (the final qualifying position for Champions League football next season) and face Premier League leaders Manchester United, at Old Trafford, over the weekend.
That form, coupled with comments made to Belgian newspaper Nieuwsblad late last year when he confessed he would be open to moving to a club in the Champions League or the UEFA Europa League, meant a number of Europe's top clubs are linked to him. The list of these clubs includes Chelsea and Spanish champions Real Madrid, with Arsenal and Zenit St Petersburg also linked at one time.