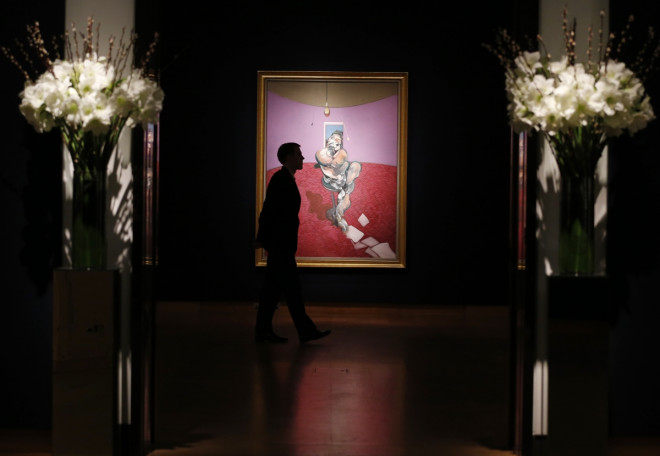 Christie's post-war and contemporary auction in London successfully managed to build up enough interest in Francis Bacon's painting of his lover, A Portrait of George Dyer Talking, which eventually fetched £42m, representing a record price at auction for a single panel by the artist.
The painting ended up accounting for a third of Christie's total auction sales of £124m (€151m, $206m) that night, exceeding last year's total by 52%.
The bidding for Bacon's Portrait of George Dyer Talking, a 1966 canvas depicting the artist's lover perched on a stool with his twisted body positioned under a naked light bulb as though he was being interrogated, was explosive.
Two Christie's specialists- David Linley, Christie's chairman in the UK and a grandson of King George VI, and Brett Gorvy, Christie's chairman and international head of post-war and contemporary art- were competitively phone bidding on the night on behalf of their clients.
At least four collectors, including those from Asia and Russia, competed through Christie's staff members for the painting. In the end, the winner was an anonymous US client of Brett Gorvy.
The World's Most Expensive Paintings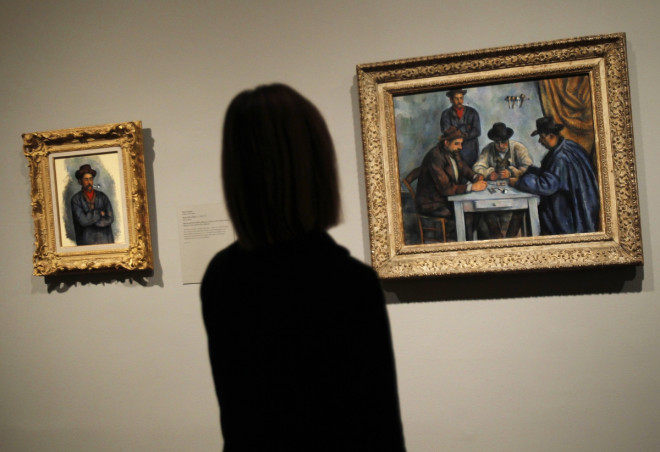 Bacon's collectors include Russian billionaire Roman Abramovich, Vice chairman of Blackstone Group, J. Tomilson Hill, billionaire Elaine Wynn, philanthropist, and ex-wife of casino magnate Steve Wynn who paid £89m for Bacon's 1969 triptych- Three Studies of Lucian Freud at Christie's in New York in November last year- an auction record for any artwork.
The Card Players by Paul Cézanne, which was sold by George Embiricos to the Qatar Royal family in a private sale in 2011 for £162m, is the world's most expensive painting.
Another piece that stole the spotlight at Christie's sale was Damien Hirst's Mickey painting.
It fetched three times the estimated price and made everyone laugh as during its sale, as an act of marketing, Christie's specialists and staff wore black Mickey Mouse's ears.
The work, which represents the figure of the Disney character with a series of large circles, went for £902,500 three times more than the expected price.
The painting was Damien Hirst personal donation with all the proceeds going to children's charity Kids Company - a UK company that helps and supports young children.
Its founder, Camilla Batmanghelidjh, gave a live speech just before its sale and begged for support to help to push the bid up for the kids.
Other paintings in the sale included Gerhard Richter, Jeff Koons' pink stainless-steel Cracked Egg, and UK based artists Jenny Saville, Bridget Riley and Gary Hume that all contributed towards a dynamic bidding as of the 48 offered lots only eight of which failed to sell.
Xin Li, Christie's deputy chairman of Asian business development, placed the winning bid for a vibrant 1989 abstract painting by Gerhard Richter at £19.6m surpassing the target of £15m
Jeff Koons' reflective sculpture Cracked Egg (Magenta) fetched £14.1m, within the expected range.
The winner was a client of David Linley, Christie's chairman in the UK and a grandson of King George VI.
Emerging Artists
Emerging artists continued their strong performance this week.
A work by Lucien Smith, 24, whose "rain" paintings were included in each of the week's evening contemporary sales, fetched £158,500, almost four times the high estimate of £40,000.
Surprisingly, and unprecedented as his first solo show in 2012, Smith's work was priced from just $3,000.
Another young star, at only 28 years old and market darling, Oscar Murillo's canvas marked with doodles and the word 'Burrito' fetched £194,500, more than six times its pre-sale high estimate.
Christie's results were 41% higher than rival Sotheby's post-war and contemporary art evening sale on 12 February.
The event was the last and the largest of four evening post-war and contemporary art sales last week in London that generated a combined £260.9m. Bidding was global and wealthy new buyers from all over the world helped push up prices for historic, blue-chip and rising art stars.
The auctions are the stock market of the art world, they are exciting, exhilarating, addictive but be warned next time you attend one of them don't raise your hand or nod your head to the auctioneer it can be an expensive mistake that can cost you £42m.
Virginia Damtsa is the co-founder of contemporary art gallery Riflemaker with Tot Taylor.