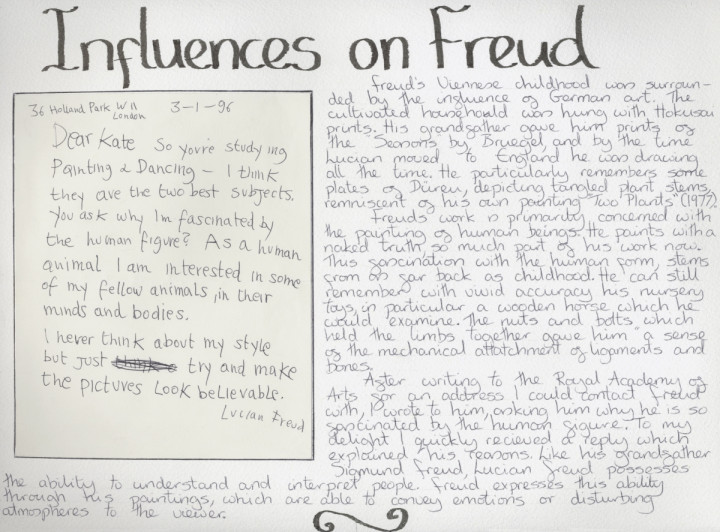 The first letter signed by Lucian Freud ever to be offered at auction is to be sold at Bonhams in London with an estimated price of £2,000-£3,000.
The handwritten letter, in which Freud outlined his artistic aims to a teenager and encased in a 21-page school project, was sent from the artist's Holland Park studio in west London to A level student Katie Wilson in January 1996. As part of her 'A' Level dissertation she had contacted Freud to ask why he was so fascinated by the human figure.
In his reply, Freud, renowned as Britain's leading figurative portraitist, explained tongue-in-cheek, "As a human animal I am interested in some of my fellow animals, in their minds and bodies.'' Freud added that he never thought about his style but just tried to make his pictures "look believable".
Freud painted the rich and famous and ordinary folk including a disgruntled-looking Queen, Jerry Hall, Francis Bacon, David Hockney and Kate Moss. He was known for his uncompromising and forensic style that exposed every inch of imperfection in his sitters. Slabs of fat, birthmarks, disfigurement and dangling genitalia were all brought to life and magnified with an unerring eye.
A valuer from Bonhams Book Department, Claire Wilkins, said, "As a succinct statement of Freud's artistic aims this [the letter] could hardly be bettered. By 1996 Freud had attained international fame as a modern master – a status he never lost - and yet found the time to send a very personal and considered reply to an unknown student."
Freud who died at the age of 88 in 2011 was notorious for jealously guarding his private life. His biographer, Geordie Greig, wrote in Breakfast with Lucian: "Lucian hated leaving a trail, and was reluctant to sign his name in any book, especially any art book or catalogue of his own work. If obliged he would sometimes write 'By himself' and draw an arrow pointing to his name.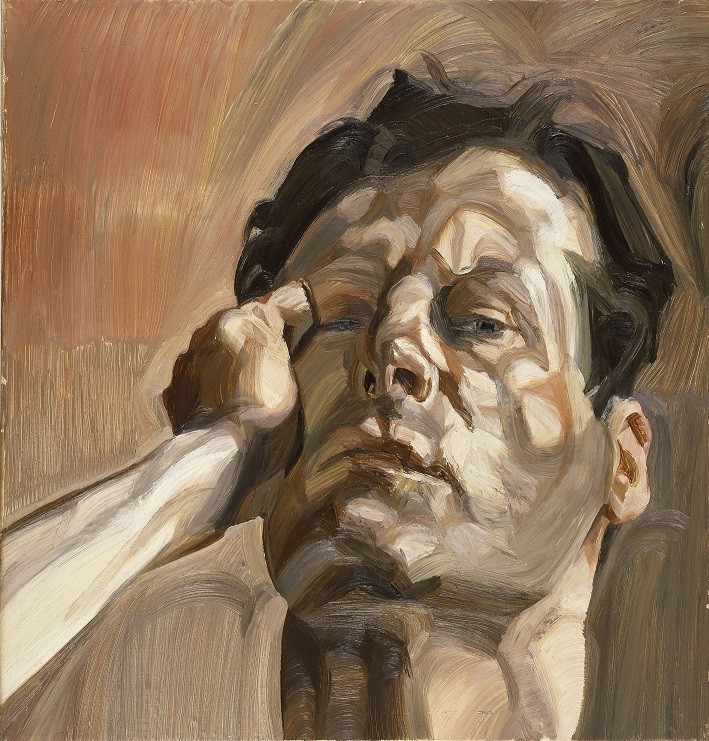 Freud has been described as demanding and draconian by his sitters and had a long list of rules before he even agreed to undertake a commission. But in the end they always came back for more. The painter said of his sitters: "A lot of my sitters are girls who have some sort of hole in their lives that is filled by posing for an artist."
Freud's working methods, according to Greig, were "notoriously slow, often involving sittings that lasted many months". In his early paintings he was said to have used a painstaking technique with tiny brushstrokes.
He described his methods in Encounters arts magazine: "The subject must be kept under closest observation. If this is done, day and night, the subject – he, she, or it – will eventually reveal the all without which selection itself is not possible; they will reveal it through some and every facet of their lives or lack of life, through movements and attitudes, and through every variation from one moment to another."
Visitors to his studio often found him naked. His art dealer recollects: "He would get out of the bath and be completely at ease, almost purposefully so, clearly not shy about his body."
Freud's Anatomy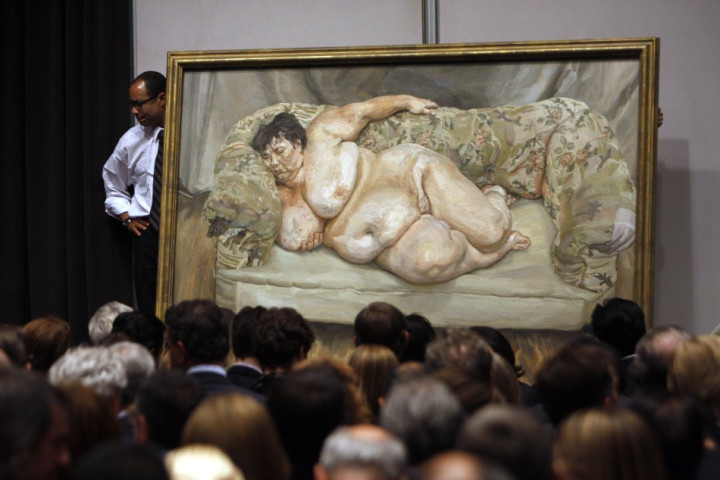 Benefits Supervisor Sleeping (1995): Freud's oil painting of Sue Tilley (Big Sue) a large woman who worked at Islington Coucil sprawled on a sofa became the most expensive work of any living artist when it was bought for £17.2m in 2008 by Russian oligarch Roman Abramovich. Aged eighty-five, Freud was said to have been delighted at the record-breaking prices his works fetched at auctions even when he no longer owned them.
Kate Moss (2003): Freud, who had never painted a professional mode,l was drawn to Moss because of her rebel attitude. The model was brought to his attention by his daughter, Bella, who saw a magazine interview where she had declared she wanted to be painted by Freud. The artist forbade her from smoking in his studio but had to put up with her unpunctuality. In the end he was unhappy with the final result declaring: "The picture didn't really work." He famously drew a tattoo of a swallow on Moss's back in a taxi.
Francis Bacon (1952): The two renowned artists were also very close friends and painted each other over many decades. A 1969 Bacon triptych of Freud broke all sales records when it sold for $142.4m (£89.3m) at a Christie's auction in New York in 2013. Freud said of painting Bacon: "I worked with the painting on my knees rather than standing at the easel, as I do now. I always take a long time to paint a picture." Bacon was said to have complained about the length of time the painting took and Robert Hughes compared his face to "a grenade a fraction of a second before it explodes".
The Big Man (1976-7): Alfie Maclean was the artist's favourite bookie and was the subject of one of his earliest works. Greig describes the work as "scarily hypnotic". He wrote: "Every fold of his tight-fitting suit adds to the tension of this very bulky man trapped in this space, lost in his thoughts as he is scrutinised."
Bonhams sale of Books, Maps, Manuscripts and Historical Photographs, 19 March, Bond Street, London W1