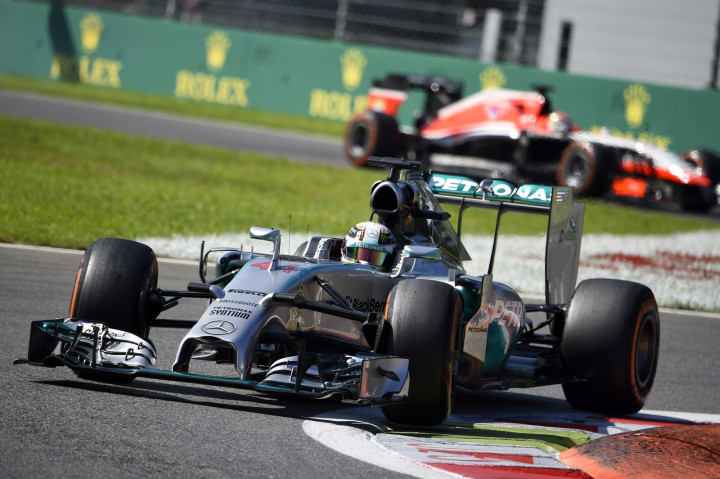 Lewis Hamilton landed a significant blow in the drivers' championship by taking his fifth pole position of the season ahead of Mercedes teammate Nico Rosberg in qualifying for the Italian Grand Prix at Monza.
The 29 year old began attempts to eclipse Rosburg's 29-point advantage in the title race by dominating from start to finish in the three qualifying sessions to start on the front row for Sunday's race.
Williams pair Veltteri Bottas and Felipe Massa will occupy the second row with McLaren's Kevin Magnussen and Jenson Button on the third row following a surprise qualifying run.
Fernando Alonso with start seventh, followed by Red Bull duo Sebastian Vettel and Daniel Ricciardo – who has won the last two races – preceded by Sergio Perez.
"I am excited for tomorrow," said Hamilton. "I am very proud of my guys on the side of the garage. They've been through the difficult time in bouncing back and fixing the car and dealing with the difficulties. It's great to have another 1-2 for the team.
"It would be really good to get another 1-2 for the team. I hope we also have some competition and that would be great for the fans and I am looking forward to it."
Rosburg added: "It was an ok lap from my point of view. It's a long race so anything can happen. It's important to get a good start. The team is doing a fantastic job."
Following their coming together at Spa and internal punishments from the team, all eyes were on Rosberg and Hamilton as the European season came to an end as the Mercedes pair looked to land the latest blow in the title race.
The German has suffered electrical problems during the final practice session, allowing Hamilton to go fastest ahead of qualifying as he sought to start on the front row for the first time in five races.
The Briton continued his dominance by finishing as the fastest driver in the first two qualifying sessions, which saw Ferrari's Kimi Raikkonen fail to qualify for the third session in the team's home grand prix, as McLaren's Kevin Magnussen clawed his way into the top 10.
Force India pair Sergio Perez and Nico Hulkenburg were both split as the latter failed to reach the main qualifying session, finished as 14th fastest while Daniil Kvyat was demoted to 21st after a 10 place grid penalty following an engine change.
And come the top-10 shoot-out Hamilton continued his dominance through the weekend in Monza, taking top spot and is on course to eat into Rosburg's championship lead, with 11 of the last 14 drivers to start on pole going on to win in Italy.