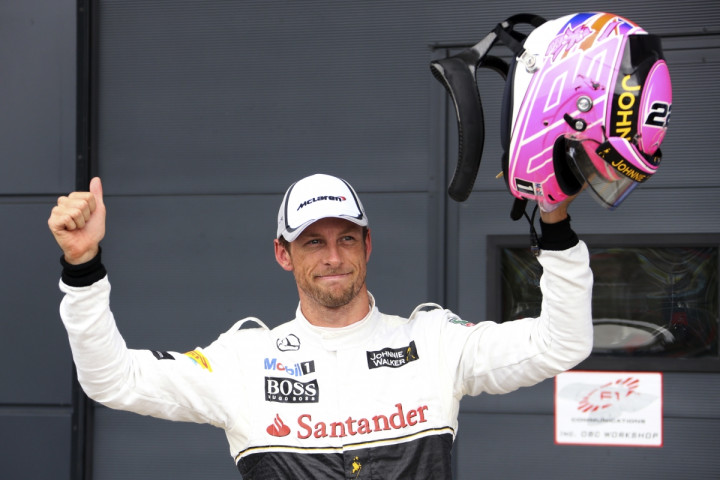 Mercedes driver Lewis Hamilton has urged McLaren to hold on to Jenson Button, after rumours surfaced on Thursday about the Woking based team replacing the 2009 World champion with Fernando Alonso for the 2015 F1 season.
Button is reportedly set to drive his last race at the season ending Abu Dhabi grand prix, but Hamilton feels his former teammate has much to offer, and has called on McLaren to retain their driver and give him a better car.
However, it seems that racing director Eric Boullier is keen on pairing two time world champion Alonso alongside the younger Kevin Magnussen, rather than have two number one drivers in the team.
The former McLaren driver was shocked to hear of Button's imminent departure and believes that he is still one of the best drivers on the grid and is hoping that he remains in F1 in 2015.
"JB's going? Really? Surely Jenson can go anywhere? Jenson is better than most of the drivers," Hamilton said, as quoted by the Daily Mail.
"He's a great driver. He's had an amazing career and he's still one of the strongest drivers here, so it doesn't correlate. If I had a team, I would want him in it. He's a great asset."
He is sure that Button is still capable of racing at the highest level and claims that McLaren need a better car rather than a better driver for next season.
"He's smart and fast. He's also just a decent guy. He's still got plenty of time as a driver to keep racing and winning," the Mercedes driver added.
"He just needs to be given a better car. It's not that the team need a better driver. There are not many out there."
Meanwhile, Button has also added to the speculation by hinting that he has been looking at other forms of motor racing apart from formula one.
His contractual talks have been going on for months now and with McLaren talking to other drivers, the Briton has now shocked everyone by admitting that he may not accept a new contract from his current employers as well.
"Well, it's been going on for three months now, hasn't it? Initially it was like 'OK, what's that all about'. It makes you think about other opportunities, other challenges - in Formula One, in other motorsports, other sports. There's so much out there and so many challenges I'm interested in taking on," Button said, as quoted on ESPN F1.
"I don't know," the former Brawn GP driver said, when asked about signing a new contract with McLaren.