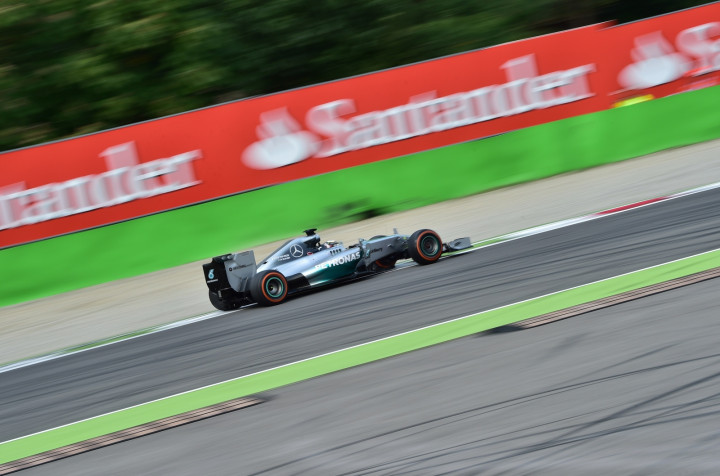 Lewis Hamilton cut Nico Rosberg's lead in the Formula 1 world drivers' championship to 22 points, after recovering from a poor start to spearhead a Mercedes 1-2 at the Italian Grand Prix in Monza.
Pole sitter Hamilton fell to fourth following an uncertain start, but took advantage of a Rosberg mistake on lap 29 to claim victory and reignite his title charge.
Williams' Felipe Massa secured his first podium finish of the season to complete the top three ahead of teammate Valtteri Bottas, on the day the team confirmed the pair for the new 2015 season.
Red Bull's Daniel Ricciardo meanwhile produced a sublime drive to finish ahead of four-time world champion Sebastian Vettel.
Kevin Magnussen – who finished in seventh, but drops to 10th following a five-second penalty – Sergio Perez, Jenson Button and Kimi Raikkonen completed the points, but the headlines belonged to Hamilton, who outwitted his Mercedes adversary to claim his sixth victory of the season.
And following the pair's controversial coming together at the Belgian Grand Prix, which required several internal discussions to calm, the Mercedes team will be delighted that another on-track confrontation was avoided though only via Rosberg's error on turn one.
Despite 11 of the last 14 pole sitters having gone on to claim victory in Monza, Hamilton's hopes of eating into Rosburg's championship advantage took a blow as the Brit slipped back to fourth at the start as his teammate pulled ahead.
Magnussen stormed into second, but was quickly hauled back by Massa and Hamilton, who leapfrogged the Brazilian as he began to haul back the lead of Rosberg, who went off on turn one of lap nine, but slalomed successfully through the run-off obstacles.
As Ricciardo moved into third, the first and only pit stop of Rosberg and Hamilton, saw the German remain ahead by less than two seconds as both drivers put on a fresh set of options for the remainder of the race.
But as Hamilton's engineers heeded caution as the race reached the mid-way point, despite the 29 year-old continuing to post personal best times, Rosberg buckled under the pressure and went off on turn one again to allow his teammate through.
Meanwhile, Fernando Alonso suffered his first withdrawal of the season having scored in every race of the season as Ferrari's troubles continued on their home turf, the Spaniard's first failure to finish since 2009.
Riccardo's stop did nothing to halt his progress as he took advantage of Sergio Perez and Jenson Button's fight for points to pass them both and move into the top seven.
But out in front, though Hamilton's lead was cut to three seconds, the Brit stormed to victory to give his title hopes a much-needed boost ahead of the final six races of the season.