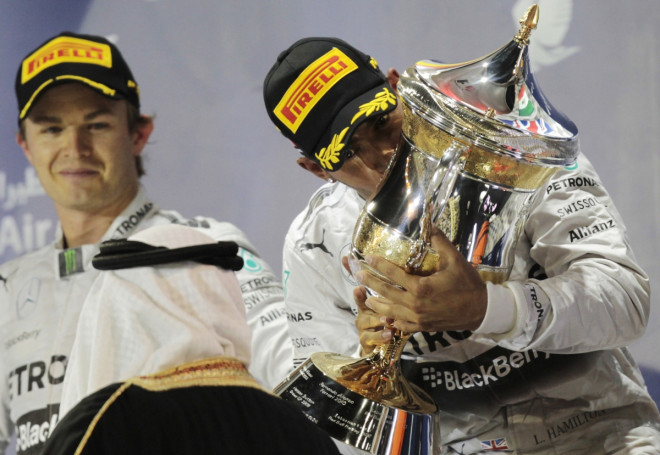 Lewis Hamilton and Nico Rosberg's rivalry continues to escalate as both Mercedes drivers claimed the psychological advantage in the Formula 1 drivers' championship after another 1-2 at the Bahrain Grand Prix.
Hamilton held off Rosberg for long periods before securing a second successive win of the 2014 season after a thrilling wheel-to-wheel duel between the pair in the desert.
Mercedes have now prevailed in each of the opening three races of the season to take the lead in the constructors' world championship, with Hamilton and Rosberg leading the way for individual honours.
The pair are childhood rivals from their respective karting days and the battle in Bahrain evoked memories of those contests for Hamilton who paid tribute to the pressure exerted by the German.
"It was one of my most difficult races," Hamilton said. "When it's your team-mate it's very hard to choose where to put your car. It was incredibly tough.
"It was one of the toughest situations I've been in for a long time. It was an exceptional race.
"Me and Nico haven't had a race like that since back in our karting days. There was a race we did years ago. I don't know what year it was, in karting - our first race together.
"He was leading the whole way and in the last lap I overtook him and won the race. I thought today for sure he's going to do the same to me, and get me back. That's what was going through my head."
Rosberg, who leads the drivers' championship on 61 points from Hamilton on 50, was a notable absentee from the post-race Mercedes celebrations despite the team dominating the podium for a second successive weekend.
The 28 year old attempted on a number of occasions to pass Hamilton either side of a safety car being deployed on lap 40, but couldn't make the moves stick under heavy breaking something that left Rosberg frustrated.
"I'm very disappointed, I was quicker and just didn't manage to get past him," Rosberg told Sky Sports F1.
"It was very intense, a big battle and really aggressive, putting everything to the limit and so many times I thought 'now I've got him' and he just came back at me.
"You can't say the sport was boring today, so that's a small positive, but I need to go one better next time. I was very quick today and the quickest out there.
"We are looking great, we have good momentum and we need to keep pushing. We are strong and it's a nice moment to be with this team with an opportunity of winning every race. And I mustn't forget in this difficult moment that I am still leading the championship by 11 points."