The 2015 Formula 1 season is upon us after a four-month break with new driver pairings, new car designs and even new tracks being added to the calendar.
Can anyone beat the dominant Mercedes team? Or will it be yet another season, where Lewis Hamilton and Nico Rosberg fight for the wins while the rest of the teams fight to be the best of the rest.
There have been some major driver changes during the winter, with high profile names switching teams. Fernando Alonso has departed Ferrari to join McLaren, while four-time world champion Sebastian Vettel has moved to the Maranello based team from Red Bull Racing. Given below is the list of teams and drivers for the 2015 season.
Teams & Drivers
Mercedes – Lewis Hamilton & Nico Rosberg
Red Bull Racing – Daniel Ricciardo & Daniil Kvyat
Williams – Felipe Massa & Valtteri Bottas
Ferrari – Sebastian Vettel & Kimi Raikkonen
McLaren – Jenson Button & Fernando Alonso
Lotus – Pastor Maldonado & Romain Grosjean
Force India – Sergio Perez & Nico Hulkenberg
Sauber – Felipe Nasr & Marcus Ericsson
Toro Rosso – Max Verstappen & Carlos Sainz Jr
Manor Marussia – Will Stevens & Roberto Merhi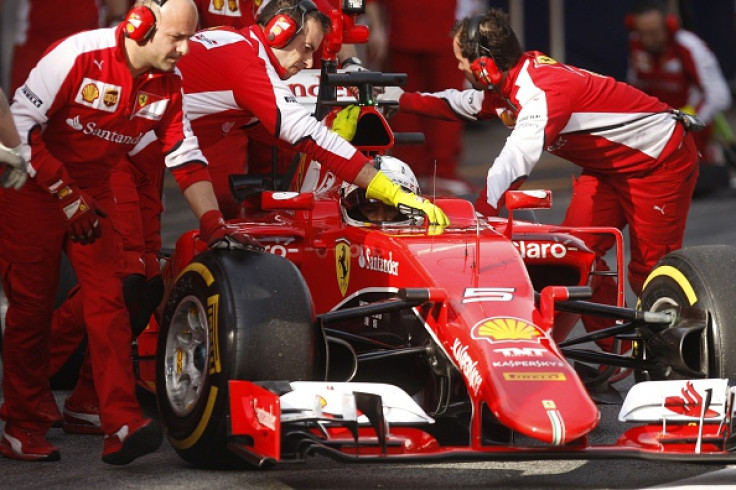 Regulations
Power units - Each driver is restricted to four power units during the season, although that will be increased to five (as in 2014) if the number of races as originally scheduled exceeds 20. Should a driver exceed the total, a grid penalty (see below) will be imposed.
Power unit penalties - The replacement of a complete power unit no longer results in an automatic penalty; instead penalties are applied cumulatively based on the individual components of each power unit. Unlike in 2014, grid penalties no longer roll over to the next event. If a driver is unable to take their full grid penalty, the remainder will be applied as a time penalty for the relevant Grand Prix, on the following basis:
1-5 grid places: five-second time penalty
6-10 grid places: drive-through penalty
11-20 grid places: ten-second stop-and-go penalty
More than 20 grid places: a time penalty
New penalties - In addition to the five-second penalty introduced for 2014, race stewards also have the option to hand out ten-second penalties for minor infringements in 2015.
Points - Double points will no longer be applied for the season finale in 2015.
Virtual Safety Car - In a bid to improve safety, particularly in the event of double waved yellow flags, a virtual safety car system designed to ensure drivers slow sufficiently has been introduced for 2015. This can be used to neutralise a race without having to introduce the safety car itself.
Race suspensions - For 2015, drivers must proceed slowly into the pit lane, rather than back onto the starting grid, in the event of a race suspension.
Clearing the grid - A driver will be forced to start from the pit lane if any member of his team, or any relevant equipment, remains on the starting grid after the 15-second signal has been shown.
Unsafe releases - For 2015, unsafe releases will be met with an automatic ten-second stop-and-go penalty for the relevant driver. Additional penalties may be imposed at the stewards' discretion.
Safety car lapped drivers - As was the case in 2014, lapped cars may unlap themselves behind the safety car; however, the safety car will no longer need to wait until said drivers have caught back up to the back of the field before leaving the track. Instead, the safety car is free to pull back into the pits on the following lap after the last lapped car has been waved through.
Suspension - Any suspension systems fitted to either the front or rear wheels may only react to direct changes of load applied to the relevant section. Front-and-Rear Interconnected Suspension (FRIC) will therefore be formally outlawed.
Gearbox - Teams will no longer be able to re-nominate gearings during the season - they could do it once in 2014.
Minimum weight - The minimum weight has been increased slightly for 2015 - without fuel, each car must weigh at least 702kg.
Nose designs - New regulations, brought in to improve safety and also restrict strange and ugly solutions, mean nose designs become more uniform. 2014 layouts like the anteater and twin tusk will no longer be legal.
Cockpit safety - The Zylon anti-intrusion panels on both sides of the survival cell have been extended upwards to the rim of the cockpit and alongside the driver's head.
In-season testing - There will be two in-season two-day tests, down from four in 2014. Two of the four days in total must be reserved for young drivers.
**All the regulation changes mentioned above are from the official formula 1 website.