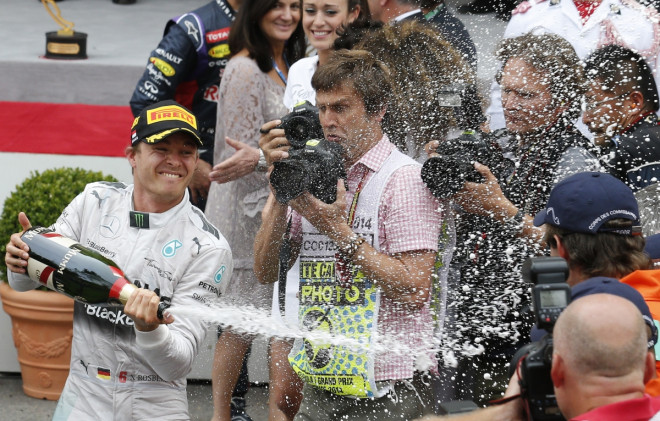 Nico Rosberg took a convincing win at the Monaco Grand Prix to overtake Mercedes teammate Lewis Hamilton at the top of the Championship, with the Brit struggling for second place after fighting it out with Red Bull's Daniel Ricciardo.
With Rosberg taking a strong lead in the race, and facing less competition as Sebastien Vettel retired with an unexplained car failure, the fight for second was the most exciting point of the day as Ricciardo gained on Hamilton in the final laps.
Hamilton held his ground, and despite a vision impairment was able to seal a 1-2 place for Mercedes for the fifth time in a row.
"It was just something that came through the visor," he said. "It was nothing important. It was a good day for us - it's very important for the team to get another 1-2. I had great pace and I felt I was strong but it's incredibly difficult to overtake."
Rosberg qualified in pole position on Saturday under controversial circumstances with claims that the German had crashed on purpose to stop Hamilton overtaking him.
But he was cleared of any wrongdoing and after beating the man who held him back in second place over the following four GPs he couldn't be happier.
He explained: "It's another special day for me, for sure. Lewis drove well and pushed me massively hard. The pressure was on but I kept it cool and pulled a bit of a gap at the end because of the refreshed tyres. Thanks to the team for all their great work."
Mercedes well and truly look like the favourites in the constructors championship at the moment with 240 points. Red Bull sit in second place with 99, with Ricciardo leapfrogging Vettel into fourth place in the individual standings while Force India's Nico Hulkenberg also overtook last year's winner after finishing fifth today.
Vettel was particularly frustrated after having to retire in lap 25 of the race, saying: "It's obviously disappointing - after a good start we lost too much pressure from the turbo and we had to retire. I feel quite helpless in the car because I don't know what the problem is. I hoped they'd have an answer but they didn't this time. How do I escape from this? I don't have a boat here, but I'll try to get home as quickly as I can."
RESULTS:
1) Rosberg
2) Hamilton
3) Ricciardo
4) Alonso
5) Hulkenberg
6) Button
7) Massa
8) Grosjean
9) Bianchi
10) Magnussen
11) Ericsson
12) Raikkonen
13) Kobayashi
14) Chilton
DNF: Gutierrez, Bottas, Vergne, Sutil, Kvyat, Vettel, Perez, Maldonado