Sergio Perez has revealed that his shock second place finish in the Malaysian grand prix has said that it was a great result not just for him, but for his native Mexico as a whole.
It had been 40 years since a Mexican last stood on the winners' podium of a Formula One grand prix and his performance - which saw him relentlessly charge down Fernando Alonso in challenging conditions - has brought with it interest from much-needed sponsors.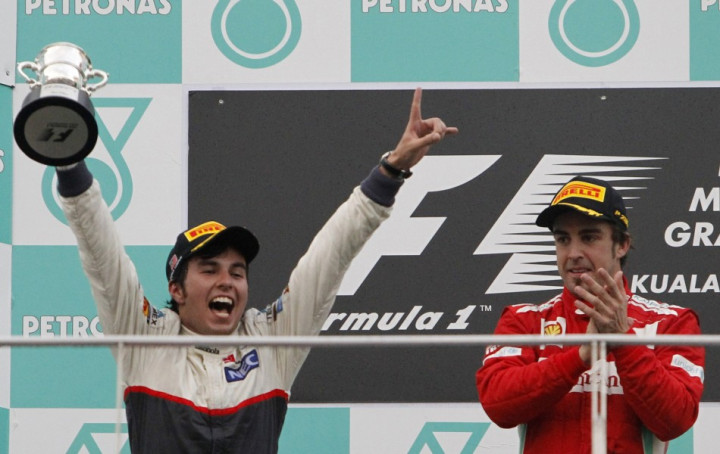 Speaking in the drivers' press conference ahead of the Chinese grand prix this weekend, Perez said: "Well, it's been really great. I had some time there [Mexico] with the family, with friends, to enjoy the result we had. The people there were going crazy. It was a great result for my country. It was 40 years since the last podium we had in Formula One, so it was really nice to feel all the support I'm getting from the fans, from the country."
When asked if the result has brought with it more money from Mexican sponsors, Perez said: "That would be a good sign, no?" Already, the interest has come up, not only from Mexico, but from other companies around the world that can help us to develop our car, which is important for us.
And when asked if his second place finish in Malaysia has increased the pressure on his to perform, he said: "In terms of pressure, I think the pressure remains the same, giving my 100 per cent every race weekend, trying to have success, and just try to the best, that will be the target for the next 18 races."
We look back at where Sergio Perez came from and how he got into Formula One.
Perez's performance last race came in part from the changing conditions from wet to dry, which the young Mexican dealt with better than any other driver to come out challenging for the lead against Alonso in the below-par Ferrari.
With regard to managing the tyres, Perez said in Shanghai, where the race has been very wet in previous years: "I can play the tyres, but sometimes it works and sometimes it doesn't work. I always try to adapt myself to different conditions that you have in Formula One most of the time, which is even more difficult, to be adapting to every single condition. You have different conditions in free practice than in qualifying and it's very important to be able to adapt yourself to any condition."
Perez going to Shanghai sitting in fifth position in the drivers' championship, having finished eighth in Australia and second in Malaysia.
One week after Malaysia this weekend, Formula One is due to head to Bahrain, but amid ongoing protests in the country, F1 boss Bernie Ecclestone is facing mounting pressure to cancel the race for a second year running - doing so would terminate the circuit's contract with the sport.