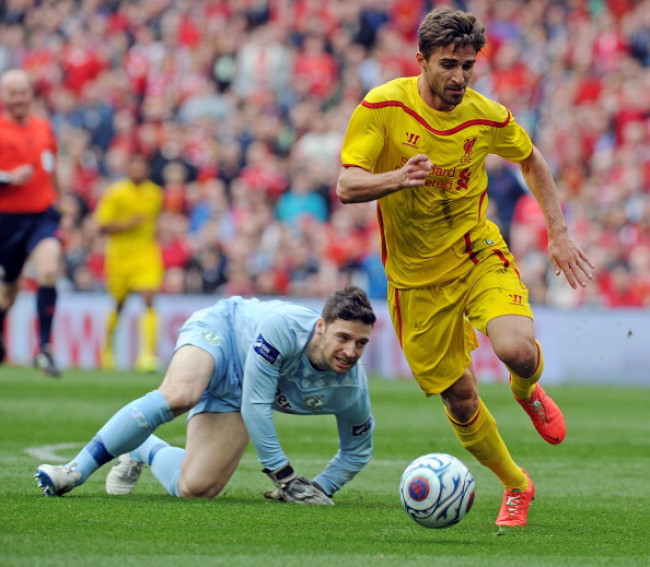 Fabio Borini has claimed he expects "to get into" Brendan Rodger's line-up as soon as possible after a struggling start to the campaign.
Despite injuries to Daniel Sturridge and Mario Balotelli's poor form, the Liverpool striker has only made one starting appearance – with even former Southampton veteran Rickie Lambert ahead of him in Rodger's plans.
Having spent last season on loan at Sunderland, Borini was eventually very close to leave Anfield during the summer with both the Black cats and Queens Park Ranges interested in securing his services permanently.
But even though Rodgers's side were likely to cash in with Borini, he failed to agree personal terms with both clubs and decided to stayed at Anfield despite the summer arrivals of Balotelli and Lambert.
Recent reports claimed Borini may still leave Merseyside during the January transfer window but the Italian said he is likely to remain at Anfield, hoping to get into the line-up in the coming games.
"Step by step, to get into the team as soon as possible and as much as possible," Borini said.
"After that, I want to stay in the team, score goals and break my scoring record in the Premier League, and perform. I haven't changed my personality, but I have improved my game."
With Balotelli struggling upfront, Borini tells Rodgers he can thrive at Liverpool as he did at Sunderland during the last campaign.
"I can offer hard work in performances every week and goals, as I did in the past. For Sunderland, I did very well and scored important goals,
"I can do the same here; with better players around me, it could probably be easier and with better results. I want to get back in the national team as well because that's a big aim.
"With a new manager, a new system and a new structure to the Italian national team, that can be a really good target for me, to get into the team and stay there as long as possible."
Meanwhile, his agent, Marco de Marchi, has also revealed the forward is happy at Liverpool and is not considering a move away from Anfield.
"At this moment I am certainly not going to look for another club, as the boy is happy to remain at Liverpool. Let's not forget he left a journey he already started at Roma in order to come to England," he said.