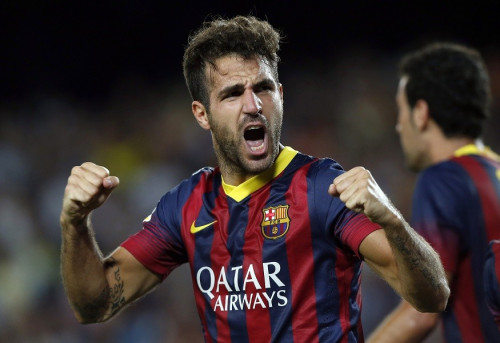 Barcelona midfielder Cesc Fabregas has revealed that he was flattered by the interest shown by Manchester United to secure his services last summer.
The Catalans had rejected three bids from the Red Devils last summer following which Fabregas broke his silence and revealed that he had no intention to leave Spain in the immediate future.
The club have been vindicated by their decision to keep the Spaniard, with the 27-year-old scoring eight goals and assisting 10 this season.
The midfielder is known for his exploits with Arsenal in the premier League, where he won the FA Cup in 2005, and in spite of a lack of silverware he is largely regarded as the best playmaker to grace England in recent years.
The former Arsenal captain was also linked with a move to the Emirates but Arsene Wenger had confirmed that he had no plans to bring the player back to north London. The Gunners finally strengthened their position by signing Mesut Ozil for a record £42.5m fee from Real Madrid on deadline day.
"It's always flattering when a club like Manchester United talks very well about you and you can see they want you. But I'm going through an amazing moment [at Barcelona] now. I'm playing every week and I feel very important to the team. I'm very happy right now," Fabregas said.
"This season I have felt more like myself, with more freedom and more secure with the way I like to play. It's not easy when you know you have to convince many fans how good you are and how good you can be for the team. The manager has trusted me and given me what I needed. I'm probably going through my best spell here," he explained.
Fabregas also revealed his bemusement over Juan Mata's transfer to Chelsea as he believed the Spaniard was the best player in Chelsea over the past few seasons.
"I was surprised to see Juan move there because I think he has been Chelsea's best player over the last two years. He's produced some amazing performances as they won the Champions League, Europa League and FA Cup and he scored in the final of the European Championship with Spain," he concluded.