Facebook's App Center on the face of it looks like any other app store, but it's not. We look at how the App Center will work, and how it is aimed at pleasing both users and investors.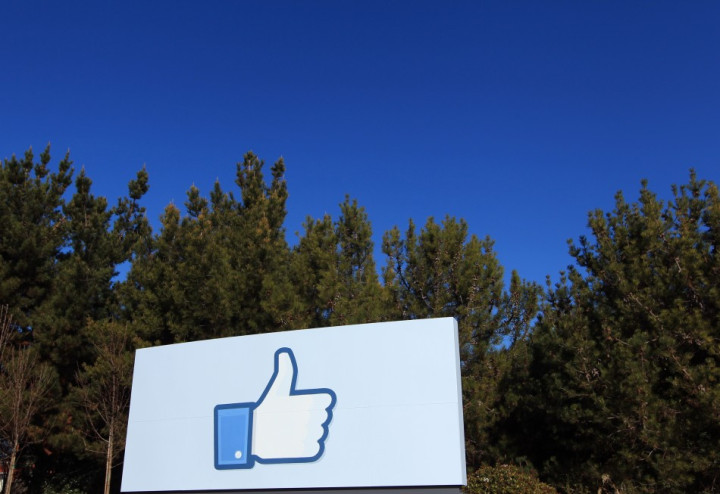 Facebook is currently going through one of the most interesting periods in its short history. With an IPO just around the corner, the company is currently touring the US, showing its wares to potential investors. However the billion-member social network has also found time to launch its very own app store, which could potentially help Facebook and its new investors make a hell of a lot of money.
Mark Zuckerberg turned up for the first IPO roadshow on Monday wearing his trademark jeans and black hoodie. Some investors, no doubt decked out head-to-toe in Hugo Boss, were said to be less than impressed at what they perceived as a lack of respect.
The 27-year-old Zuckerberg could not have cared less what these money men thought. He has little-to-no interest in the money side of Facebook and if he had his way, the company would never have gone public and he would have retained control over the future of the social network. Such was his distain for his roadshow that he failed to show up at all on the second day.
Despite Zuckerberg's reticence, thanks to an arcane Wall Street rule which forces companies to begin filing detailed financial documents when they hit 500 shareholders, an IPO was inevitable.
Once he realised there was no way around an IPO, Zuckerberg did everything he could to distance himself from the day-to-day dealings with bankers from the likes of Goldman Sachs, Morgan Stanley and JP Morgan.
He sent his COO Sheryl Sandberg, and his new chief financial officer David Ebersman, out to bat for Facebook, so he could get on with the day-to-day running of Facebook and concentrate on creating new and better products.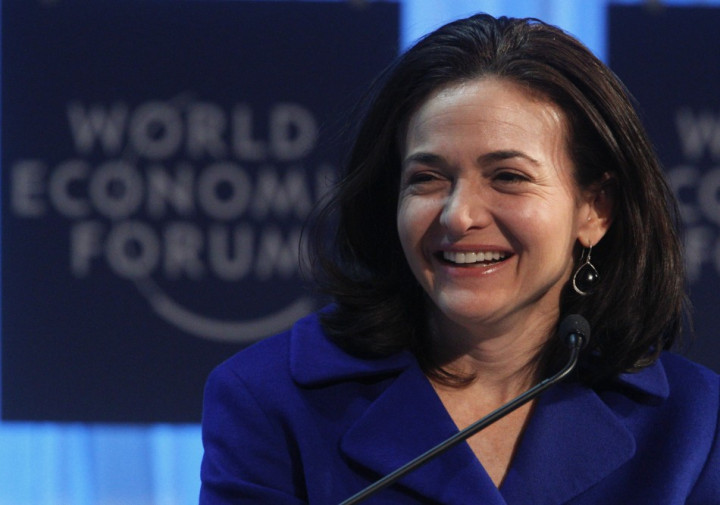 And so it comes as no surprise that Zuckerberg has announced what could potentially be one of the most important products in Facebook's history, while most of the rest of the world was focused on the company's $100bn IPO.
App Center is not an app store
Facebook's new App Center is not an app store per se. It is more like a showroom for the best apps out there from all platforms, including iOS and Android apps, all of which use Facebook integration in some way.
However Facebook themselves will not be selling the apps that it features on the App Center, at least not in the beginning. It will simply showcase the apps, ranking them using a combination of user ratings and usage data. And should a user wants to get an app, then it will point them to the appropriate store, such as the Apple App Store of Google Play if you are using an Android smartphone or tablet.
Rather than seeing the App Center as a threat, Apple and Google will presmumably welcome this new way for users to discover the apps available in their stores. Users will be happy becasue the apps appearing in the App Center, will be only "high-quality" apps with Facebook saying that "well-designed apps that people will be prominently displayed."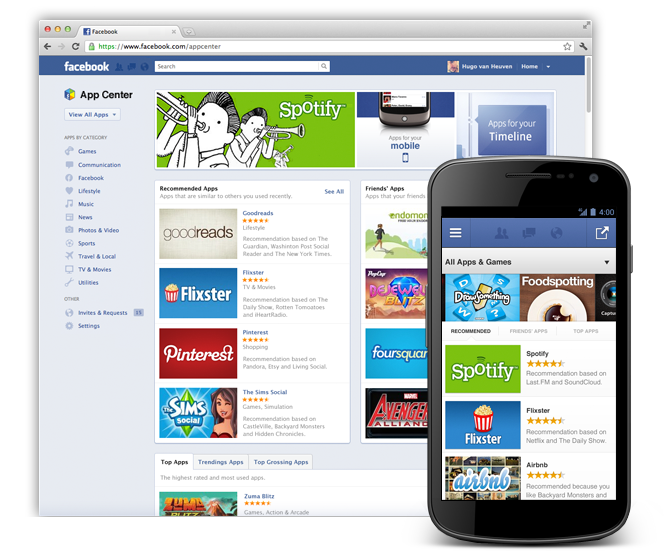 Facebook will not make any money from these transactions but will get to promote apps which use Facebook login, a requirement for an app to be listed on the App Center. This is of course good for Facebook. The more people using Facebook on whatever platform means it can gather more user data and therefore create even more targeted advertising.
While this is all well and good, the fact that Facebook still doesn't put adverts in its mobile apps, means that advertising revenue is limited to a certain extent, especially considering the growing percentage of people who now access Facebook through various mobile apps.
Mobile Monetisation
The most recent financial results for Facebook show that while revenue is continuing to rise, net profit has fallen. This is as a result of increased spending, including a large payout of $550m to Microsoft for 650 patents.
Expenditure is necessary to grow a company, and until now, Zuckerberg has had free reign to spend Facebook's money on whatever he deemed necessary. Like it or not however, Zuckerberg will soon face a lot more scrutiny from shareholders who he will need to answer to, despite him still controlling 57 percent of the voting power of Facebook.
Investors will be investing money in Facebook for one thing - to make money. While this may not be Zuckerberg's overarching goal, it is something he will have to face up to and increasing profitability from mobile is key to a happy life for Zuckerberg.
The purchase of Instagram for the mind-blowing amount of $1bn (£629m) is seen as one step on the road to making money from mobile, though exactly how Facebook is going to leverage the popularity of the profitless photog-sharing app is still unclear.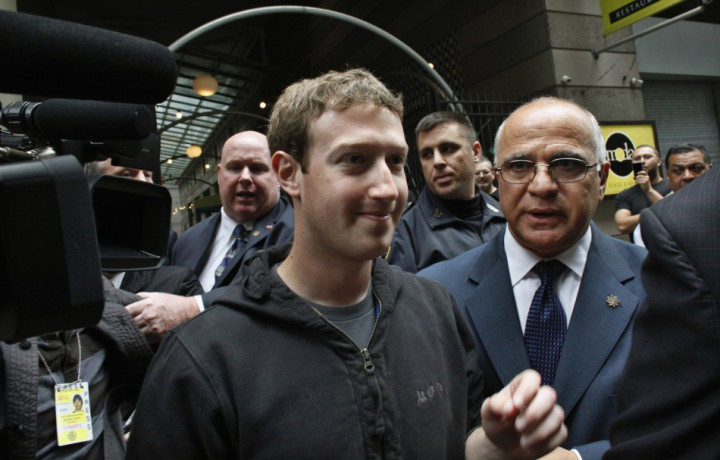 While ads on the mobile app could still be some way off, the launch of App Center does reveal another potential revenue stream for the company.
While the apps highlighted initially on the App Center will be predominately iOS and Android apps, it will also feature platform-neutral web apps, such as Spotify and Pinterest, which again use a Facebook login.
However the company is also actively encouraging developers to create paid-for web apps which can be highlighted on the App Center. These would be platform-agnostic HTML5 apps which will run on iOS, Android, laptop, PC or pretty much any device with a browser.
Facebook will take a 30 percent cut of all sales, but this is not going to be the major driver of revenue.
User data is key
At the moment, Apple and Google are able to collect data from all apps which run on their platforms. If however Facebook manages to dominate the platform-neutral HTML5 standard, then it has the potential to collate a massive amount of data, stealing it from under the noses of Apple and Google.
If this turns out to be the case, then Facebook will become an even more powerful online presence, with a huge bank of user data which is much more valuable than the 30 percent fee it may be getting from paid-for apps. Using this data to creat targeted ads on mobile, could have massive earnings potential for Facebook and its investors.
With the IPO just days away, it is expected that it will be over-subscribed, despite the hugely inflated figure put on a company without a proven track record for turning members into profit.
However, the timing of the App Center announcement will be greeted by a lot of investors and industry watchers as a key indicator that Facebook will have the ability to monetise its online and mobile presence in the future, and soon that $100bn assessment may be seen as a drop in the ocean.
Must Read:
Facebook App Center Launches for desktop, iOS and Android
Facebook Share Price Hits New Low