Facebook CEO Mark Zuckerberg has launched an update to the social networking site that allows users to easily become organ donors.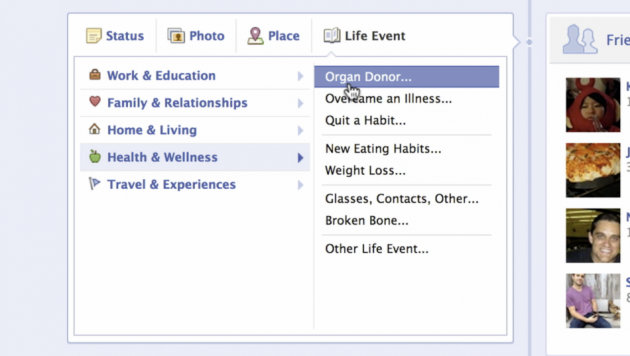 The idea came from seeing how Facebook was being used to solve other major problems, as well as from conversations with his girlfriend Priscilla Chan.
"Recently when the tornadoes came through in Missouri a lot of people were using Facebook to organise and return items that were lost to people who thought that they would never find them. In Japan when there were these disasters last year people were using Facebook to help locate their friends and family," Zuckerberg told ABC's Robin Roberts.
"So we thought OK can we do anything to help people solve other types of issues like all of the people who need organ donations in the world? And we came up with this really simple thing."
UK and US users are the first to be able to add that they're an organ donor in the "health and wellness" section of their Facebook timeline. Users who are not organ donors can then find links to organ donation registries and instantly enrol.
"We want to make it simple," said Zuckerberg. "You just put in the state or country that you're from, so that we can help link you to the official registries."
The hope is that when people share their story about when, where or why they decided to become a donor they will inspire other users to do the same.
Figures released by Facebook reveal that approximately 114,000 people are on the waiting list for an organ in the US, with 18 people dying every day without receiving the organ they need.
However, Zuckerberg was cautious about the possible results of the new social networking feature.
"This isn't the type of thing where you turn this on and there's some massive result overnight. What we really hope is that awareness can be spread," he added.
Chan, who is currently finishing medical school where she is training to be a paediatrician, discussed her young patients over dinner with Zuckerberg.
One story concerned a boy in need of a heart transplant whose skin had turned blue from a lack of oxygen. Within weeks of receiving a transplant he was playing sports.
"How can that not make you happy?" Zuckerberg asked.