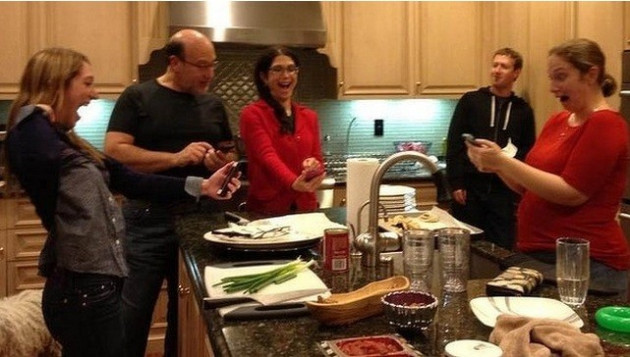 Mark Zuckerberg's older sister has expressed her anger after a photo she uploaded to her personal Facebook profile was shared publicly on Twitter.
Randi Zuckerberg, Facebook's former marketing director, slammed Callie Schweitzer for sharing the private image with her 40,000 followers earlier this week.
The never-before -seen snap shows members of the Zuckerberg family reacting to "Poke" on their smart phones. The photo-messaging app is the latest mobile application developed by Facebook to compete with Snapchat.
An unimpressed Randi, aged 30, started her rant over the privacy issue by tweeting: "Digital etiquette: Always ask permission before posting a friend's photo publicly. It's not about privacy settings, it's about human decency."
Not satisfied with her cryptic message she wrote a Twitter message directly to Schweitzer saying: "Not sure where you got this photo. I posted it to friends only on FB. You reposting it to Twitter is way uncool."
Schweitzer, the Director of Marketing and Special Projects at Vox Media, quickly apologised for the gaffe and explained that she follows Randi on Facebook and stumbled upon the picture on her News Feed.
The controversial picture as well as Twitter messages has since been deleted.
Although Zuckerberg accepted the apology, her comments sparked online debate regarding the Facebook's often changing and often confusing privacy settings.
"The thing that bugged me about Randi Zuckerberg's response is that she used her name as a bludgeoning device. Not everyone has that. She used her position to get it taken it down," said Eva Galperin of the Electronic Frontier Foundation, a privacy advocacy group in San Francisco.
"Even Randi Zuckerberg can get it wrong. That's an illustration of how confusing they can be," she said.
"How terrible that someone might take something that belongs to you and use it in ways that you had not anticipated, and for which you had not given explicit permission," Dan Lyons, Editor-in-Chief of tech blog ReadWrite, wrote.
"This is absolutely about privacy settings. That person shouldn't have seen it. Your brother's site is doing this to us all!" an unnamed user reacted to Randi Zuckerberg's Twitter message.
The confusion come days after mobile photo-sharing service Instagram, which is owned by Facebook Inc., provoked worldwide outrage when its new terms of service suggested user photos could be used in advertisements.