Facebook is continuing with plans to launch news feed video adverts, but has faced setbacks with CEO Mark Zuckerberg twice delaying the project amid fears of tainting the user experience.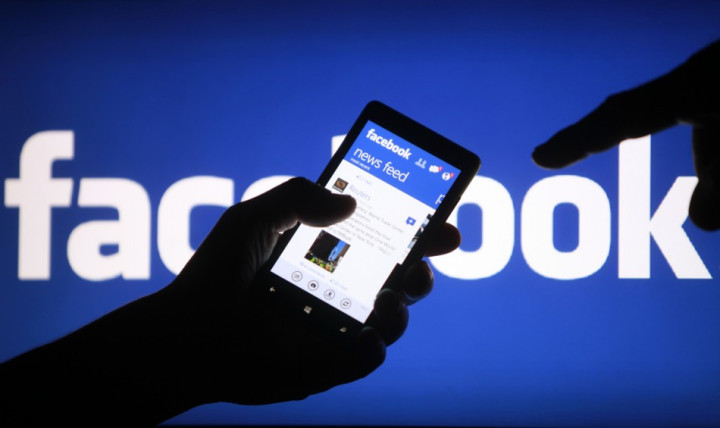 Reports claim Facebook will soon add 15-second video adverts to users' news feeds in a bid to lure big spenders away from traditional television ads and onto the social network.
The billion-member website could have the upper hand on television, as viewers turn to their smartphone, tablet or laptop during commercial breaks. Facebook is to charge up to $2.5 million (£1.6m) per day for the 15-second video ads, according to Bloomberg sources.
Facebook chief operating officer Sheryl Sandberg said in a conference call to investors recently: "Every night, 88 million to 100 million people are actively using Facebook during prime-time TV hours in the United States alone."
Hesitant
The report comes just three months after industry publication Advertising Age said Facebook was pitching the concept of news feed video adverts to agencies to gain feedback. Ad Age said Facebook was looking for advertisers to fill slots in June or July, but as August looms Bloomberg claims CEO Mark Zuckerberg is hesitant.
Sources say Zuckerberg has pushed back the video ad service "at least twice", wanting to make sure Facebook's user experience won't be tainted by the 15-second clips, of which each user would see no more than three in their news feed per day. Zuckerberg wants high definition video for all ads and easy-to-use playback features to ensure users can control them, a source added.
At 15 seconds, the proposed adverts would be the same length as videos uploaded to Facebook's Instagram photo and video sharing service, providing a way to integrate adverts subtly alongside user content.
Sources familiar with Facebook's plans claim commercials will be sold in 24-hour slots costing between $1m and $2.5m and will initially only be targeted at users based on their age and gender. Facebook's power is in its ability to target adverts at very specific demographics, and this would be expected to feature on the video platform if its launch is a success.
Hoax
Video adverts may cause a user backlash, and playing to this is a hoax message claiming to be from Zuckerberg, which has spread across the social network. Security expert Graham Cluely said in a blog post: "The hoax, which has been spreading for some time, has had something of a resurgence recently following widespread media reports that Facebook will introduce video adverts into users' news feeds later this year. However, the chain letter contains a number of misconceptions, and sharing it will do nothing to change Facebook's mind about introducing video ads."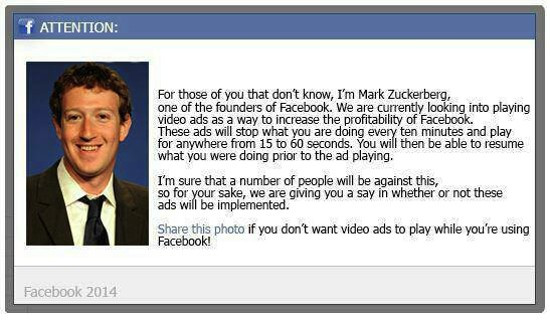 Facebook's share price rose sharply last week when the company reported strong revenues from adverts on its mobile applications, a sector which contributed almost nothing to the company's balance sheet 18 months ago.
Mobile ad revenue now represents 41% of overall ad revenue for the company thanks to 819 million monthly mobile users; the good news saw Facebook's share price rise 17% as it closes in on its $38 IPO value, which it has been below since floating on the stock market in May 2012.
Investors and users alike will no doubt be wary of video adverts appearing alongside status updates, check-ins and photos in the news feed, and Facebook will have to strike a balance between offering a large, attentive audience to advertisers, and not being too invasive for users.
A Facebook spokesperson said the company had no comment when contacted by IBTimes UK.