Donald Trump may have been in office for over seven months but Eminem still struggles to warm to him. The hip-hop star continued to express his disdain for the US president during a string of concerts in the UK by wearing a T-shirt that read "Fack Trump" during each performance.
Taking to the stage in Glasgow, Scotland, the Detroit-based rapper revealed he was considering a move across the pond. He said: "Scotland might have to be our new home because s**t ain't going so well in the states and I just want to take this moment out right now to say motherf**ker Donald Trump!"
The Stan hitmaker continued to rage during his headline set at 2017 Reading Festival, where he delivered a profanity-laced speech before getting the crowd to chant against the president.
"So Reading," the 44-year-old star began, "I'm not about to stand up here and use this f****n' stage for some kind of a platform to be all political and s**t, and I don't want to cause any controversy so I won't say no names, but this motherf****r Donald Trump I can't stand!"
Sensing his anger and frustration, the crowd showed where their loyalties lie by chanting "F**k Donald Trump". Eminem immediately decided to kick things up a notch by saying: "When I say 'f**k', you say 'Trump'!"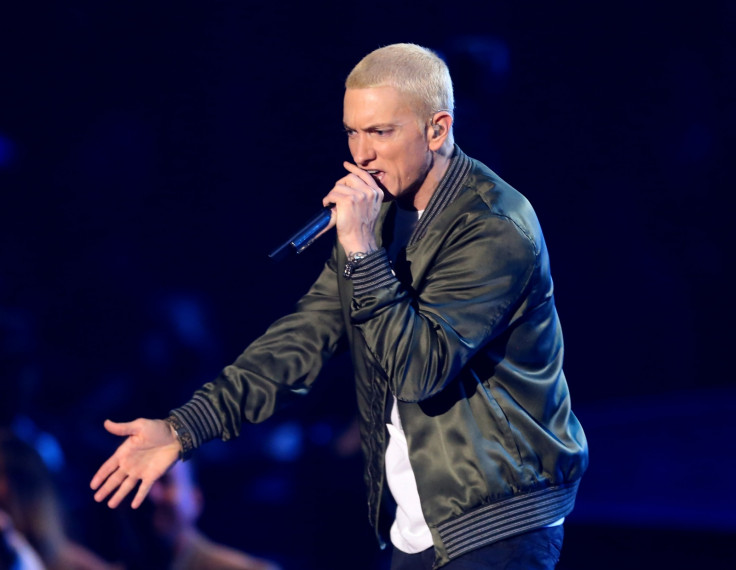 As he prepared to launch his performance of his 2002 hit White America he reminded the crowd that Americas was facing trying times saying: "He's got our country f*****d up."
Fans may recall that Slim Shady took aim at Trump ahead of the 2016 US election with an eight-minute freestyle track titled Campaign Speech. The track featured the lines: "A f*ckin' loose cannon who's blunt with his hand on the button/ Who doesn't have to answer to no one—great idea!"
He also did not hold any punches when he featured on Big Sean track, No Favors and rapped the lines: "I'm anti, can't no government handle a commando/Trump's a b***h/I'll make his whole brand go under."
Meanwhile, it seems that Trump is more interested in getting Mexico to cough up the cash for his long-promised Southern border wall than getting into Eminem's good books.
"One way or the other Mexico will pay for the wall," Trump said on Monday (28 August), arguing that, while the project may initially be funded by United States taxpayers, "ultimately" Mexico will pay.