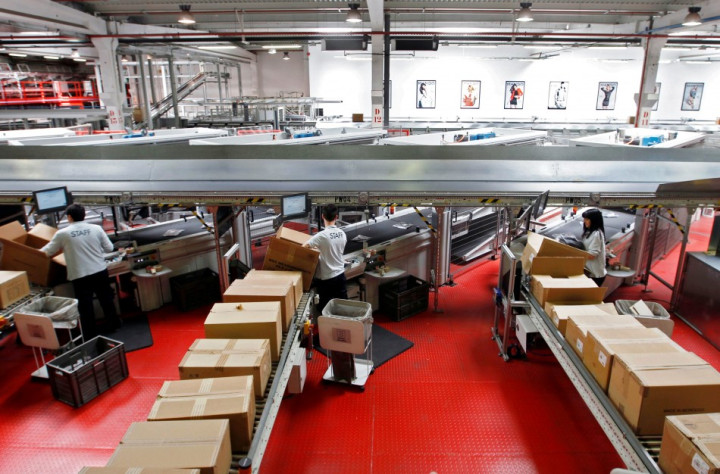 Factory activity across the 17-nation eurozone nearly stabilised in the second quarter and is expected to rise in the third quarter of 2013, according to a survey, suggesting that recession-hit eurozone economies are improving, albeit at a slow pace.
Maufacturing activity across the eurozone contracted at its slowest pace in 16 months in June, a Markit Economics survey showed. The rate of contraction in new factory orders dropped to a 24-month low in June.
The Markit Eurozone Manufacturing Purchasing Managers Index (PMI) -- a benchmark reading of purchases made by factory managers across the 17-member block - struck a 16-month high in June at 48.8, slightly higher than the preliminary estimate of 48.7. The May reading came in at 48.3.
A reading below the neutral 50.0 mark points to contracting activity and a reading above points to growth.
"Eurozone manufacturing is showing welcome signs of stabilizing. Both output and new orders barely fell during June, and on this trajectory a return to growth for the sector is on the cards for the third quarter," said Chris Williamson, the chief economist at Markit.
"Output rose again in both Germany and the Netherlands, but it is the periphery where the most encouraging signs are being seen. Returns to growth were seen in Ireland and Italy, while the rate of decline in Spain eased sharply to only a marginal pace
"Greece and France were the worst performers, though the latter saw a further easing in its marked rate of decline," Williamson said.
Falling commodity prices and intense competition meanwhile meant inflationary pressures remained well under control, posing few worries for policymakers.
While eurozone-wide employment has fallen 17 months in a row in June, the rate of job losses eased to its slowest since March 2012. Signs of spare capacity remained evident, as backlogs of work declined again, according to Markit Economics.
The eurozone's unemployment rate struck a new high in May, Eurostat reported on 1 July. The jobless rate rose to 12.1% in May, up from 12.0% in April. The youth unemployment rate hovered at 23.8% in May as 3.5 million under-25s were out of work as of that month, according to the EU statistics office.
"However, some consolation can be gained from the latest fall in employment being the smallest for over a year," Williamson said. Last week, eurozone finance ministers agreed to spend €6bn over the next two years to boost job creation, training and apprenticeships for young people.
In Germany, the eurozone's strongest economy, factory output rose for a second straight month, but the rate of growth was only marginal and came alongside a renewed drop in new orders, according to Markit Economics.
Germany was the only eurozone member to buck the trend and report a lower manufacturing PMI for June. The PMI reading for the month came in at 48.6, slightly lower than the preliminary estimate came of 48.7. The May reading came in at 49.4.
"Weak market conditions, particularly in key export destinations, and stronger competitive pressures were behind the latest decline in new business, despite manufacturers reducing their selling prices at the sharpest rate in three-and-a-half years," Mark Wingham, economist at Markit and author of the report on Germany said.
"Although there was little anecdotal evidence to suggest manufacturing was severely affected by recent floods in June, the effect may be more pronounced in the coming months. Therefore, manufacturing may continue its downward trend as we move into the second half of the year, with the headline index having already deteriorated in Q2 as a whole compared to Q1," Wingham said.
In June, France logged slower declines in factory output and new orders. The drop in production was modest, reflecting a similar easing in the pace of contraction of new work to the weakest since February, 2012. This was despite export sales decreasing at a slightly faster rate. Meanwhile, backlogs of work at French manufacturers remained broadly unchanged in June.
In Italy, factory output levels rose marginally in June, while rates of decline in new orders, employment and purchasing activity all eased. Input and output prices fell further, but at slower rates than one month earlier.
In Spain, the decline in the manufacturing sector is coming to an end. New orders increased, driven by a marked rise in new business from abroad. Output, employment and purchasing activity all decreased at weaker rates in June.