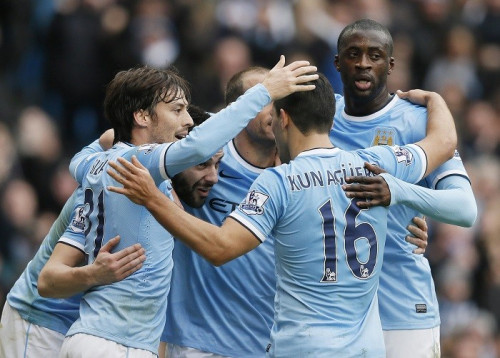 As the dust continues to settle on the transfer window, IBT has asked fans of the leading clubs to give us their reaction to their side's January activity.
To kick things off we've got reaction from the anonymous creator of City Watch, one of the most popular Twitter pages devoted to the Blues. If you want to read more of his musings, click here.

Here's what he had to say to us...

Despite City's form heading into the transfer window, were you at all concerned by the club's lack of activity?
I wasn't too concerned until Fernandinho picked up an injury on the eve of the big Chelsea game, by which point the transfer window had closed.
Our midfield is in a perilous condition, with Fernandinho reported to be out a while, Yaya Toure appearing to be struggling physically, and third choice midfielder Javi Garcia also sidelined at the moment.
Now, I feel the lack of activity could be costly, particularly to our chances of beating Barcelona in the Champions League and Chelsea in the FA Cup. Our league fixtures are, on paper at least, quite kind in the next month, and are winnable even without Aguero, Nasri and Fernandinho.
I do think City made the right call in not paying £12m for Fernando, who is out of contract in June (and expected to join City for free), but perhaps should have explored the loan market for a midfielder like Ever Banega to bolster the ranks.
Most of the attention fell upon Fernando and Eliaquim Mangala of Porto, would you have been pleased with these two coming in, particularly at this point in the season?
They would have been fantastic signings. There have been questions about City's defence all season, with Nastasic, who was a revelation last season as Kompany's regular partner, still struggling to adjust to Pellegrini's high line.
Demichelis is a stop-gap who is trying his best and not nearly as bad as some make out, but should be a squad player, not the regular starter that he is.
And Pellegrini just doesn't rate Lescott highly, most likely because he is so uncomfortable with the ball at his feet and Pellegrini's style demands technical excellence.
Mangala is seen as the perfect defensive partner for Kompany, so his signing might have instantly strengthened City at the back assuming he settled quickly.
Fernando would have given City the strength in depth badly needed in the centre of midfield. Pretty much any City fan would tell you that the drop in quality after Yaya Toure and Fernandinho is frightening, but signing Fernando would have given City the third high-quality option.
Were you hopeful of a deal being pulled off on deadline day?
I was hopeful, but also tempered my expectations given the difficulties most clubs have in negotiating with Porto.
When the news broke that City could pull off a double deal for Mangala and Fernando, it looked like we were in for an exciting deadline day. Unfortunately it didn't pan out, because of Porto's asking price for the pair.
Most of the club's business was outgoing with a number of youngsters. Can you tell us a bit more about some of those names?
The biggest name to depart in January was John Guidetti on loan to Stoke. City's academy is improving at a rapid pace with some fantastic prospects in the 14-19 age group, but other than Daniel Sturridge the standard hasn't been good enough in the past five years and City are clearing out the last of the older youths from that period.
Guidetti, who turns 22 in April, is an exception and one who City think very highly of, but his development has been hurt by 18 months out of the game through illness and injury. City loaned him to Stoke in January to finally get some games, but he's already frustrated because Mark Hughes has had him on the bench for five games running, even though Crouch and Walters haven't scored in the last four games.
Another to leave was Abdisalam Ibrahim, the 22-year-old Norwegian who had been at the club since 2007. He was a decent prospect and made a few first team appearances, but much like fellow midfielder Abdul Razak didn't progress as much as City hoped and was released to join Olympiacos in January.
Harry Bunn is a northern lad who was very prolific for the reserve team, but like so many others, couldn't take that form with him to senior level football during several loans. City released him to join Huddersfield, where he had been on loan and where his dad Frankie works.
Emyr Huws and Albert Rusnak were loaned to Birmingham and both have made good starts. Rusnak is a talented young playmaker who has impressed at every youth level, and is ready to be tested in league football.
Huws is the most recent member of the City academy to play for the first team after coming on against Blackburn in the FA Cup in January. He was named Man of the Match on his debut for Birmingham and having also been called up for Wales not long ago, there is a good chance he will have a future at a high level.
With Manchester United and Chelsea spending big this month, were there any envious glances cast in their direction?
United's signing of Mata was a good deal for them, but nothing that concerned me as a City fan. They need to overhaul half of their squad to catch up to City, Chelsea and Arsenal I think.
Chelsea, on the other hand, had a great January window. Mourinho hardly used Mata so his loss shouldn't hurt, and the money went towards what they needed - some muscle in midfield. Matic showed against City, who were also keen on him, that he is perfect for the Premier League.
Salah and Zouma were also good signings, but unlike Matic who has made an immediate impact, I think they are more investments for the future.
Do you envisage business done by clubs around City having a big part to play in where the Premier League title ends up in May?
As mentioned, Chelsea's signing of Matic has improved their midfield a lot. With Fernandinho instead of Demichelis last night, it would have been an even battle, but in recent times even with Gareth Barry partnering Yaya, City have dominated Chelsea's midfield, so they needed someone like Matic.
If you look at their easier fixture list compared to City and Arsenal, I think Chelsea are favourites for the league, and the signing of Matic could help them over the line.
Even with no transfer activity, though, City still have a good chance of winning the league if they can get through the current injury crisis and then keep key players fit.
On a general note, which Premier League club do you believe did the best business this month?
Again, it'd have to be Chelsea with the Matic, Zouma and Salah trio.
United's signing of Mata was good and may help them push for 4th, but they could have used a couple more signings.
Fulham and Palace also did some cracking business that could save them from the drop.